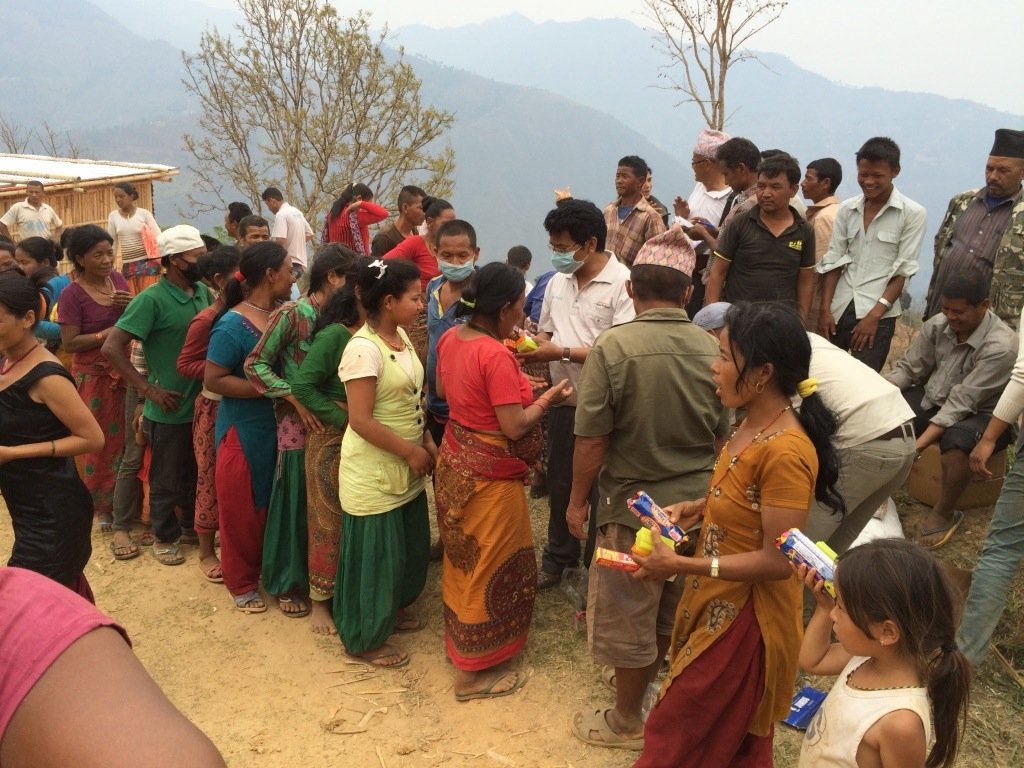 By the time you read this report it will have been three and a half months since severe earthquakes devastated large areas of Nepal. The little town of Rajbash in the Kavre district, home to the DCWC community hospital, was 70% destroyed. Livestock was lost. Rice and animal feed stored in homes was spoiled. Power poles were covered by landslides. Our hospital sustained damage to the second floor and the walls of our staff quarters were cracked.
The DCWC and hospital staff together with local volunteers were some of the first on the ground in our remote district to distribute tents, blankets, food and medicine to villagers traumatized by the 7.8M earthquake and its aftershocks. They immediately started buying rice and other basic necessities of daily life in Kathmandu and distributed them to the people, many of whom lost everything in the earthquakes. With rented vehicles they hauled supplies to drop-off points from where they were carried on the backs of DCWC staff and volunteers into even remote villages. In the small window between the first and the second big earthquakes, the hospital held a free health camp for earthquake victims, treating 520 people in 12 days.
Throughout these relief activities, the DCWC has collaborated with the government and local leaders to assess accurately who needs assistance. Volunteers then distributed the supplies based on these assessments to those who actually needed help. Records were kept as to who received aid.
The DCWC's emergency relief efforts, both in the field and at the hospital were bold and selfless and undoubtedly saved lives. They were instrumental in giving hope to people in the midst of incredible devastation.
Now that the most immediate needs for medical attention, for food, comfort and temporary shelter have been met, and while the damage to the hospital compound is being repaired, DCWC staff are helping villagers to prepare for the next phase of the earthquake relief effort. Still a time of transition, it will try to provide families with more secure shelter to protect them through enough seasons until they can rebuild what they have lost.
Experts estimate that it will take 5-10 years to rebuild the village areas of Nepal. In the meantime, people will be helped to build temporary structures that are meant to last 2-5 years. They will be 10'x20' with two rooms. Rock and mud walls (topped with cement) constitute the base, with bamboo for the walls, topped off with a tin roof. Post and beam construction provides the framework. The government is providing $150 for each family which will go toward buying the doors and windows. DCWC is providing $250 each for cement and tin and a supervisor. Most impressive and unexpected is the fact that the army is providing the labor (providing their worker's tents, food and supplies so that they won't have to rely on the village for anything). At present 72 temporary structures are to be built in the Nagre Gagarche district, of which Rajbash is a part. A sample structure has been built on the grounds of the hospital!
Who will get relief and temporary shelters in each district is decided by Disaster Management Committees organized by the government, in conjunction with local leaders. Many long and inclusive meetings were held to determine what type of "temporary" housing is to replace the tents and plastic canopies sheltering people right now.
Mr. Akka Lama, head of the DCWC Nepal, shared the following reflecting the new rules: "M. Tamang, 58 yrs old, is an inhabitant of Rajabas village - she is a single woman, has got her small house made from stone, mud and wood, damaged due to earthquake. She has got a few goats and a little land for agricultural production which is her income source for living. Fortunately there were no any human and animal losses with her. She was in trouble to remove rubbish and to build new house for shelter but does not have money for food and building house. She did not get government monetary support NPT 15,000 because she could not present land holding certificate - she was living with land of other people. So, DCWC volunteers mobilized in Rajabas area, met her house and support her to dismantle her damaged house and deposit rubbish in appropriate place. DCWC volunteers are supporting her to build temporary house and hope she will return there from tarpaulin shed soon. She says that she thanks volunteers come from different places to support in Rajabas and likes to thank DCWC for providing her rice, tarpaulin and other relief materials. She likes to thank those people who helped her in this type of great disaster and trouble and felt great help."
It is simply impossible for us to imagine the devastation that rocked, and still rocks Nepal. At the same time the resilience and strength of the response on the part of the DCWC and locals and the government is heartening, as is the generous help that all of you have provided. Please continue to support our Nepali friends through this next phase of earthquake recovery.