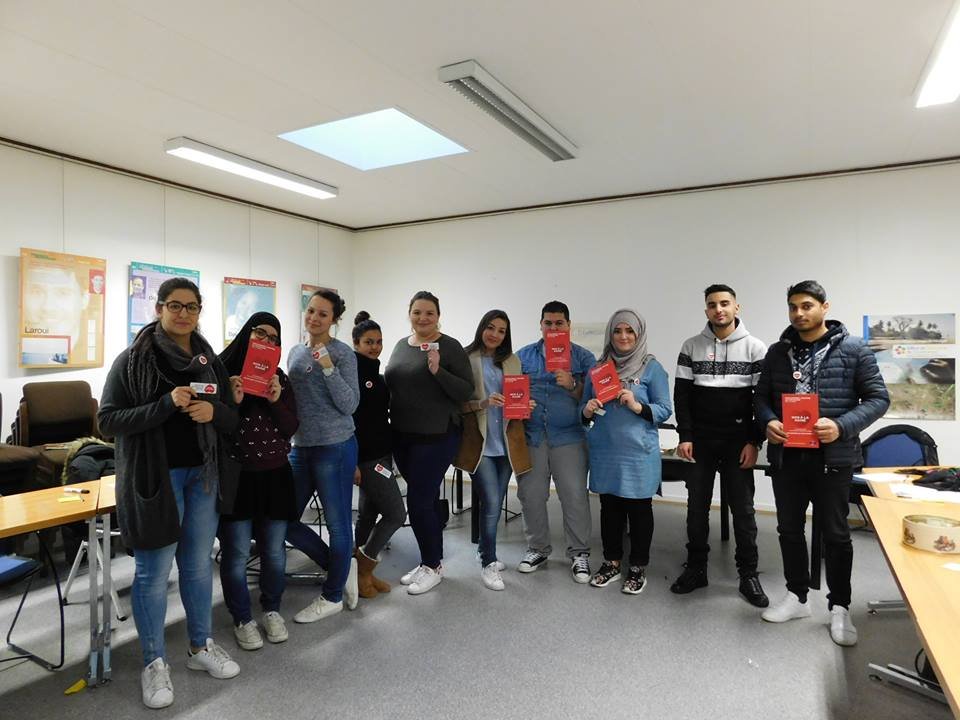 The AMSED launched the first working groups of the "e-citizenship factory" with youngsters from the Hautepierre neighborhood. Its objective is to fight against radicalism and the many forms of incitation to hatred online. It offers to youngsters between 15 and 25 to work on citizenship and successful "living together". Another purpose, yet to come, is to develop their skills and knowledge in order to give them the keys to fight properly against hate speech and hatred behaviors around them.
The four two hours workshops already lead consisted in several games :
Let's draw a Human right. The group was divided into two teams; each one had to pick a Human right and draw it, then, the other team tried to guess which one it was. It allowed the participants to learn more about fundamental Human rights.
Hate speech and liberty of expression, what does it mean? Just like a brainstorming, each participant was invited to choose a word linked to hate speech or liberty of expression. Each word was written on a post-it and, then, the teams had to create a full definition of both terms. The goal was to develop their knowledge by questioning the limits of freedom of speech.
Simulation game: "imaginary forum". The organizer assigned a different imaginary profile to each participant and stuck it on their back. By the manner of each one was greeted, they had to guess which profile was stuck on their back. This activity allowed the youngsters to understand hate speech through the prejudices within society.
At the end, a group photo was taken in order for the volunteers to show their commitment as active citizens. They also realized the newsletter where this summary comes from.
A second session dedicated, this time, to bullying and discriminations took place at the AMSED. The first working group consisted in brainstorming about harassment. The participants could think about the differences and similarities between both terms, as well as give their opinion and exchange on the degree of severity.
Simulation game on cyberbullying. The objective was to make the youngsters understand that it has become very easy for everyone to enter someone else's private life. This activity gave them the opportunity to realize that it can be very difficult to have an online privacy nowadays.
Concrete recommendations to fight against hate speech and hatred. In this activity, the youngsters, divided into two groups, had the floor. The first team had to think on recommendations for the authorities at local, regional, national and European levels; the second one was focused on recommendations for youth organizations. The way that the young volunteers were involved showed them how important they are in this fight against hate speech. Therefore, they understood they are essential if we want to see a change in the society.
The session ended with a working group that consisted in creating a slogan against online hatred. They're about to take actions against incivilities, hate speech and endoctrination online by making more youngsters aware through :
- the workshops newsletters released through social networks and available from youth associations in distressed neighbourhoods
- local events such as "wake up" parties on citizenship, interculturality and respect ; Street debates and activities ; Exhibitions ("Love is all around")
- A Facebook page on positive actions taking place in different parts of Strasbourg.
We're working with five young "ambassadors" involved through the workshops against radicalisation!
(pictures to come in a few days!)
Thank you for your support!