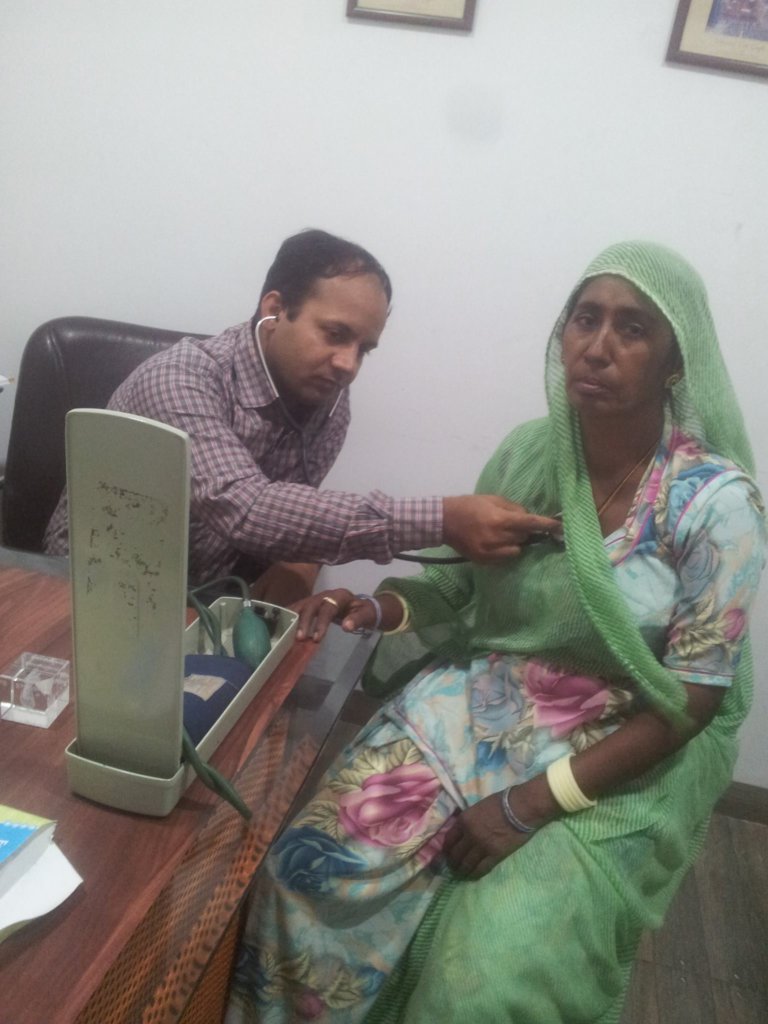 In March we held a health camp for the women of the Microcredit Project in Setrawa village, 100km west of Jodhpur in the semi-arid desert area. They all came to Jodhpur and were seen by the doctors at the SONAA hospital. The women had a variety of problems including:
Back pain and lower-back pain
Thyroid check-up, sonography and lymph node checks
Low haemoglobin
Gynaecological problems – infections and minor procedures required
Chesty cough
Knee pain
Mental illness
All these women received medication or treatment through the hospital paid for by Sambhali Trust through your generous donations.
In the 3 months since beginning of March we have dealt with 25 medical cases, 7 domestic abuse cases, 2 forced marriages, 1 sexual abuse case and 2 others. The medical cases also receiving your donations included 2 more gynaecological cases, those with asthma and knee pain as well as 2 long-term cases we have at present for monthly kidney dialysis treatment and diabetes medication.
The very common cause of domestic violence is alcohol-related as in these 2 examples.
Case Story 1 – Domestic Violence
B. is 26 years old, a student of one of Sambhali's empowerment centres. She has been married for 15 years and has 2 children. Her husband drinks often and beats her. Whatever he earns he spends on himself. He keeps friendships with girls and in 2011 he ran away with another girl from their neighbourhood. He was then caught when B registered a complaint against him. He was told not to have any more extra-marital relationships. In May 2016, B became suspicious again and was beaten by her husband, so she came to Sambhali for help. We asked her to register a complaint with the police, but B wanted Sambhali to intervene and talk to her in-laws; however on meeting, they became physically abusive. So we went to the police station to register the complaint and asked for police protection for B. Her husband was given 4 days in prison. Following this we were provided with photographic evidence of his misdemeanours and he was called to the police station and reprimanded again.
Case story 2 – Domestic violence
R. has been married for 20 years and has 3 children. Her husband drinks and beats her almost every night. He rarely gives her money for household expenses and whatever he earns he spends on alcohol. Also, whatever R. is earning herself, is taken away by her husband. Five years ago, he also had a relationship with another woman whom he also supported financially. R opposed this behaviour and was consequently physically abused. Earlier this year, she was beaten again and finally she went to stay at her mother's house. She wanted to take action against her husband and for him to leave the other woman.
Sambhali took R to the police station to get her case registered. The Women Protection and Advisory Centre asked her husband to go to the police station, where they told him to leave this other woman and stop drinking and being physically abusive towards R. Three days later, her husband went again to the other woman's house; Ravita's brother got to hear of this and we informed the police so that the husband and this woman could be put in jail. They were given a demand and told not to be in touch with each other, nor beat R, otherwise they would be in jail for longer.