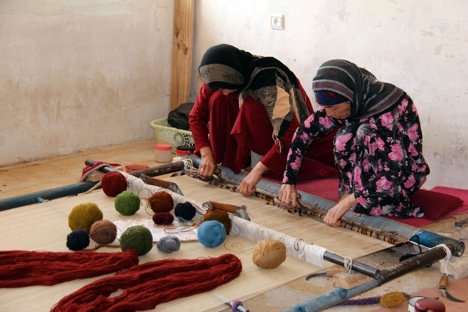 All of us at Creating Hope International (CHI) and the Afghan Institute of Learning (AIL) would like to thank our donors for their support of carpet weaving classes in our learning centers. Carpet weaving is an art in Afghanistan, and is very culturally significant. Every carpet is different in its own way; each piece tells a story and reflects the everyday experiences of the Afghan people. Teaching people how to make them preserves this sacred art for future generations. Your donations have helped to make this a possibility.
Currently, one of our learning centers offers a course in carpet weaving. We have had five students taking the course for more than six months now and their work is starting to yield results. In May, students of the class finished a carpet that they had been working on for the better part of three months, thanks in part to a local businessman who donated over 50 pieces of fabric to the class. Another two rugs were completed by two students in July. One featured a mural of a 15th century monument to Gohar Shad Begum, a very complex piece that reflects the long and noteworthy history of Herat, Afghanistan.
The carpets themselves are significant to the Afghan people, but what's more is the support the students are receiving from the local community. AIL learning centers are bringing communities closer together. The carpets produced are an example of the combined skill, effort, and support of the entire community. No one can put a value on that. Because of your donations, we can keep this project going into the future. Thank you all for your support!