Project Report

| Feb 9, 2023
Limon's Goats help save her Children's lives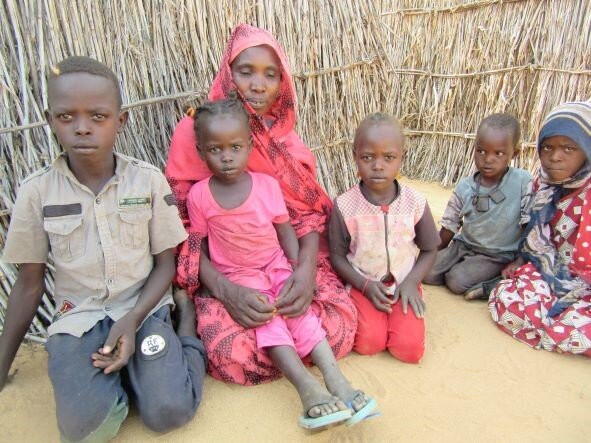 Your support and donations towards our Healthcare projects in Darfur has made a huge difference. Thank you so very much. We are enormously grateful..
But not as grateful as Limon, a young mother who lives in Matway, a village we adopted in 2018.
Limon is 35 years old, married and bringing up 6 children.
Limon was chosen by the Animal Loan Committee in Matway to receive a Kids for Kids' Goat Loan for many reasons.
Her family was very poor. They only had a straw hut which they called home but no other belongings.
In 2018, Limon received 5 goats, one local breed donkey, two blankets and two mosquito nets from Kids for Kids.
These mosquito nets have a very fine mesh so help protect the children from spread of diseases carried by sand flies as well as mosquitos .
In Darfur, there were floods in August 2022. There was no spraying of standing water, and mosquitos have swarmed. In the hospital there are 4 children in every bed, suffering from malaria. It's still the biggest killer in Africa. Half of those children will die, because they are too malnourished to fight the disease.
Mosquitoes in Africa also carry dengue fever, chikungunya, yellow fever – all deadly. These mosquito nets offer protection but cannot prevent the children being bitten during the day.
Limon cares for her goats, preparing shade and dry hay to keep them well-fed. She has managed to grow her flock to 20 goats and was then able to repay her Goat Loan by passing on 5 healthy nanny goats to another familly to benefit.
Nanny goats provide protein-rich milk to strengthen Limon's malnourished children, warding off starvation, and she is able to sell some of her Billy goats to help give her an income.
Limon says "The sale of my Billy goats allowed me to purchase agricultural equipment and prepare my children for school by buying school clothes and books. Not only that, but it has allowed me to pay for my children's treatment when they caught flu and malaria. It was a terrible time for us."
Limon's goats have literally saved her children's lives.
And that's all thanks to you!
Could you help us support more families like Limon's by donating to our Healthcare project?
We know times are tough for us all right now but imagine being helpless and not knowing if your child will live or die?
We promise to provide many more mosquito nets to protect children, goats to ward off starvation and much more!
Thank you so much for your kind generosity and consideration. Our health care projects include the training of village midwives and of first aid workers. There is no other health care available in villages.