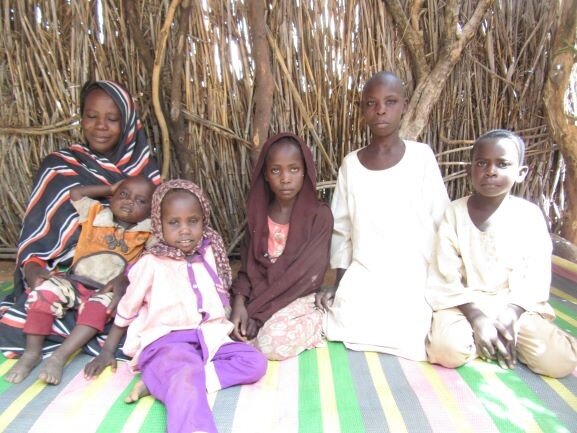 We are so proud of all the Village Midwives we have trained over the years.
Not only do they help mothers and babies in their own village but they also travel to surrounding villages to save lives. Can you imagine what it is like to have NO health care whatsoever within reach. The best people can do in Darfur is to go by donkey - the only transport - to a rural hospital miles away where help is limited - to say the least. "I visited the hospital at Mellit recently" said Patricia Parker OBE, our Founder. "There was no oxygen, the operating theatres had mould on the ceilings, and virtually no equipment. People have to pay for their drugs, their food and even bring their own bed covering." Our trained village midwives do far more than deliver babies. They advise on feeding, post and natal care, and convince mothers not to undergo FGM and, even more important, not to put their daughters through this terrible practise. Patricia says "I am so proud of our midwives. If we did not do anything else, funding these wonderful women is a life changer."

This year, Kids for Kids has adopted 5 new villages, including Hillat Um Gadeer, which is 55 kilometers north east of the capital, El Fasher.
Fatima lives in Hillat Um Gadeer. She is 36 years old, married and bringing up 6 children - 4 boys and 2 girls.
Fatima's husband, Khalil, is a farmer and they live a miserable life of subsistence and dire need. They are missing out on the basic necessities of life.
During the last rainy season, the family's millet crop failed and they were only able to harvest one sack of sorghum, together with a few okra and watermelon.
Can you imagine? This just isn't enough for a family to survive on.
Fatima is also 6 months pregnant.
Luckily, the village of Kerkra which Kids for Kids adopted in 2009 is close by. And there are two trained midwives there.
One of those midwives was able to travel on her fast crossbred donkey provided by Kids for Kids to see Fatima in her village, carry out observations and advise Fatima that her baby is in an abnormal foetal position.
Childbirth in this situation would be very risky - for both mother and baby.
To save both Fatima and her baby's lives, the midwife advised that Fatima should be transferred to El Fasher for treatment. Without this expert advice Fatima and her baby would have been at great risk.
Fatima now travels the 55 kilometers to El Fasher once a month to meet the Obstetrician and Gynecologist who monitor her baby's progress and will help deliver her baby safely.
You have helped us train these midwives - thank you!
Because of you, Fatima's delivery will be much smoother.
Because of you, Fatima and her baby are much more likely to survive labour. Her other children will not lost their mother.
Sadly, there are many mothers and babies in Darfur who are not as lucky as Fatima; mothers who do not have access to trained midwives who can spot abnormalities like this.
We need your help to train many more midwives to help many more mothers just like Fatima.
Please could you donate today to help us save the lives of both mothers and babies?
A midwife to give mothers and children a chance | Kids For Kids
Or could you donate a solar lantern to help midwives treat mothers at night? - Solar Lantern | Kids For Kids
Or please do donate to the Greatest Need and we will be sure your donation makes a difference where it is needed most - Donation for the Greatest Need | Kids For Kids
Every little counts when lives are at risk. Thank you so much for your support.