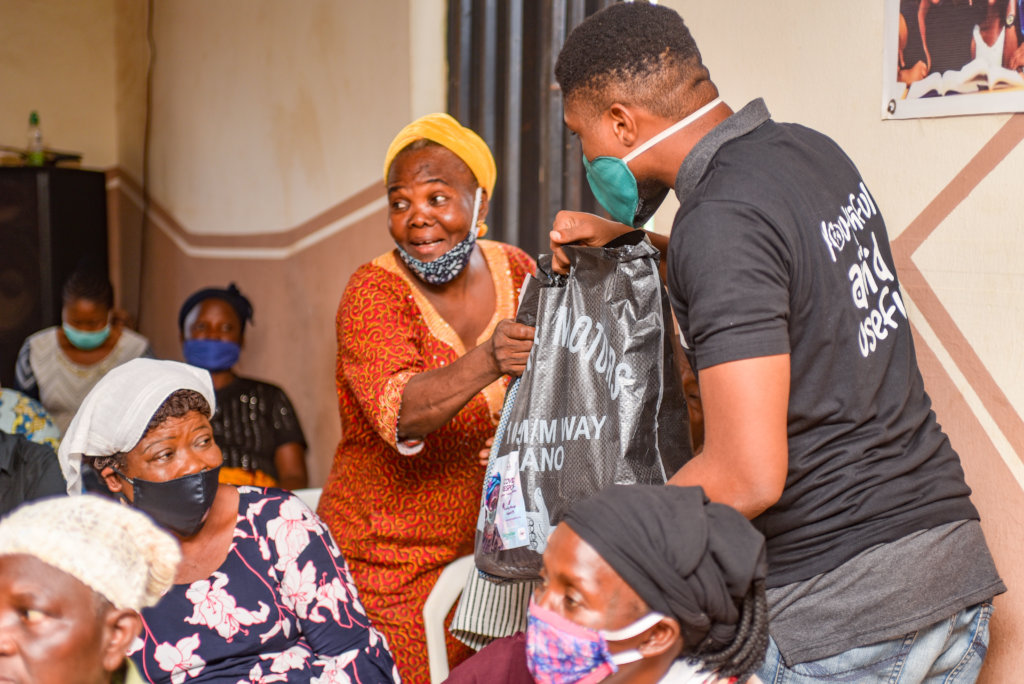 With so many low-income families still grappling with the effect of the pandemic on their livelihoods, LEAP Africa has continued to mobilise support for the elderly, women and children; by empowering our network of social entrepreneurs across 12 states in Nigeria to cater to the basic needs of the vulnerable in communities where they work-sharing hope and love in bags of goodies; ensuring families do not go hungry for loss of economic power occasioned by the pandemic.
So far, we have reached 17,588 individuals mostly the vulnerable in underserved communities in 3,933 households across 56 communities and we are pressing forward to reach even more.
Agnes is a 65-years old widow who is a petty trader and depends mostly on gifts from generous people to go through the day. Since the pandemic broke out, it was difficult for her to, her source of income was cut short as she had spent the little she had saved to feed her family so she had resigned herself to fate. However, her hope came alive during one LEAP Africa's outreaches to her community. On sighting the LEAP Africa COVID-19 Response team, she began to beam with smiles of relief as she headed towards the distribution area. After she received her package, with the help of her grandson, she placed the food box on his head; almost moved to tears, she prayed fervently for the sponsors. Her grandson was very excited and told the team that her grandma will not have to depend on anyone in the next few weeks before they can feed again.
From Amuwo Odofin, Amukoko, Oworonshoki, Ajegunle all in Lagos, to Ilorin, Kano, Osun, Delta; the echoes were the same everywhere our team visited. Many of the community dwellers said they were weighed down not just by the fear of the virus but the uncertainty of where their next meal would come from and how quickly life can return to semi-normal. They were happy to welcome the team and grateful for the foodstuffs, provision and groceries handed out to them in goody bags.
In the words of Mother Theresa, 'If you can't feed a hundred people, then just feed one'.
With twelve states, 3,933 households and more than 17,588 individuals spread across 56 different communities; all of these would not have been possible without your donations and the generosity of people like you.
If each one can reach one… no effort is too small.
You can join us and tell your friends to do more because we believe that together we can beat this.
Please visit, https://www.globalgiving.org/projects/covid-19-social-intervention-in-nigeria/?rf=progrept46418_150305 to contribute.
Alone we can do so little, together we can do so much… Hellen Keller