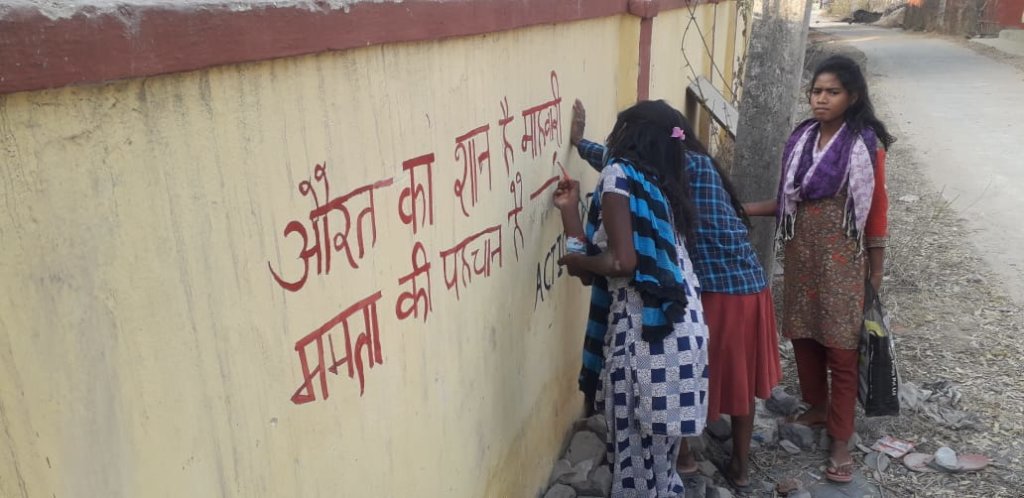 CREA has been co-implementing the It's My Body program in Uttar Pradesh Bihar and Jharkhand in India for the past ten years. Over the years, the program has not only capacitated girls in terms of refining their understanding around body, sexuality, and bodily rights, but has also built their leadership largely. Girls, who had been part of the program back from 2012-17, had important roles in the current phase of the program that is being implemented since 2019 with five partner organizations in Uttar Pradesh and Jharkhand. These girls aged 17-19 years, whom we are also addressing as young women, are not only integrating the lens of intersectionality in their understanding of gender and sexuality but also taking up small action projects around gender-based issues and creating ways to advocate for and strategically resolve them as well.
Planning and designing the action projects
Post the pandemic the trainers connected with the young women cohort (17-19-year-old girls) to recap sessions and identify how they can translate the knowledge gained over years of learning into action within their community. At locations where young women are not considered as decision-makers and right bearers, 880 of them were engaged through 40 collectives in translating issues of early and forced marriage, the right to choice, gender-based discrimination, gender-based violence (GBV), and sexual and reproductive health and rights into action projects.
As a part of their engagement, these young women along with the trainers identified some of these underlying issues according to their respective Panchayats. As second steps, in their collectives, they planned ways of how to bring these issues to the attention of the community, stakeholders, and major decision-makers. The collectives adopted various methods some of which were conducting surveys, organising rallies, wall painting, performing street theatre, organising signature campaigns. They included younger girls, mothers, elected women representatives, health service providers, men, young men and boys, teachers to understand, question, and receive opinions about all the previously mentioned issues. These processes not only helped in amplifying the need to articulate the existing issues faced by women and girls but also foresee how young women collectives can play a major role in challenging the regressive social norms.
Advocacy and impact as a part of the action project-
Apart from planning, designing, and executing the action projects, the collectives of young women played great roles in advocating for their rights associated with these issues mentioned above. Some of them advocated for the need for regular sexual and reproductive health services with health service providers. A group of young women raised concerns in front of Panchayat representatives about early and forced marriage and gender-based violence and asked leaders for their support. Another group of young women, who had identified issues of gender-based violence in certain households, strategically painted helpline numbers on their adjacent walls with the help of elected women representatives. Some of the other collectives also saw the results of the action project and its advocacy immediately.
A collective from Gramonnati Sansthan in Mahoba Uttar Pradesh surveyed two groups, one being part of IMB (200 girls) and another (200 girls) not part of the program, and compared the results. They developed survey questions on the right to choice, understanding of gender, gender-based discrimination, and sexual and reproductive health and rights (SRHR). They asked whether girls have a right to choose their partner, to decide their marriageable age and other choices they can exercise. The study showed that 85% of girls exposed to the IMB showed assertiveness and confidence in making their choices, knowing about sexual and reproductive health rights, and accessing the same. Amongst the ones not exposed to the program, only 12.5% followed their choice. The rest had no idea about gender, sexuality, gender discrimination, or SRHR. The cohort of young women, who did this study gave out a statement of the results to the district administration, asserting the need for intervention of programs like It's My Body for girls. The district administration promised to support them where they needed, such as encouraging them to seek legal support against incidences of gender-based violence through help desks set up by the district administration (to address GBV) in the police stations.
Usha, the trainer, who was supporting these young women to conduct the action project said, "It was a process where these young women were clearly building their networks, they were examples to the non-IMB girls of how the program had impacted their knowledge, confidence, and decision-making capacity. Also, there are instances, when the chairperson (district administration) has been regularly asking us if these young women are doing fine and if she could support them in any manner. It's all because of the action project that they have received so much recognition."
Similarly, a collective of young women in one of the villages of Chatra district, Jharkhand began talking to the girls in the community about their knowledge and access to SRHR. These conversations revealed that a number of girls and women did not always seek medical attention on sexual and reproductive health issues as they felt uncomfortable talking to a male doctor. The young women then advocated for a female doctor, specifically for SRHR issues. The district hospital then appointed a female doctor. Since then, there has been a major increase in the number of girls and women going for consultation visits to the doctor.
Rani, the trainer of Lok Prerna Kendra, who was supporting these young women said, "The change was visible right from the time the doctor started sitting in the PHC twice a week. Imagine the number of women not seeking medical attention on their menstruation issues, pregnant women not being able to travel to the district hospital for check-ups, our young women resolved all of this by bringing a female doctor so close to the village."
Leadership and movement building to challenge norms around bodies and sexuality
The impact of action projects was not only visible through the actions taken because of the advocacy work that the young women were doing, but also through various other mediums. It acted like a huge movement that was strengthened through networks. The collectives of young women used their right to express their inner thoughts on the issues of inequality and supported arguments with facts and information, when they questioned the social norms around early and forced marriage, restriction on their mobility, and right to choice. This was also an opportunity to refine their problem-solving skills, enhance their feminist leadership, and take strong steps of advocacy by making the decision-makers accountable. CREA strongly focuses on strengthening feminist leadership. Empowering young women's leadership through these action projects has proved to be one step closer to ensuring change that is sustainable and consistent. At a time when girls and young women are denied their sexual and reproductive health rights and agency over their own bodies, it is also important to continue building their leadership in more strategic and innovative ways. These leaders will not only increase the assertion towards their own rights and create better channels of accessing them, but also build strong collectives for greater societal change.