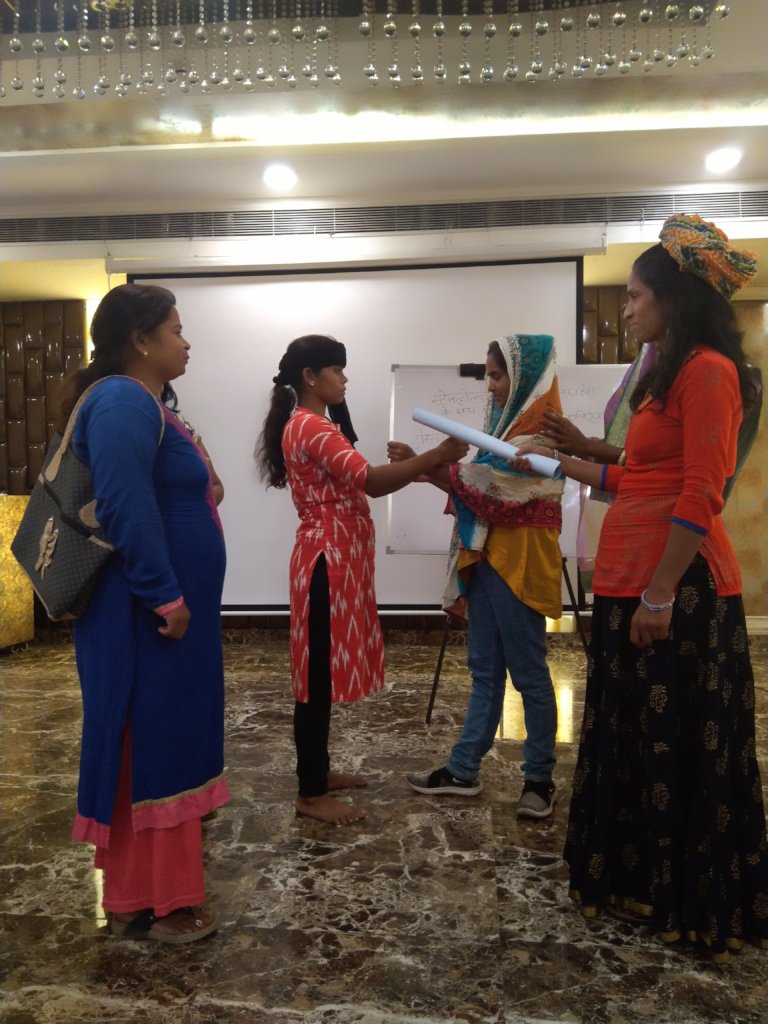 "It was so much fun! I loved running with so many people, I have never run like this; in such a big ground, under the sky. As I was running cool breeze also hit me on my face. I also talked to the girls from the other side of the village which we don't otherwise do." Said a 15 years old girl from a village in Jamshedpur, Jharkhand.
She attended the first sports event, which was organized by YUVA, a community-based partner organization (CBOs) (Lok Prerna Kendra, Hazaribagh and Chatra; Mahila Mukti Sansthan , Hazaribagh; Yuva, Jamshedpur in Jharkhand, Mahila Swarozgaar Samiti, Varanasi; Sakar, Bareilly in Uttar Pradesh)
with whom CREA co-implements the program in East Singbhum and Jamshedpur districts in Jharkhand. The event was organized to mobilize girls for the It's My Body (IMB) program sessions. Around 30 other girls like her and their mothers joined for this event. This event was part of the process where CREA and its partner organizations are mobilizing and collectivizing girls for the sixth batch of the IMB program.
YUVA is CREA's newest partner organization in Jharkhand for the IMB program. YUVA's work is majorly with the Adivasi (tribal) population of this area. These villages, where the IMB program has started with YUVA, are remote villages where people do not get the benefits of various government schemes and are often not aware of the rights, which protect them.
The dominant communities exploit women and girls from these communities in multiple ways; sexually, socially and economically. This exploitation is based on not only their gender identity but also their community's identity, which lies at the lowest ranks of the Indian Society.
All of this increases restrictions on their access to various services related to health and well-being. Their socio-economic position due to the structured discrimination they face also results in interrupted education and early dropping out of schools especially in the case of the girls.
With this context, we are looking forward to the participation of these girls in the IMB program as they reclaim spaces, assert their agency and exert greater control over their bodies, sexuality, health, reproduction, and lives. Through the IMB Program, CREA and YUVA together aim to challenge the unjust norms of gender and sexuality, especially through sports.
In the field of work of our partner YUVA, one can observe that the willingness to learn, grow and ensure that their girls gain knowledge and information was a lot. The challenge is to ensure that the services and information about various aspects, which affect their life, reach them.
Playing sports enables the girls to come out, play together in public spaces and challenge various social norms around gender and sexuality, which restrict their access to public spaces, health services, and greater mobility for all women.
The aim is also to increase and strengthen their self-confidence among women and girls to question, resist, and speak up against the discrimination and violence they face. This would enable them to exert greater control over their bodies enabling them to make their own decisions. As these girls from the most marginalized sections grow, they take other people of their community forward; they are empowered and they will empower others.
YUVA has been working with various communities around their livelihoods. It works around ensuring the reach of various livelihood based programs' benefits of the government to the tribal communities. It has worked with women to form Self Help Groups for a sustainable income through the projects, which the SHGs take up as well as to collectives' women for larger causes. YUVA has also developed the government schools in the remote villages in a way that the students are motivated to come to school and learn. YUVA actively uses football to advocate for the cause of gender justice.
The enthusiasm and excitement, which the girls and their mothers are showing in these villages, is motivating for all of us.
"I think we are going to learn about our bodies and our health, maybe we will know more about periods…and we will play also every time we meet! I want to know more about how my body has rights? What are the rights I have? Mera Sharir, Mera adhikar (My body, my rights; the name of the IMB program in Hindi) (She said the name aloud and wondered.)
-Participant (15 Years Old) before the first session of the IMB program
In addition to YUVA, CREA will continue to work with its existing partners in U.P and Jharkhand - Mahila Mukti Sansthan in District Hazaribagh, Lok Prerna Kendra in District Chhatra from Jharkhand and Sakar, Bareilly and Mahila Swarojgar Sanstha, Varanasi from Uttar Pradesh.
We have kick-started the program, with an extensive Baseline study to map the existing attitudes, mind-sets, behaviour and practices in these communities towards sports, sexual health and rights, gender norms, mobility, desires and so on. A participative tool of social mapping was used to map the households, resources, and power in the villages. This process was an attempt to identify the most marginalized communities of the village.
A few girls from the previous batches of the IMB program helped with the process of social mapping and baseline study. One such girl who was a part of the IMB program organized by our partner organization Sakar in Uttar Pradesh said,
"I think I would want to work in a NGO and do social work! I enjoyed the process of doing the social mapping and helping the research team. I got to know so much more about my village"
As the baseline study ended, we also had our second training of trainers in New Delhi with 22 trainers from across all the partner organizations. The training focused on working with various groups from different marginalized identities. The training also did intensive sessions on mobilization and facilitation ideas for the trainers during the program.
Immediately after the Training of Trainers, the partner organizations started the curriculum-based sessions with the girls.
CREA is also working towards digitizing its internal reporting systems and processes. With the partner organizations, CREA has been working to create a digital reporting template and an app to improve and increase the efficiency of monitoring and reporting at CREA.
In this phase of the program, to strengthen our leadership and advocacy components and improve the sustainability of the program, many new elements are being introduced. Some of these include leadership and advocacy training for the older girls, Action Projects led by the girls (17-19 years old), excursion trips to police stations, hospitals, fields of work of other partner organizations; we are aiming to look at the Sexual and Reproductive Rights and Freedom from wider lenses.
The program has enrolled around 1400 girls between the age group of 12 to 19 years old across 40 villages of Jharkhand and Uttar Pradesh. Each partner organization has also identified 5 schools each with which they would be working. Elected Women Representatives, Health Service Providers and Female schoolteachers across these 40 villages have also been identified with whom the IMB Program will work.