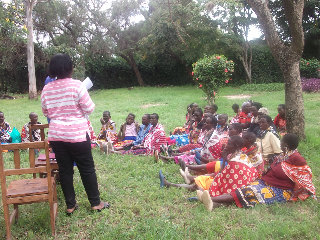 We have great news to share! This month MGEF launched the first-ever Mothers Workshop, a program that teaches Maasai women about the importance of educating girls and protecting them from FGM, early marriage, and teen pregnancy. Maasai girls have little opportunity to learn these vital skills when they need them most because the subject matter is culturally taboo. The Mothers Workshop is structured to empower Maasai women, making them prepared to communicate what was once unspoken. Meanwhile, Maasai men are being taught in Chiefs and Elders Workshops how to talk to their sons. Ultimately, we hope to eliminate the obstacles girls face when seeking an education by teaching parents that girls are more healthy and successful when they go to school. A statistic worth highlighting:
Girls reinvest 90% of their income back into their families and communities compared to the 30-40% reinvested by men (Nike Foundation, 2009).
In Maasai culture, this means that the one-time dowry payment for a child bride is miniscule compared to what a girl will contribute to her family after getting an education.
In addition to launching a brand new program for mothers, which joins the pre-existing Chiefs and Elders Workshop, MGEF continues to offer Life Skills Workshops for girls and boys. In 2011 alone, 733 girls and 824 boys participated in a Life Skills training, a powerful testament to the GlobalGiving supporters (that's you!) who donated a collective $5,370 toward our Community Education program.
You answered our call, and for that, we are incredibly grateful. We'll leave you with a photograph from the Mother's Workshop (see attached).
Thank you again!
Barbara Lee Shaw, President
P.S. If you haven't yet, come check out our website: maasaigirlseducation.org! You can also read a wonderful case study about our work, as featured on kabissa.org.
Links: