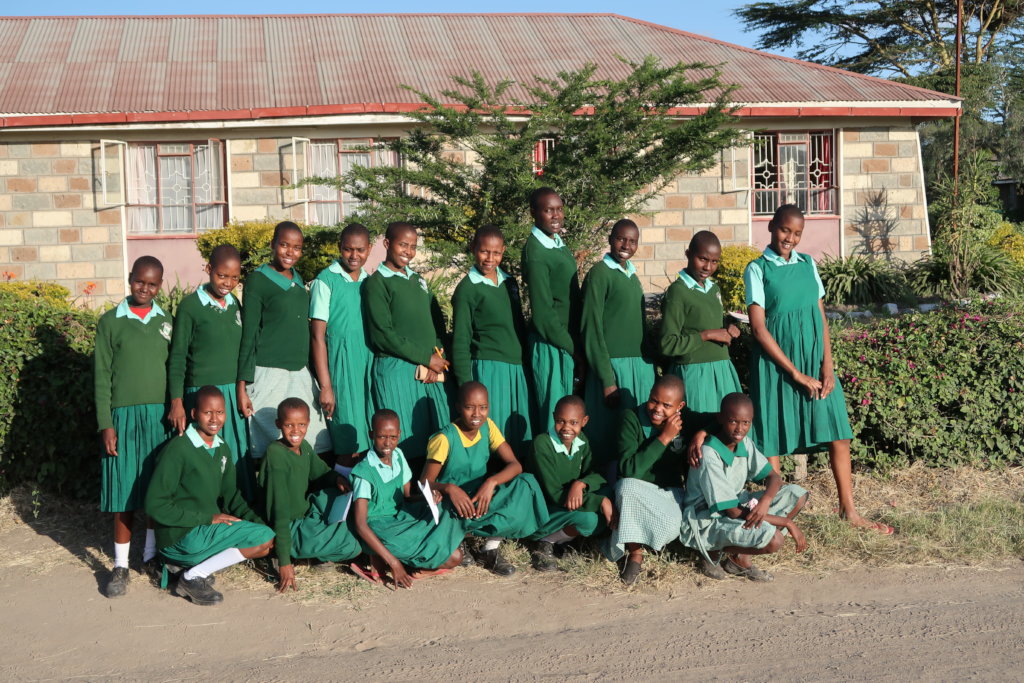 Dear Friends,
MGEF started out 2020 by accepting seven new scholarship students, who were chosen by our new junior board members, all MGEF alumni, with input by the elder board members. This brought our roster up to 136 active students – 48 primary, 46 secondary, 31 post-secondary and 11 students waiting for acceptance into institutions of higher learning.
We were busy during the first two months of 2020 with the usual beginning of school tasks such as enrolling Form One secondary students in their new schools, making sure students had their supplies and transport to school, and addressing any issues new and old students may have had with their schools. Then the COVID pandemic became a worldwide crisis. Shortly after the first positive COVID case in the United States, Kenya had its first case, and like other countries around the world, everyday life in Kenya dramatically changed.
Once schools were closed on March 16th, all of MGEF's primary and secondary scholarship students dropped by the office on their way home, many confused, scared and uninformed. The post-secondary students touched base by phone; though they were more aware of the situation, they were still scared and needed reassurance. The staff immediately went into action, with instructions about how to help keep them and their families safe and well. They addressed washing of hands, social distancing, masks (which were difficult to find and must be handmade), isolating at home to stay safe, and most importantly, staying away from boys which now is not just a matter of getting pregnant, but also a matter of life and death. Many of the children had not even been told why they were being sent home and were in great need of explanations and reassurance.
The staff also had to make sure that all rescue girls who could not go home (e.g., due to risk of family violence or forced marriage) were safely in place at the schools with rescue centers that MGEF has partnered with for many years. Transportation and logistics for these rescue students were immediately dealt with. Thanks to our MGEF-Kajiado staff, all of our girls made it home safely or are in secure rescue shelters.
Now several months later, MGEF-Kajiado's Managing Director, Lucy, and Program Director, Abigael, remain vigilant about keeping in contact with all of the scholarship students. We are very happy to report that as of now, everyone is healthy though COVID cases in Kenya continue to rise. Unfortunately, we have discovered that our students' families are struggling to provide food for their families. The meager living that they once survived on has been lost due to closures of markets. They can no longer sell their milk, livestock or beads. The girls, who are usually away at boarding school, have become an extra mouth to feed during an extremely tough time. MGEF decided to send a stipend for food to our students' families to help. This will not only keep our girls fed but they will also become the only source of food for the entire family during the shutdown. This will raise their value to the family and will deter any thoughts of the girls being married off before they are safely back in school.
Kenya had originally hoped to reopen schools at the end of June, but they have decided it is too soon and made the announcement just last week that they would reopen schools in September. We were relieved, for we feared it might be too soon with respect to COVID, but yet, at the same time, we know it is best for our girls to be in school where they are safe from forced female genital cutting and early marriage.
Another development from the pandemic has been the decision by many universities and colleges to switch to online learning. This has enabled quite a few of our post-secondary students to continue their studies. Though this has been a real challenge for most of our students because they live in rural areas where internet access is very limited. A few girls who have smart phones have been able to access information so they can continue their studies without too much trouble. Others have had to borrow phones which is very unreliable. Due to this situation, MGEF decided it was necessary to invest in some laptops for the students to borrow for their classes.
As we all navigate through this difficult time, MGEF hopes all are safe and well and would like to thank everyone for their generous support of MGEF. I have received many notes from alumnae, students, board members and other friends in Kenya. All send their love and are so thankful for all you have done for their community through the education of their daughters, sisters, mothers and aunts.
Thank you
Heather