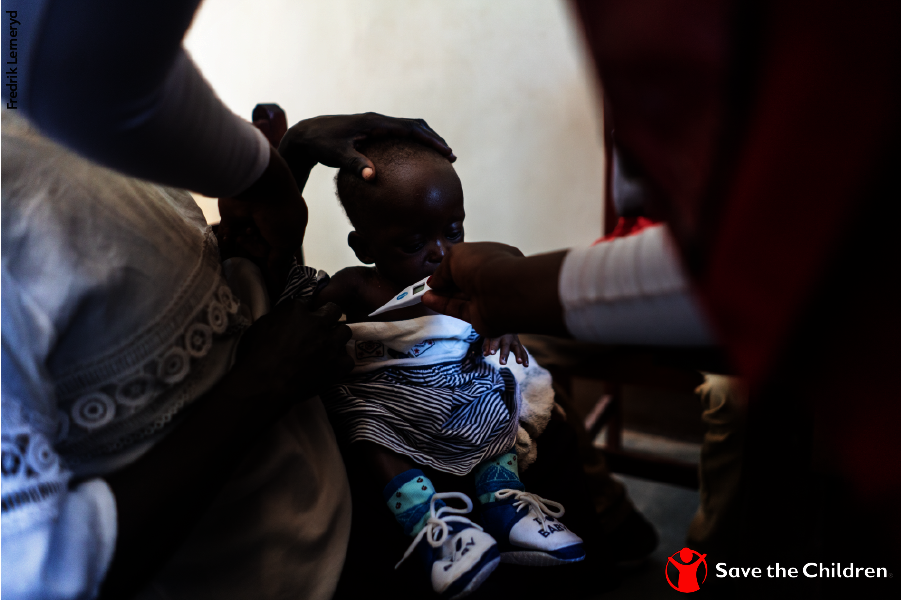 Save the Children's Health Centre in Omugo refugee settlement in Uganda is providing health care to around 24,000 refugees, and this is just one of four health facilities.
It has been a fairly typical morning for Save the Children clinical officer Agnes Alinde. She's the "in charge" at the Ocia health centre in the Omugo refugee settlement in northern Uganda's West Nile region, and that always means a busy start to the day.
Agnes begins her rounds in the centre's in-patient department: there's a woman with high blood pressure; a girl with a broken hand who needs to go to Arua by ambulance and five new mothers who are all doing well.
Then it's over to outpatients where most days around 130 people, mainly refugees from South Sudan, crowd in with malaria, acute respiratory tract infections such as pneumonia and coughs, rashes and diarrhoea to be treated by Ocia's 14 health workers including doctors, nurses, clinical officers, laboratory technicians, dispensers and midwives. Agnes sends two babies with malaria and another with severe acute malnutrition for immediate testing and treatment.
"This facility is one of the biggest health care facilities in the refugee settlement," says Agnes. "We're serving a very big community of refugees who come in here every day. They have very many diseases, things like cough which if not treated will affect everyone in the family."
The clinic treats a population, including refugees and locals, of around 24,000 people. It is one of only a few permanent structures in Omugo and provides care 24 hours a day, seven days a week.
Jane, a teenage mother from Yei in South Sudan, says the Ocia health centre saved her life when heavy bleeding during her delivery put both mother and child at risk.
"When my birth pains started my aunt ran here to the clinic to get the ambulance to come," says Jane who arrived in Uganda with only the clothes on her back after she was robbed by South Sudanese soldiers at the border, a common experience among the refugees who were fleeing to Uganda. "Since it was my first child I wanted it to be born in the hospital where it would get the right services.
"I lost a lot of blood during the delivery, and I'm feeling really weak now, but I'm really happy. If I'd been in the bush maybe I would have died or lost my baby. Maybe neither of us would have survived."
Before going home Jane's baby will be vaccinated for tuberculosis and polio and the new mother will receive antibiotics to ward off infections caused by living in unsanitary conditions.
Rebecca's three-month-old son Lawrence was born in the bush as she hid from rebel soldiers near her home in Morobo County, South Sudan. "We were chased to the bush and I gave birth to Lawrence right there," she says.
Though Rebecca says the birth was without complications, baby Lawrence got sick with a cough and high fever when they arrived in Uganda. Agnes diagnosed pneumonia and admitted mother and son to Ocia for antibiotics and bed rest.
"I wanted to take him to another health centre but my neighbours saw that his health wasn't good and told me to bring him here," says Rebecca.
"When I saw that Lawrence wasn't feeling well I was unhappy. But now my heart feels good. I feel good because Lawrence's body is now healthy."
Though Ocia has more and better medicines than most clinics in the area, Agnes says more drugs suited to African illnesses are needed.
"Some drugs we don't get because they are not in the budget. We see few cases of hypertension here but we get these drugs. But we have very many cases of pneumonia and malaria but for the pneumonia cases we don't have syrups for babies. The drugs we have are catering for adults and the syrups are very few. If we don't have the treatment for cough then the child progresses to pneumonia when we don't have the syrups to prevent the cough in the early stages."
Ocia was built with a grant from the UK government and money to pay for the drugs and run the centre on a daily basis comes from the European Union. But that funding is running out. All four Save the Children health facilities in the refugee settlements, including Ocia and the mobile clinic in the Imvepi settlement, will close on 31 December 2018 unless more money is found.
The Ocia health centre team are doing their best to prepare the refugees for the possible closure. Coreen Auma, Save the Children's regional area manager in West Nile, says the community is reacting with alarm.
"The response we are getting is 'where will we go?'," says Coreen. "They appreciate our services as Save the Children. I think that some walk up to 10 kilometres and even bypass other heath facilities because when you come to Save the Children you will get seen, you will get treated, the staff treat you well. You will find everything there."
If Ocia and the other Save health centres close, Coreen believes the impact on refugees will be huge.
"Mothers will have to walk long distances to get services. Sometimes their children may even die on the way. We will be registering more deaths of children and pregnant mothers who cannot access our facilities.
"People will resort to traditional methods of treating themselves. Maybe mothers will have to deliver at home and that means we will register a lot of maternal deaths.
"We might also face a lot of malnutrition of children under five, which is a common thing in places with no medical services.
"Some of the refugees might say, 'why don't we go back to our country. If we are going to die here maybe we should return to our country.'"
"I feel so bad – especially for the children."
Appealing directly to donors, Coreen says, "We are supporting the refugees, these asylum seekers who have left their homes. They have no one to rely on. We would appeal to the donors to continue supporting the women and children, because the majority of the refugees are women and children.
"I ask that they continue supporting us so that we can save the lives of these children and the pregnant mothers and the refugees. They've run away from a lot of trauma, and they should not be feeling the same way when they are here in a place where they think they will be treated with dignity.
"So for the sake of the mothers, for the dignity of humanity, we ask that the people from Europe and the UK continue supporting the refugees in West Nile."
Adding her appeal to Coreen's, Agnes says these poor and traumatised people need help.
"If a child is sick it will not go to school. If a child is sick the whole community is depressed. If health is addressed then all other aspects of the community can go on well. Cases of scabies, pneumonia, malnutrition, patients dying in the community without any hope will all be addressed if the funding comes."
How Save the Children is helping:
Jane is a young mother and her delivery had complications including heavy bleeding. If she hadn't delivered at Ocia both she and her baby may have died. Jane's baby was also vaccinated against TB and polio and she was given antibiotics to ward off potential infections. Baby Lawrence is just three months old. He was born in the bush under traumatic circumstances. With severe pneumonia, being treated in a hospital with a safe, clean, well-equipped in-patient ward undoubtedly saved his life. He was also vaccinated and both mothers referred to the MBA for feeding and nutrition advice. Having access to free and comprehensive healthcare also helped Jane and Rebecca to conserve their meagre resources for food and other necessities.
Thank you for your continued support!