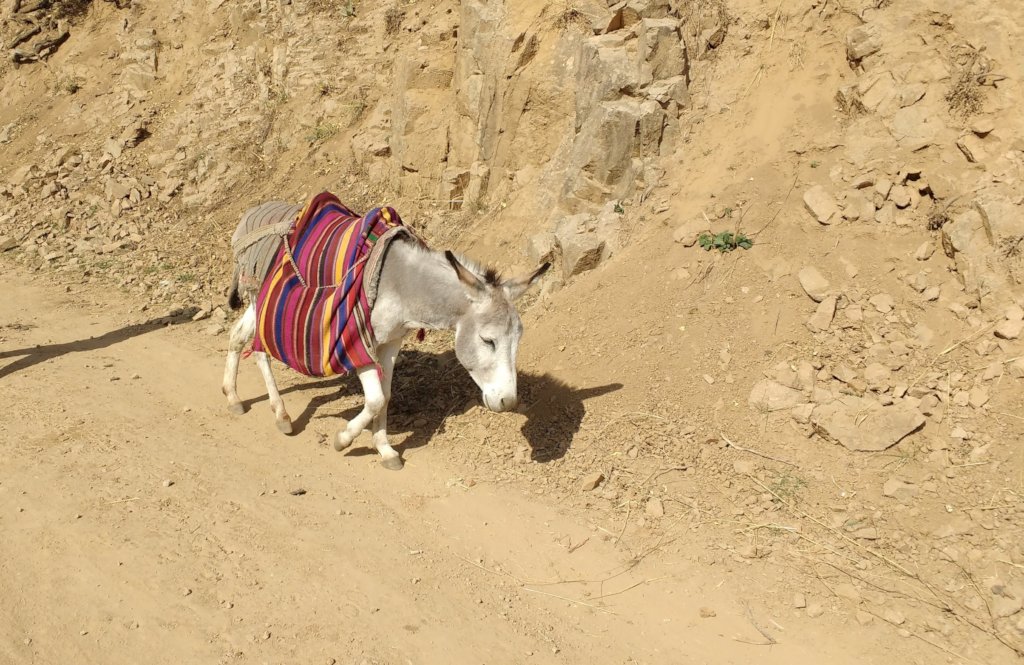 Dear friends of Operation Mercy,
as many of you know one of our biggest offices is in Afghanistan. So we want to give you a glimpse of the last days of some of our international staff in the country as well as my thoughts of the situation as we go forward.
All our international staff were evacuated on the 17th of August. We are in regular contact with all our local staff and are happy to report that so far all of them are safe and unharmed. We have undertaken many efforts to bring those most at risk out of the country, but this is been extremely difficult.
The last days ... through the eyes of our colleague:
A few days before I left my home in the North of Afghanistan, my taxi driver, whom I used to call now and then when I had to go somewhere, called me and asked if I was still in town. He offered me and my house mate to come and stay with his family, so that we wouldn't be alone given the security situation. This despite the fear among people in general that contacts with foreigners would even more compromise their safety in the event of a takeover by the Taliban. But my taxi driver – my friend – meant it: "It's better if you stay with us instead".
Some families brought in an extra 3-4 families in their homes, as people fled the countryside into the city. Even some of our staff had their house full of guests (never would they called them anything else) but still came to work and took responsibility for a thousand other things at the same time. "How do you handle the stress" I asked a colleague. "It is what it is." she said. "We could never do otherwise than to take them in."
Some people showed such a tight-knit calm those days before Mazar-e-Sharif was taken. Like they were watching a storm cloud build up over their heads, but steeling themselves. A friend who was there in the 1990s, and thus well aware of what could take place on the streets at the time of a takeover, said he would buy himself some canvases before the storm broke loose. "I won't be able to concentrate so I can read" he said, "but painting might work." As if he pulled out a mental sun lounger, sat down under open skies just waiting for the downpour. "I can't leave my family. I'll stay here." I myself moved on to Kabul before the first drops of the rains even began to fall. But with me I took a deep respect for the patience, care and faithfulness I have seen in many Afghans.
The last few nights before we left town, I slept on our roof. But I wasn't sleeping. I looked at the stars in the balmy night breeze. Listened to the dogs barking now and then. Heard the sound of bombings, 3-4 of them, some distant away in a couple of disputed villages on the outskirts of the city. I prayed for the city. Felt grateful to be surrounded by it. Somehow being a part of it. And so, the sun rose over the rooftops.
Afghanistan has had a sleepless night for 40 years. I pray it would dawn and for the sun to rise soon. I pray I would be there to see it.
Was it all for nothing?
That is a question many people ask these days, was all the work, the funds – yes even lives of soldiers and development workers – that we have to Afghanistan for nothing?
My deep conviction is NO! A generation of lives have been changed, girls and women have been to school, have learned that they have value and abilities – these are not things one can forget, unlearn or suppress with a change of government.
Our health projects have saved 1000s of new born children and mothers from death, our publishing project has brought books and stories into Afghan homes, the Self Help Groups and community water sanitation and hygiene projects have empowered women and whole communities to care and work together for what is going on in their neighbourhoods. These are lessons learned, behaviours practised, and relationships build that can not be undone by a law or rule.
So we look into the future with hope, even as all work is suspended and our local staff are staying at home to reduce the risk to their well-being at this point.
Yes the future under the new rule will look different, but we hope that they will also keep their word that they value the contributions of international organisations in health and education and that in due time, it will be safe for our people to return to work and once more "restore hope, grow capacity and promote community.
One key condition is that we will be able to employ and work with and for women in the future.
We will keep you updated how all of this will go forward over the next months – but the foundation for new strategies to serve Afghan people in Afghanistan and the neighbouring countries will be laid now, so we continue to be YOUR Partner for supporting the people of Afghanistan.
I hope you excuse this strong focus on Afghanistan in this news update.
We are also celebrating 30 years of Operation Mercy this month - more about that on our social media spaces, for this the Operation Mercy leaders and the board will meet this week. They will also discuss many other plans and strategies to bring hope, capacity and community to places where it is most needed in this world.
I will update you soon about the discussions and discissions taken on that.
Yours Andrea

Links: