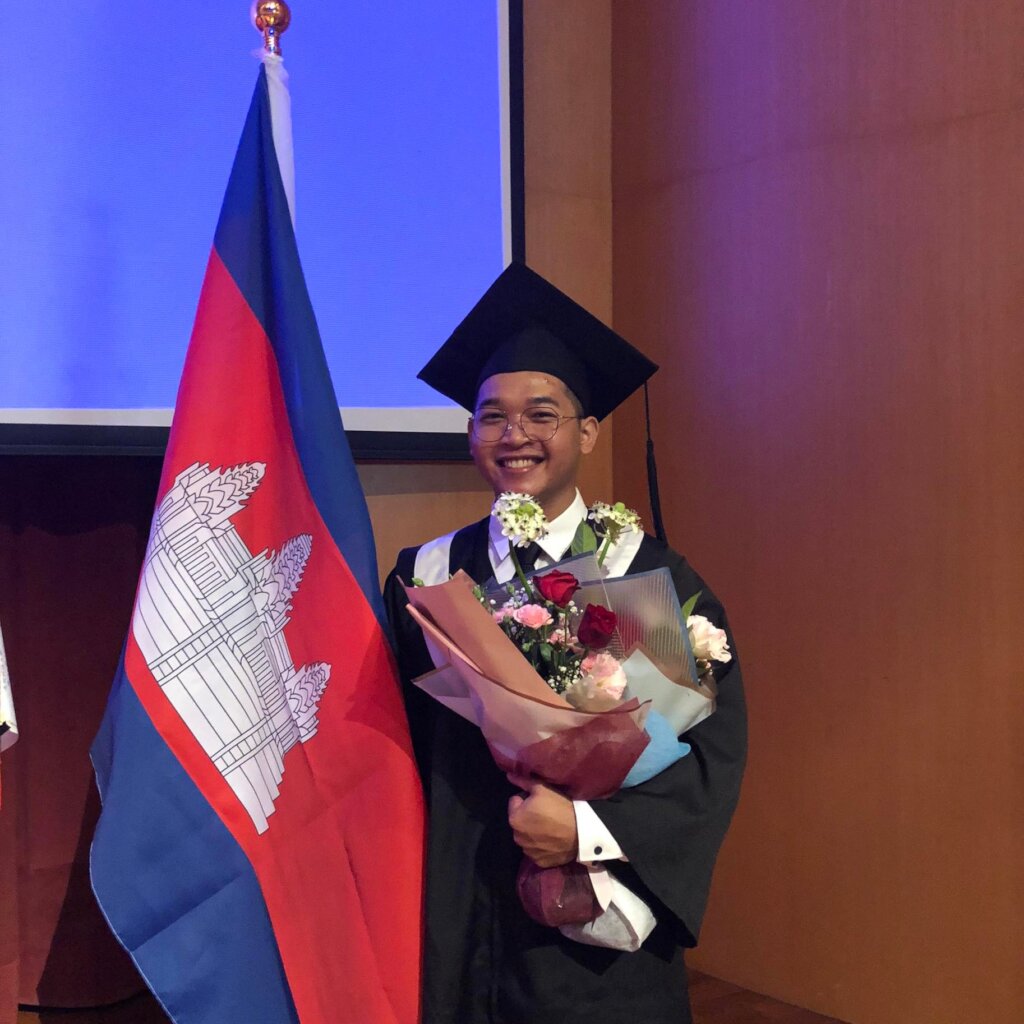 In Cambodia, extreme poverty forces marginalised children out of the school system. In fact, only 5% of the poorest youth will graduate from secondary school (UNICEF, 2019). Through ISF's Education Programme, we break down barriers to education for vulnerable children from two of Phnom Penh's poorest areas for as long as they remain in school - from basic education on to university and/ or employment.
We are delighted that, in January of 2022, ISF's first high school graduate Neng Bunleng has received his Bachelor of Tourism and Creation Management from the National Taiwan University.
Completing high school was a significant milestone in itself for Bunleng. Reflecting on his youth, Bunleng shares that he often didn't have enough to eat - his family would scavenge for food from the nearby drainage system. When financial instability forced him out of Cambodia's education system, he fell behind his age-appropriate grade and lost hope for the future. However, after enrolling in Grade 3 of ISF's Catch-Up Education Programme, Bunleng and his family received the resources, support, and mentorship to help him become one of three in ISF's first graduating class of 2017.
ISF's support did not stop there though. For youths like Bunleng who want to continue on to higher education, we continue to assist them on their educational journey with a package of specialised support. After briefly studying Business Management at the University of Cambodia, Bunleng received a 50% scholarship from the National Taiwan University in 2018.
Over the next four years, Bunleng immersed himself in his studies and life in a new country. Having initially struggled with the language barrier, he quickly became fluent in Chinese and his part-time job in a local shop provided the perfect chance to improve his language skills. ISF's Employment Team kept in regular contact with Bunleng to check on his academic progress and wellbeing, offering the necessary support he needed to overcome any challenges he faced along the way.
Before joining ISF, Bunleng thought he would end up working as a construction worker and had little hope for the future. However, his resilience and hard work to achieve his dream of going to university and studying abroad became a reality and he graduated first in his class with a handful of certifications.
Inspired by his journey with ISF, since graduating Bunleng has joined the team at Formosa Budding Hope Association (FBHA) - a Taiwanese NGO that alleviates poverty through education in Cambodia, India, Vietnam, and Taiwan. Although different from his initial goal of becoming a businessman, he explains: "Poverty means children can't study in primary school. After learning the impact of their [FBHA's] work, I wanted to get more involved. What the NGO is doing is similar to what ISF does, and by working with them, I feel that I'm paying back to others."
Bunleng's significant achievement is not only testament to his hard work and dedication, but the ongoing holistic support that has been provided to him through our Education Programme. ISF's entire team is proud of what Bunleng has achieved and touched that the life-changing programmes have impacted him and inspired him to continue paying it forward.
Creating Sustainable Pathways Out of Poverty
For 15 years, ISF has fought to give Cambodian children living in poverty the education, healthcare, and childhood they deserve. While he is the first to graduate from university, Bunleng joins 64 other ISF students who have completed their education and found gainful employment with our help.
It is only thanks to supporters like you that this has been possible. Your continued support offers youths like Bunleng the tools they need to create sustainable pathways out of poverty. Thank you for your long-lasting generosity.
The most effective way to help more students like Bungleng is setting up a regular gift to ISF. In a country where only 15% of youth will go on to higher education, your monthly donation to our Education Programme can change a life. If you set up a monthly donation today, GlobalGiving will also match your first donation at 100% after four consecutive payments - making your support go even further!
Thank you for giving vulnerable children the chance to achieve their dreams.
Links: