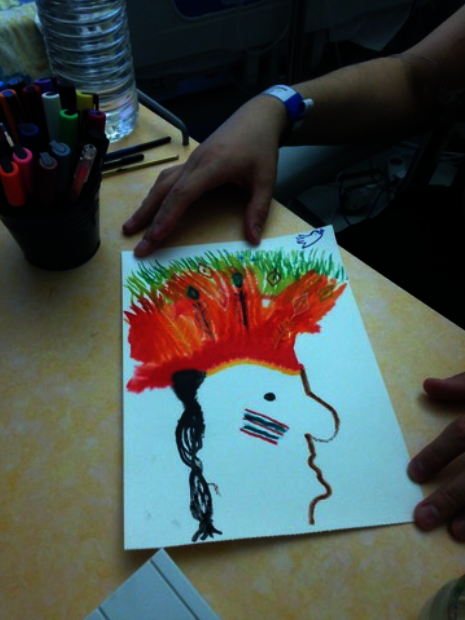 Thanks to you, Beatrice is leading a tailor-made art therapy project in the Hematology/Oncology Intensive Care Unit of the Mignot Hospital.
The care team informs Beatrice of the patients' requests and of particular situations (low morale, tensions with the staff...), so that Beatrice can prepare the workshops in the room as well as possible.
1/ Getting to know each other
"I take the time to start a dialogue, sometimes based on the feelings of the announcement of the disease, sometimes by evoking memories of artistic activities or by presenting reproductions of works of art. Some want to talk about their hobby, others about their medical journey.
Through my proposal, it is a question of finding oneself without being reduced to one's illness. To regain control of one's life for a few moments."
2/ Objectives
*To take a break from the daily routine of care, which is very heavy: anxiety, fatigue, depression... the workshop allows you to disconnect.
*Express your emotions, verbalize to take a step back.
*Find confidence in yourself, pleasant and playful sensations, let yourself be surprised, escape.
=> It is also a way to communicate differently with loved ones or caregivers
"Mr. C, 30 years old, has 2 young children. He is worried about losing the link. I suggest him to make a colored task, then to improvise... the profile of an Indian chief appears, he invents a story on the back of the sheet. Delighted, he entrusted the drawing to his wife who slipped it under his son's pillow .... "
Regularity and continuity over time are essential to the proper functioning of this device. Your support and that of your loved ones will make the difference with the patients.