Project Report

| Apr 12, 2022
Heart Beat's Music Focus on Nine Elms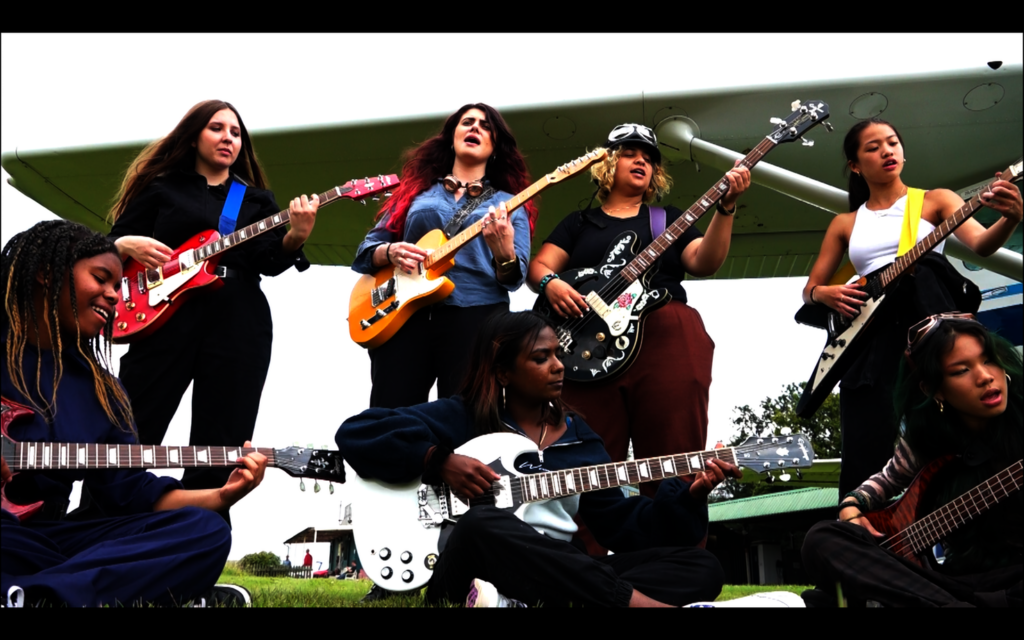 World Heart Beat has had a busy and productive start to the year, some of the key highlights of which we'd like to share with you below.
In February, after much behind the scenes collaboration, brainstorming, site explorations, rehearsals, filming and production, World Heart Beat introduced The Nine Elms Sessions – a series of six music videos celebrating the Nine Elms local community whilst reflecting on the area's heritage, present identity and promising future. The music videos feature the next generation of musical talent from our academy, and were kindly co-supported by Wandsworth Council and Developer EcoWorld Ballymore's Embassy Gardens, the new business and residential quarter in Nine Elms.
The videos play homage to the Nine Elms' Portuguese and Latin communities with an energetic samba parade; tell the history of the Nine Elms docks as a destination of choice for Irish settlers; salute the Vauxhall-born, early aviator and aircraft manufacturer Hilda Hewlett; commemorate the United Nation's International Day of Happiness; feature the iconic Ramport Studios (where The Who recorded its Quadrophenia album) as well as showcasing snapshots of the Nine Elms landscape, including The U.S Embassy, The New Covent Garden Market and Battersea Power Station.
This summer, World Heart Beat will be welcoming individuals to its new state-of-the-art digital music education and concert venue in Nine Elms, featuring a 200-capacity auditorium and industry standard recording studio in advance of its official opening in October this year. Please visit our website here to find out more about the project!
Last month, we launched EMERGE, our first-ever music industry intensive course for emerging talent (aged 16-25 years) keen to develop their music careers. The event was supported by Stride, an organisation which encourages creativity and innovation to thrive in South London. Music Industry professionals including Domino, Reprezent Radio, Jyoty, Anjelo Disons, Lex Amor, andShireen Valentina took part in panel discussions, networking opportunities, interviews and practical workshops ranging from beat-making, filming for music videos to learning about copyrights. It provided an excellent opportunity for young creatives to be inspired and to learn more about the UK music industry, as well as gaining skills and cultivating new networks. EMERGE ensures that the vital experiences, knowledge and imaginations of Black, culturally diverse and female talent are placed front and centre in the future of the music industries. This summer, we'll be holding an 8-week training programme delivered with industry leader partners – watch this space to find out more!
We also launched the Planet Harmony Project, which explores the themes of social, racial and climate justice through music. Working in collaboration with Griffin Primary School in Nine Elms, Trombonist, Writer and Producer Winston Rollins (The Brand New Heavies, Incognito, Aswad, Jamiroquai, Courtney Pine, Jool Holland's Rhythm and Blues Orchestra) is leading a 12-week course with 22 young people who have little or no musical experience, but plenty of enthusiasm to learn! The project also includes an introduction to samba rhythms, making instruments out of recycled materials as well as writing songs.
Other exciting news to report is the launch of our online Piano Department – please subscribe to our YouTube channel and see some of the exceptional performances from five of our emerging pianists performing Bach, Beethoven andProkofiev. The event took place at the beautiful Coach House Pianos, and was hosted by award-winning composer and World Heart Beat's Head of Keyboard and Composition, Michael Csányi-Wills.
Thank you as always for your support!