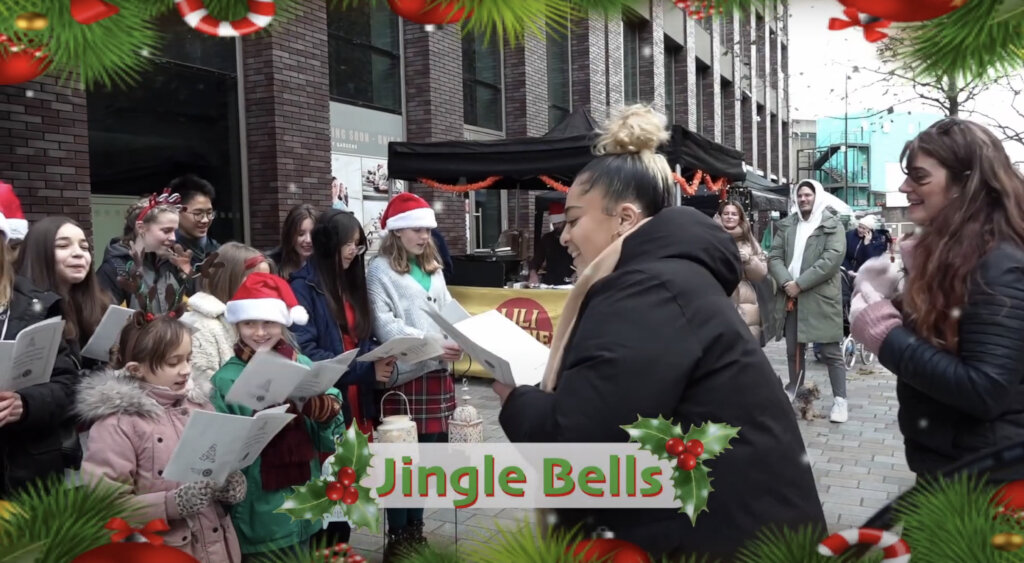 It's been a wonderful time as ever at World Heart Beat with community events in Nine Elms, eye-wateringly good fundraising success, the launch of our Latin and South Asian Online Programme and even performing in the annual Lord Mayor's Show on a horse-drawn bus performing to a crowd of more than 500,000 spectators!
First and foremost, we are delighted to announce an award of £800,000 from the Government's Levelling Up Fund (LUF) towards the creation of a vibrant new music education centre and concert venue in Nine Elms, to launch in Autumn next year. Just one of six grants awarded in London, the funding is an endorsement of the project, which is situated in an area of major regeneration and will help benefit thousands of young people, many living in disadvantaged conditions in neighbouring estates, across the wider borough of Wandsworth, and beyond.
The public concert hall, the first to open in London since 2008, will programme an exciting mix of emerging, professional and international headline artists performing music from across the globe. To reach our target, we have now launched the final phase of our fundraising campaign, to raise the last £600,000 to enable us to fully realise our vision. Anyone interested in supporting can find out more by visiting www.worldheartbeat.org/embassygardens where you can also find the 'shopping list' and how to donate.
A Wandsworth Council spokesperson said: "Securing £800,000 of the Levelling Up Fund is a huge milestone for Wandsworth Council and World Heart Beat. As 'cultural anchor' partners, this money will go towards cementing a musical base into the very fabric of Nine Elms, a place that is fast becoming a destination for arts and cultural organisations. We look forward to continuing the fantastic work that World Heart Beat are already doing in the Nine Elms community to reach new audiences and bring music to our vibrant neighbourhood."
We have taken part in an abundance of community events in Nine Elms to introduce and help strengthen our presence in the area before we open our second venue next year. Oli Savill, Basement Jaxx percussionist led two drumming workshops for World Heart Beat at St. George's Thessaly Church on the Patmore Estate; young people and families in the area took part and were encouraged to join in the fun by learning Afro-Cuban beats.
At the end of August, we took part in the Latin Jam Festival, a free, family-friendly weekend event with live music and dance which took place at the Black Cab Coffee Company, a riverside piazza venue overlooking the inlet dock and the River Thames in Nine Elms. World Heart Beat put on Brazilian Rhythm workshops and a performance for young people led by Charlles Andre Souza De Almeida (known as Charlles Junior) and his Samba Band.
At the end of October, we took part in the Line of Light Festival, a weekend event to celebrate the communities living above the extension of the new Northern line tube, taking audiences across a 3.2km walking route between Battersea Power Station and the Oval with projections across buildings, accompanied by soundscapes. Our gig band musicians performed to an evening crowd at New Union Square, Embassy Gardens, one of two Festival hubs with other free family friendly community activities, including arts workshops and street theatre.
In mid-November, courtesy of the Rotary International, our New Orleans Band second line band took part in the Lord Mayor's Show, enthusiastically joining in the celebrations of 800 years of pageantry. Our musicians made their way through the City of London whilst performing on an open top, horse-drawn bus to a crowd of over 500,000 spectators!
Last month, we launched our free online music programme, World Heart Beat Online, four curated music courses honouring Latin American and South Asian music and their communities, for young people (aged 7-25 years). Internationally acclaimed musicians Alok Verma, Pepe Barcellos, Almir Pessoa and Jonathan Mayer are leading the introductory and specialist courses, with sitar and caipira instruments available on loan for free. There's still time to sign up, so please share if you know anyone, or any communities, who may be interested in taking part.
If you are a cinema-goer, look out for the latest ZEDRA ad featuring our young musicians and our Jazz programme Leader trumpet-extraordinaire, Byron Wallen; they were invited to be part of ZEDRA's #HeroesWorkHere ad campaign, to shine a light on its true heroes, including those at our academy!
We wish everyone a very happy festive period and prosperous 2022! We would like to say thank you for all your support, which is invaluable in helping make the dream of World Heart Beat a reality.