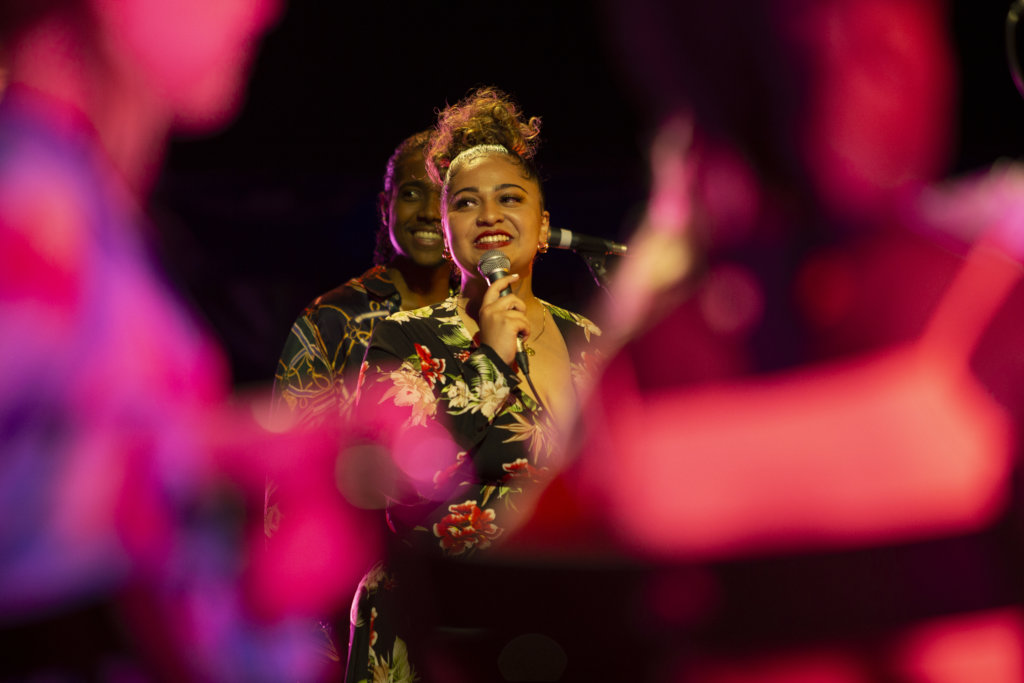 It's been an eventful summer for World Heart Beat with the return of live music performances as well as continued online activity after a difficult covid influenced, lockdown year.
In May, two of our young musicians, Ava Joseph and Carla Flores produced and presented their first ever virtual concert 'Operation Forest', a follow up to 'For the Struggle' concert held earlier in the Spring. The concert highlighted the need for global awareness of racial injustice and equality for all – as well as the need to protect our planet.
The young musicians came up with the concept during lockdown. Since they were no longer able to meet in person and in light of Black Lives Matter, they came together virtually with fellow Heart Beat musicians to express themselves as well as giving something back to the academy, in recognition of the support they've received over the years. Many of the students involved also learn at the Julian Joseph Jazz Academy (JJJA) - both academies help to secure the shared enrichment and creation of more well-rounded musicians, who thrive through learning and performing together.
Highlights included Jazz vocalist Cleveland Watkiss, MBE – a mentor who provides masterclasses at the academy featuring in the centerpiece composition with 'Oh Freedom', a post-civil war African American freedom song by galvanising all the musicians to sing as an a capella choir, as well as BBC Young Jazz Musician of the Year Deschanel Gordon performing Duke Ellington's classic 'Come Sunday', from his highly celebrated suite of 1942 entitled 'Black, Brown and Beige'.
Another highlight over the summer was our Congrego! Festival (Latin for gather/join) which provided a vibrant and danceable showcase of Latin energy and culture at this year's Wandsworth Arts Fringe Festival (WAF). This year, World Heart Beat, one of this year's grant awardees, showcased a fiesta of stunning curated performances providing a much-needed celebratory date for the diary that brought musicians, dancers and the community together after so much time apart.
Taking place in the 'outdoor' iconic Big Top Tent, Internationally-acclaimed Cuban violinist Omar Puente directed and performed with World Heart Beat's young musicians in a programme of Cuban, Venezuelan and Brazilian music, as well as everyone's favorite tracks from the Buena Vista Social Club repertoire and a performance from his own Cuban band.
From the excitement of Salsa and the wonderful rhythms of the Cha Cha Cha, Mambo, traditional Rumba and Son to the blood-racing energy of Latin Jazz the dynamic, high energy professional dancers from The Salsa Cabana Show brought the warm 'Rhythms of Cuba' to accompany the music – it certainly was an evening to remember! The energy and vibe from the festival was such a hit that Omar will be introducing a new Latin Music course for our young people starting in September, we can't wait!
World Heart Beat also presented its online livestreamed American Cultural Concert as part of a jazz inspired education and performance programme, funded by The American Embassy. Musical performances spanned a whole host of music genres including New Orleans 2nd Line Band, blues, jazz, soul and R&B.
The academy has taken part in many workshops and festivals (as well as performing piano recitals to local Southfields' residents queuing for their covid vaccinations) in the Nine Elms area, a great opportunity for the local community to find out more about World Heart Beat before its second venue opens in Spring 2022. Musicians and volunteers took part and helped show that everyone can take part in music learning – no matter the age, experience or background.
Events included the community-led Happy Streets Festival organised by Wandsworth Council, exclusive 2-day percussion workshops learning Afro-Cuban rhythm for families and young people led by Oli Savill (Basement Jaxx percussionist), as well as taking part in the Latin Jam 2 Festival– a weekender of Latin music and dance – by holding Brazilian rhythm workshops for young people (aged 6 –25 years) plus a performance by Charlles Andre Souza De Almeida (known as Charlles Junior) and his Samba Band, as well as World Heart Beat 'one to watch', Ava Joseph.
Finally, we are so pleased to be able to get out once again into the community and to share our broad genre of music, from Jazz to Latin to South Indian to Classical with so many young people. We look forward to what the next quarter holds, and have some interesting projects in the pipeline to tell you about in our next update!
Until then, thank you as ever for your continued support.