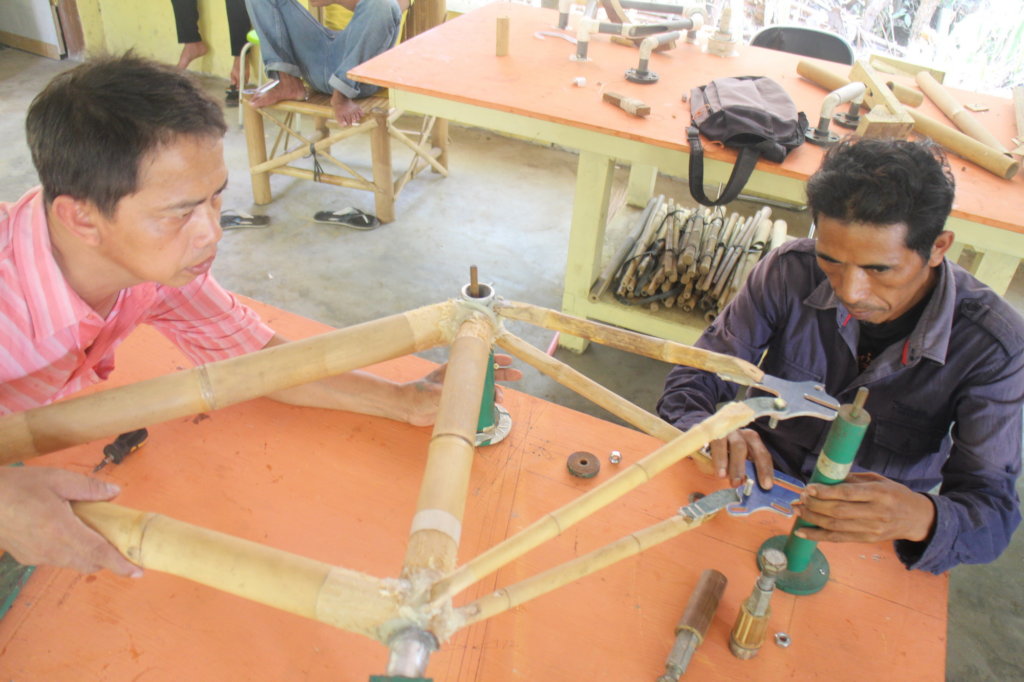 Bamboo Bike frames to UK
We get a lot of bamboo bike enquiries through our EBBB websitewww.eastbalibamboobikes.com but many are just that: enquiries! Imagine my surprise when I got a serious enquiry in September from a newly established British company that wants to promote eco-friendly bamboo bikes mainstream, and was looking for a supplier that had a social community impact! After much communication, their excitement grew and they ordered 2 custom frames, complete with their logo – to be sent air freight so they can build up with quality components to promote and market in the period coming up to Christmas. The great news is that they were shipped at the end of last week and will arrive in Bristol UK today! I'm hoping that in our next report, East Bali Bamboo bikes will be making unique inroads on the UK cycling scene!!
New wheelchair for severely disabled East Bali boy
Further to our September update, I'm thrilled to report that Brad, our client, was successful in his fundraising and ordered another wheelchair last month, which we are now building for a very tragic 4 year old boy. Born the first of triplets, from only three months old, he suffered a series of seizures, leaving him almost totally paralysed and unable to talk, whilst the other triplets are normal and healthy. He's a beautiful boy with elder siblings and very caring parents, who are extremely poor but both work hard to give their children the best in life. The basic wheelchair they had was rusty and unsafe. So as soon as Brad gave us the good news, our bamboo artisan measured young Alit and got to work! Progress is great, as you can see from the photos, just waiting for the aluminium components, which are currently being hand made from top grade aluminium in Bandung. I'll share the completion and handover photos in our next report. We still have 6 more disabled children from impoverished East Bali families on the waiting list, so if you are interested in sponsoring a bamboo wheelchair for the next child, please email me for more information at david.booth@eastbalipovertyproject.org
Bamboo bikes create excitement for Bali's Dyatmika high school students
We frequently have overseas international schools visiting and interacting with our EBPP schools students but last Monday, 2ndDecember was the first time in 11 years that the local Dyatmika's high school students had visited, and when planning the visit with their teacher, he asked if there'd be time to visit our Bamboo Bikes workshop. Logistics prevented that so, we took the bikes to the meeting point in Daya, (where our workshop was prior to evacuating due to Mount Agung activity) and it was their treat after they'd had great activities with our high school students. The photos tell the story, and in the words of their teacher, "they absolute loved the bikes, they thought they were cool and loved that they were being built locally with sustainable products. A few of them were going to try and convince their parents to buy one for Christmas!" Let's hope they are our next customers!!