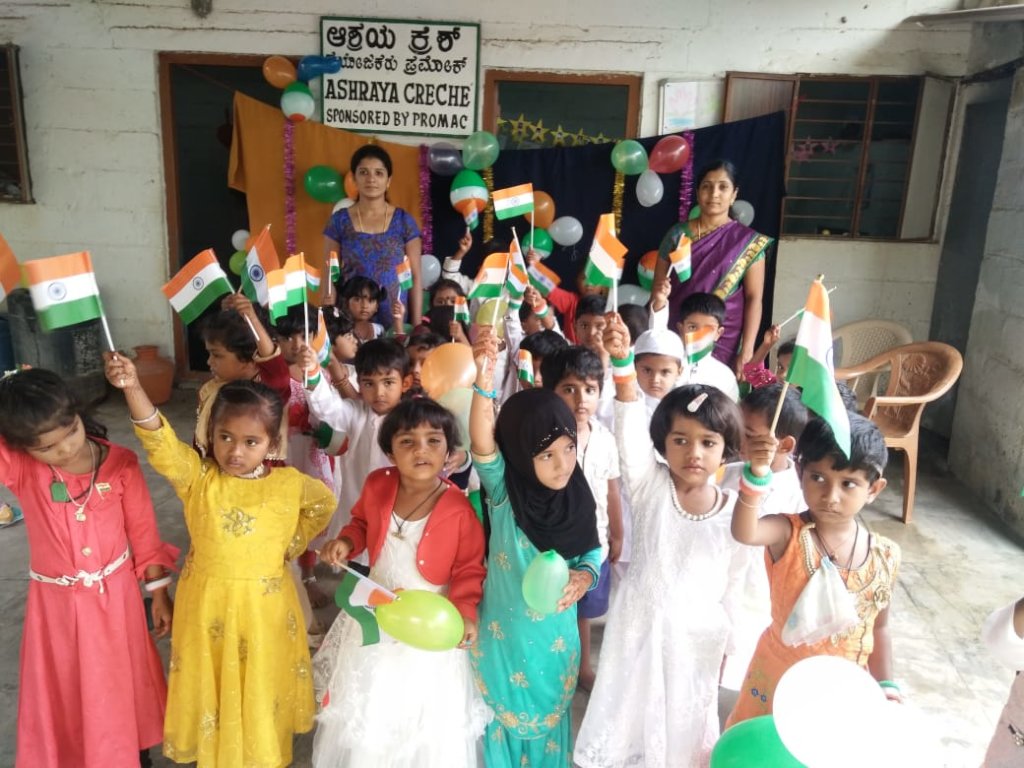 Ashraya Quarterly Report
NGO Ashraya was a pioneer in starting mobile crèches for the construction and migrant workers children in 1983.
With the changing dynamics of the migrant labour, these crèches were run as community crèches to benefit underprivileged children in the community. These crèches provide a safe and stimulating environment for preschool children in the age group of 2 ½ years to 5 years of age. Nutrition is an important part of the crèche services provided to children.
In the month of June new admissions are taken and by July the children have adjusted well to being away from their mothers and home.
The routine of oral learning, recognition, activities, craft, games and outdoor activity has begun and all the children are actively taking part
This year a total of 182 children are being benefited by the crèche services.
This table gives you a quick look at the numbers attending each crèche.
Creches Total Boys Girls
Avalahalli 38 17 21
Banaswadi 40 15 25
Indiranagar 49 28 21
Nelamangala 20 13 7
Ramagondanahalli 35 17 18
August:- Due to inclement weather -rain and chill, a number of children have been unwell with chicken Pox and Viral Fever. The parents were sensitized about the infectious disease and were informed to take precautions as well as good care of the children.
The pediatrician has been visiting regularly and advising the parents.
PTM:-The first 'Parent-Teacher ' meeting for the current session was held in all the crèches. The importance of hygiene in dressing, bathing, keeping nails clean, etc was explained to the parents. The importance of sending and picking up the children on time was emphasized. The parents gave positive feedback that they see a lot of improvement in the children within 2 months
Activities:-
The country's Independence Day is celebrated on the 15th of August every year. The crèche children were shown a map of the country and small flags distributed to all. A special chicken lunch was prepared and served to all the staff and children.
Raksha Bandan is a festival where sisters tie a sacred thread on the brother's wrist seeking their lifelong protection. The children celebrated by tying Rakhi to their friends.
The crèche environment sets the foundation for a stimulating and healthy environment for the children who are deprived of the basic necessities for healthy growth.
Your support goes a long way in enabling us to provide these services to children. THANK YOU ALL.