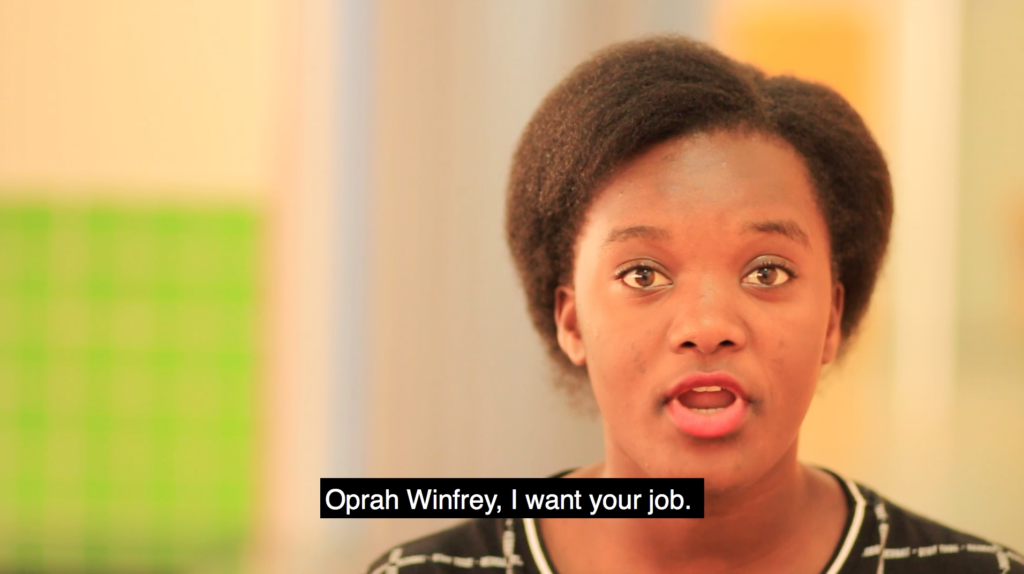 Hazel started her journey with Afrika Tikkun 7 years ago in Afrika Tikkun's Young Urban Women Program – a program dedicated to mobilizing and empowering young girls to take action against gender-based violence and violation of women's rights. For Hazel, growing up in a township community and surrounded by poverty was not easy. Despite all the challenges she faces in her community, Hazel has continued to work hard and grow. She believes that Afrika Tikkun provides her with a safe learning environment, enabling her to pursue her dreams and also giving her an opportunity to educate her peers to become agents of positive change in their community.
Hazel, at 17 years of age, wants to become a leader in the media industry and says that Oprah Winfrey is her inspiration. Just like her role model Oprah Winfrey, Hazel wants to use the media platform to help young people realize their potential and become the best version of themselves.
Click HERE to watch a video of Hazel sharing her future plans.
Click HERE to connect with Hazel on LinkedIn and follow her story as she becomes the next Oprah Winfrey.
Afrika Tikkun is extremely proud of Hazel and her accomplishments. Afrika Tikkun's holistic and comprehensive Cradle-to-Career Development Model works to create opportunities for young people like Hazel, so that they can break the cycle of poverty and pursue their dreams of becoming future leaders. Recently, Hazel got the opportunity to travel with three other students to the US to participate in 2017 Safelite Challenge. During her visit, she and her fellow 'future leaders' were exposed to various environments, be that educational, business, media or tourism orientated. Some of the highlights from their visit included learning about the changing landscape of the media from Condé Nast and learning about equity trading from UBS. Additionally, Afrika Tikkun USA, Advisory Board member, Jon Gosier, introduced our 'future leaders' to the leaders in the tech industry during the Phily Tech Week 2017. This provided our students with an opportunity to learn about innovation, entrepreneurship, venture capital and new media.
Hazel also had the opportunity to meet and learn from Steve Collis, CEO of AmerisourceBergen, during 'Today's Youth: Tommorrow's Leaders' event hosted by Steve Collis and his wife, Toni Collis. We are very grateful for having the opportunity to connect Hazel with great role model and leader like Steve Collis and would like to thank Steve and Toni Collis, for supporting the dreams of Hazel and many more young people like her.
Please click HERE to learn more about the event.
On behalf of our 20,000 beneficiaries, we thank you for your generous contribution. We hope that with your continued support, we will be able to help more young people like Hazel to realize their dreams and become future leaders.