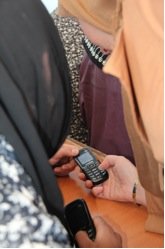 Dear Friends,
AIL's innovative Mobile Literacy program (ML) is proving to be effective in speeding up literacy acquisition and is extremely popular with students. It is a useful tool in addressing the literacy gap that females face in Afghanistan. Your generous support of this initiative, combined with that of others, has meant that 35 females were able to participate in a ML class at the Sofi Abad Learning Center in Herat Province. The class began in March and ran for 5 months ending in August.
Literacy learning through mobile phone use is definitely a new thing in Afghanistan. In some cases the AIL staff had to explain the class to concerned parents who did not think girls should be using cell phones. The parents finally agreed and 35 females were enrolled. The students were aged 10-34. Most knew only the alphabet when starting the class, and six of the students did not even know that.
The students were provided with cell phones and taught how to use them. The teacher then set tasks to be performed within groups and between groups of students. People make friends through the cell phone use and learn literacy lessons but also exchange ideas about life, culture, history and health. One student said, "During this class I learned and I memorized more than 700 messages about morals and peace, more than 600 messages about society and social issues and more than 600 messages from different cultures."
At the end of the course, 30 students were able to start taking a level 3 literacy class, and 5 were able to start a level 2 course. These results are astonishing. In a normal literacy course, it takes 9 months to advance one level. Nearly 86% of students in the ML course were able to progress through 18 months worth of learning in just 5 months because of this new technique.
This program creates enthusiasm and motivation for education. Reading story books, newspapers and magazines helps women and girls be educated and sophisticated to change their lives in positive ways. They also get interested in searching for articles about scientific, medical, social and economic issues. So the ML program is not just about literacy but is so much more; it is a gateway tool to education. Adela said, " I had been an illiterate student before coming to this class. It is impossible to express my happiness in words for being able to read and write since attending this class. I could create and send 1500 new messages in this month that shows how I have progressed in this program."
This program alone has had life changing effect on some students such as Farshta who said: " I really changed during this class. I wanted to register in regular school before this class but I couldn't read the books. Now I can read so I can be registered to attend regular school. This is a fundamental change for my life. When I was at home I was illiterate and now I am literate and I am in grade three. It means during these four months I learned three grades - grades one, two and three, this is a big a achievement for me and my family that I studied three grades during this four months".
Thank you for your support for this innovative program and for giving the gift of literacy to women and girls.