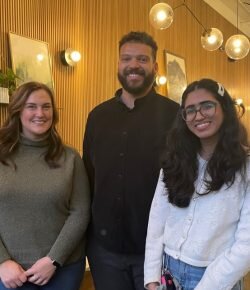 In the 2023 legislative session, all of Washington STEM's priority bills passed, including new laws that will open doors to higher education by improving access to dual credit programs and High School and Beyond Planning and expanding early learning access through a more robust Working Connection Child Care program. Behind the scenes, we reconnected with old friends, took some selfies, and even slung some pie.
Jayme Shoun, Washington STEM's Policy Director, wants YOU to feel connected to your state lawmaking process.
Policy has been one of Jayme's passions—along with early aughts pop culture—since her days at WSU Vancouver. As a student legislative liaison, Jayme was on a mission to get her peers excited about government – whether that meant organizing students to participate in a lobby day or crossing a voting rally with a music festival, ("VoteChella"). After a few years and some deeper work with state and federal lawmakers, Jayme has led Washington STEM through the 2023 legislative session. Policy work takes grit, but it can also be joyful.
"What I love most about this work is moving past the jargon and finding the humanity in the legislation," Jayme says. "The heart of systems-level change is the students."
So when we cheer the expansion of dual credit programs, this means a high school student can get access to college credits which propel her into enrolling in a 2-year or 4-year degree. Or when new legislation expands the Working Connections Child Care program, this means a young father can afford child care while he completes an apprenticeship program that will land him a steady, household-sustaining career. To achieve these policy wins, Washington STEM joined with partner organizations, legislators, and dedicated community members for one of our most productive advocacy seasons yet.
ADVOCACY IS BEING IN THE ZOOM WHERE IT HAPPENS
The 2023 legislative session ran from January 8th to April 24th – 105 days in total.
"The days are long, but the months are short – the session has its own sense of time," Jayme says. "You could be working until midnight, or you could be rocking down to Olympia at 3:00 in the afternoon."
For almost four months, the policy team's lives were a montage of navigating traffic on I-5, grabbing coffee at the Dome Deli before heading into an early committee hearing, or sharing updates with colleagues between meetings at the sundial, one of the Capitol campus' designated hang-out spots. Depending on the day, our policy team met with legislators, attended committee hearings, supported regional partners, or testified for priority bills and support legislation.
It would be tempting to call the 2023 session—the first in-person since 2020—a return to form. But that's missing the bigger picture: the new hybrid format allowed more people across the state to participate in the legislative process. Folks were able to provide testimony in hearings over Zoom, join our weekly online advocacy coalition calls, or review progress of bills in our online Bill Tracker, updated diligently each week by our Policy and Advocacy intern Shruti Mehta.
Sometimes, the (Zoom) call is coming from inside the house. Jayme recalls a colleague who was able to remotely join a meeting about child care while picking up their kid from day care. This moment stands out to Jayme because it underlined how expanding supports – such as child care and hybrid options – make it easier for us all to engage with our state's governmental processes.
ADVOCACY IS RELATIONSHIPS… AND DATA
Yep, that pretty much sums it up. Legislative work is relationships all the way up, starting with families and individuals advocating for policy changes, to the partner organizations who attend committee hearings and testify in front of lawmakers.
Like any other relationship, Washington STEM builds connections with legislators through conversations that uncover common goals.
"We look for ways to be a resource to policymakers and partners," Jayme says. "From policy ideation, to bill drafting, to advocacy, to implementation of laws or funding, we're centering students of color, rural students, students living in poverty, and girls."
Washington STEM is also known as a good resource for education data. We have been producing Early Learning data dashboards with DCYF since 2020. These dashboards are go-to resources for anyone working in early learning. The dashboards uncovered how widespread the lack of affordable child care is statewide. Having access to reliable data helped convince lawmakers to pass legislation to expand the Working Connections Child Care program so more families are supported.
ADVOCACY IS PIE
Over the course of the legislative session, Washington STEM participated in five Advocacy Days with regional STEM networks, where they came to Olympia for a day of meetings to share their experiences and knowledge with legislators and their staff. Each of these Advocacy Days allowed us to bring these strong relationships to the Capitol, showcase regional perspectives and priorities, and as always, propose evidence-based solutions.
And, on special occasions, we also brought dessert.
March 14th, or 3.14, is a day that celebrates the flaky, fruity dessert as well as pi the mathematical constant commonly approximated by π = 3.14. Our colleagues from Northwest Washington STEM Network and Snohomish STEM Network joined us as we met with legislators to discuss career-connected learning and testified in support of a bill that would create a statewide online platform for the High School and Beyond Plan (HSBP)—all the while passing out mini-pies from Snohomish county.
Jayme Shoun said she left Olympia that day on a high – or possibly a sugar rush – because of the good conversations and because, well, it's hard to have a bad time passing out pie. The day reaffirmed what she already knew about this work: "It's about connecting on a one-on-one basis; being able to understand our differences and where we collide and connect and have commonality. And we always need more pie."
ADVOCACY IS OUR COLLECTIVE SUPERPOWER
As we move deeper into the summer (also known as "the interim", which runs from May to December), our team is assisting with implementation plans for bills passed in 2023 and preparing for next year's session. Jayme, for one, is feeling pretty excited – about the legislative victories and also about how the hybrid session has opened access to the legislative process for more people across the state.
"It is my hope that we continue to see far more voices in these pieces of legislation," Jayme says. "Our lawmakers need to hear from the folks that are going to be impacted."
Sometimes, the most powerful thing you can do is show up—even if it's on Zoom.
Visit our Blog to listen to the original post.
Links: