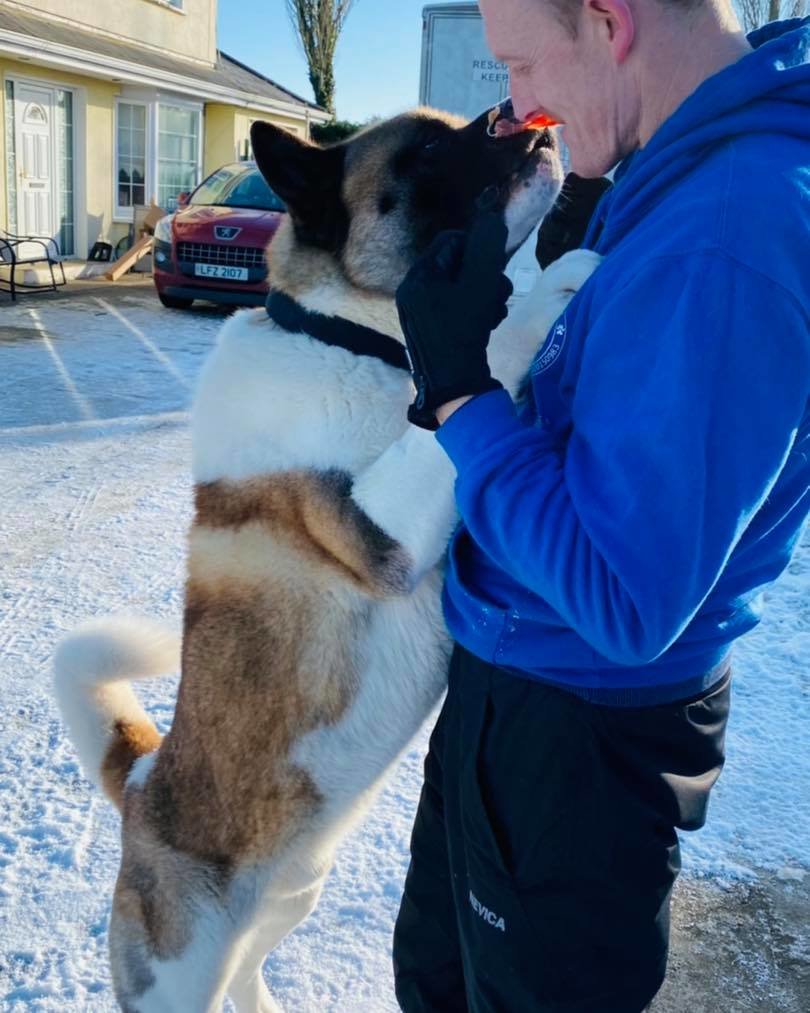 First of all, we'd like to say a heartfelt thank you to you for your kind donation to this project. It really has meant the world to us that there's so much support for Husky Rescue Ireland's future, and you're one of the first people that has contributed to our long term future.
In all honesty we did not quite expect to have had the success that we have already had raising funds for Husky Rescue Ireland's forever home. After the campaign back in September 2020, we were given permanent partner status on GlobalGiving as a special gift, we had not actually raised enough money to qualify for it outright, but perhaps it was them feeling generous or something about our project that initiated this.
What the permanent partner status has meant for us is quite life changing already. We have only raised around €5,000 so far, but we're seeing the interest in Husky Rescue Ireland grow among the GlobalGiving community and so many donations are coming from far afield. We've seen that some kind donations have come from people who heard about us through a colleague. For others, they have a much loved husky at home and want to see Husky Rescue Ireland thrive for the huskies that are not quite so lucky. And, of course, we cannot forget some of our most involved supporters and volunteers who have again been so generous in their contributions.
What has this brought to our operations?
Most importantly, the impact of your donation and the amount we have raised so far is that we're able to sit down and begin planning seriously. We can see that donations through GlobalGiving are at a steady trickle. Given this certainty for the future, we have now started to assemble a team that will be responsible for helping us find the right property for our eventual home.
We are still at the very beginning stages of the search and in about 3 months' time we expect to be able to bring you some news about some potential sites that have been brought to our attention. At that point, too, we should start getting a better idea of the total amount that we're going to need to raise. We certainly don't need a palace, but we do need something which is going to last us for the very long term because, clearly, the problem of puppy breeding, neglect and abandonment of dogs is sadly not going away anytime soon.
Finally, we need to say that we realise that this report is far from action packed. Well, we're quite a timid lot here and, while this dream of having our own place has been in our heads for such a long time, having the courage to put this message out there and ask our supporters to help did take some doing. It felt especially hard during the uncertain past year we have all had. However, we look back and know it was the right thing to do. Your support has spurred us into realising there will be better, more stable times ahead for Husky Rescue Ireland, with a centre that we'll be able to make truly purpose built for all the dogs that come through our doors each year.
In the background, we want to mention that we have almost completed a legacy programme which will help us to raise funds for the long term and aid the campaign here on GlobalGiving. Husky Rescue Ireland is now a member of MyLegacy in Ireland, an organisation that highlights the importance of gifts-in-wills in helping Irish charities to fund their operations.
We'll keep you updated on our progress as much as possible over the next months and years. Let's hope that the right place will be even better than we can all imagine.
Thanks again from all of us here at Husky Rescue Ireland.