Photo Guidelines
GlobalGiving's Community Standards for Ethical Photo Usage
Community standards developed by a working group of GlobalGiving's nonprofit partners
For decades, many nonprofits have used photos in their fundraising efforts that elicit pity from donors. These photos typically depict people in extreme poverty, horrific situations, or in very poor health. While these "pity images" may successfully generate cash in the short-term, they perpetuate the misconception that a community cannot solve its own problems. Using pity to manipulate donors preserves the false dynamic of 'us' giving to 'them.' It does lasting damage to the people it aims to help, and strips them of their dignity. While they may need external resources to achieve their goals, all people have the power to improve their own communities. Depictions that imply otherwise undermine genuine international aid efforts to drive systemic, long-term change.
At GlobalGiving, we have an obligation and an opportunity to shift how donors perceive people in difficult circumstances—away from pity, and towards empathy—through the language and photos we use. Yes, communities around the world face difficult challenges, and our intention is not to mask their struggle. However, our team cares deeply about portraying these communities sensitively and accurately. We want to give our audiences a realistic glimpse into people's lives while also protecting their dignity and showing them as fully human.
Our hope is that by seeing respectful photographic representations, our donors will give from a place of common humanity rather than guilt. How we portray people is just as important to us as the money we raise to help them.
These Ethical Photo Usage Guidelines, which we developed in collaboration with our nonprofit community, aim to provide guidance to anyone in the GlobalGiving community who is choosing or producing imagery for their organizations. Through making conscious and responsible photo choices, together we can create a more accurate and healthy public perception of aid work: one that connects people in communities around the world, and deepens our understanding of each other.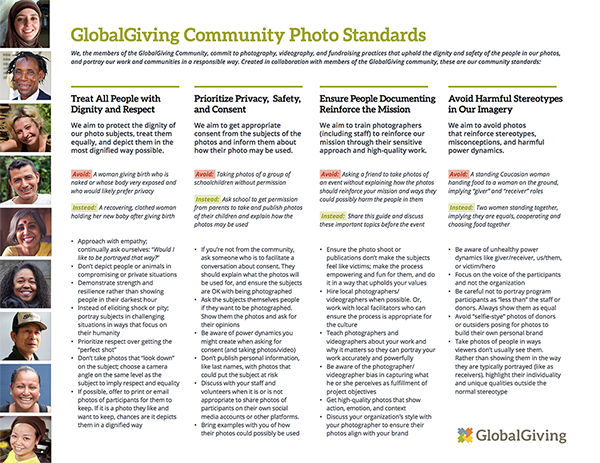 Resources: Nonprofit Photography Ethics
---
Practical Tips for Choosing Ethical Fundraising Photos on GlobalGiving
How to choose effective and respectful photos for your fundraising efforts
Choosing the right photos for your fundraising efforts will help your donors understand, appreciate, remember, and connect with your work.
The photos you use to represent your organization's work help set the tone for your crowdfunding campaign, and should be selected with care. Take the time to thoughtfully and deliberately select each photo that you upload. The most successful nonprofits choose photos strategically to amplify and promote their causes. Following these simple photography tips will help attract your donors and make your fundraising efforts more dynamic and effective.
1. Choose photos that tell your story for you.
Photography is a powerful tool that can tell our stories in ways that words can't. Look through your archive of photos, and choose the ones that illustrate your project's story in the most complete and compelling way. How can your organization's story be captured in an image?
2. Select photos that reflect your values.
Think about your organization's values, and choose photos that support and reinforce them. At GlobalGiving, our values are "Always Open," "Never Settle," "Committed to WOW," and "Listen, Act, Learn. Repeat." and they are reflected in every single photo we use in the following ways:
Showing a diverse range of ethnicities, abilities, ages, genders, and circumstances
Challenging stereotypes, and choosing images that shift perceptions
Depicting people as powerful, resilient, and equal
Prioritizing respect, dignity, privacy, and safety
Learning from our community, and letting them guide our decisions
Continually asking your team, "how is this photo helping us meet our mission?"
We encourage you and your team to reflect on your values and find your own ways to honor and uphold them through your photos.
3. Choose photos that flatter people and highlight their strengths.
The best way you can show respect for the people in your photos is to show them at their best. Even if they are in a challenging situation (like in a refugee camp or hospital), they can still be depicted in a way that shows their strength, resilience, personality, character, and humanity.
Before posting a photo, always ask yourself, "Would I want to be portrayed this way?" If you or someone you love were the subject of this photo, would you be comfortable with it being published?
4. Choose photos that create emotional connections.
Think about the feeling you get when you see a photo that really reaches your heart and makes you smile, laugh, cry, or feel relieved. Photos that create the deepest sense of connection and empathy often include expressive faces, a person making eye contact with the camera, people connecting with or helping each other, genuine gestures or actions, and moments of common humanity.
5. Show context.
When a photo is strong, the audience will understand and appreciate it without a caption. Your photos are a window into your work, and donors want to see the work you do. Give them a glimpse into your world with photos that capture the people you help in the situations in which you help them.
6. Prominently feature your best photo.
On most crowdfunding websites, including GlobalGiving, typically your main photo is not only one of the first and biggest elements on your fundraising page, it also may appear in search results, on the site's homepage, in marketing emails, and on social media. If you had only one photo to show your donors, which one would it be?
7. Share several photos to show different aspects of your project.
Typically, crowdfunding campaigns with at least five photos raise significantly more than those with just one. Showcasing a variety of photos will give donors a more complete idea of what your project is and what it aims to accomplish. For example, if your project provides education to children, post photos that show the children reading, doing group activities, interacting with teachers, or doing homework.
However, more is not always better. Resist the urge to add filler images to make your project page seem more complete. Too many photos can overwhelm donors, and dilute your story.
8. Add photos as you make progress.
As your crowdfunding campaign gains traction, add new photos to show your progress, and give donors a sense of what you've done with their contributions. Take photos often, and make good photography an integral part of your communications strategy. That way, you will always have new photos to share of your latest achievements and milestones.
9. The quality of your photos matters.
Blurry, unfocused, or grainy photos can harm your fundraising efforts. Photos that are clear, in focus, have bright color, and are high "resolution" will appeal most to your donors and strengthen their trust in you. Large images simply show details better, and will help your project look more professional. We recommend that photos be at least 1,000 pixels wide or 1MB in size. You should always upload the largest size that you have available—GlobalGiving will automatically resize it as needed for your page.
10. Choose photos with bright colors and good lighting.
Catch your donors' attention with photos that have a lot of color and are well-lit to allow the subject to be seen clearly. Take photos in natural light when possible and only use a flash when necessary. Black and white photos generally seem as realistic as ones in color, so use full color photos to captivate donors more effectively. Use free online software like Pixlr, Canva, or Fotor to adjust brightness and color.
11. Good composition and cropping will improve your photo.
Using simple photography techniques to "compose" your image in a visually pleasing way can make a huge difference. The main subject of the image should usually be the biggest thing in the photo. Avoid very busy or distracting backgrounds, which can distract the viewer. If you are looking to advance your composition skills, look up "the rule of thirds." After you've taken your photo, crop or edit your photos to as necessary. You don't need expensive software for this–you can use free online tools such as Fotoramio, Image Resize, or BeFunky to quickly and easily crop or edit photos.
12. Avoid adding filters and too much editing.
An over-edited photo can detract from its story, and distort the context that allows your donors connect with it. If your photos are too heavily edited, they will seem less professional, less relatable, and less real. It is best to refrain from adding novelty filters or altering the image so it looks drastically different than the original photo.
13. Don't use photos with added logos or graphics.
Photos with logos, text, graphics, effects, or other elements placed on top of the image can weaken a photo, and obstruct its subject. Small logo watermarks or copyright information can be added, if necessary.
14. Avoid using stock photography.
For the best impact, only use photos that were taken of your actual project. However, if you need to use a few stock photos in order to protect the privacy of the people you are helping (for example: sex trafficking victims whose faces cannot be shown for safety reasons), make sure that you have the proper usage rights, which can be found on the site from which you purchased them.
15. If you have any hesitation about a photo, don't use it.
If there is any doubt about whether or not a photo is appropriate for your marketing and fundraising, don't use it. Use your best judgment when choosing photos. We highly discourage photos that depict pain, anguish, discomfort, anger, sadness, or fear. Photos that have intentionally blurred or obstructed faces to protect the subject's privacy should not be uploaded.
16. Obtain informed consent and share photos responsibly.
Before publishing images, posting them on social media, uploading them to your fundraising page, sharing them with the media, or including them in your printed materials, it is important that you have the appropriate permission to use and distribute the photo. See GlobalGiving's Photo Release Form for more information. If you know the photographer's name, give them credit (if applicable). Inform your staff, volunteers, and donors about your policies for using the photos they take for personal purposes, like social media.
Resources: Nonprofit Photography Ethics
---
GlobalGiving Photo Policies
The policies and procedures that help GlobalGiving enforce the community photo standards
As members of the global nonprofit community, we have an obligation to protect the integrity and the dignity of the communities we seek to help, and ensure that the photos we use are appropriate for our global donor audience. For these reasons, we enforce the following policies regarding photos used on GlobalGiving.org. These policies are in place to protect your organization and those you serve.
It is your organization's responsibility to ensure that you have the expressed permission from the photograph subject(s), photographer, and/or owner to use the photo. When you upload images to GlobalGiving, you are certifying that you have obtained appropriate consent from the people photographed, and your organization has all of the relevant rights to any photos or stories that you upload to our website. Once a photo is uploaded to the GlobalGiving website, GlobalGiving shares the copyright with you, according to the terms and conditions agreed upon by all GlobalGiving partners during the application process process.
What does this mean?
Appropriate consent:

All subjects of photos and videos uploaded to the GlobalGiving site have given explicit permission to have their image taken and shared for your fundraising purposes. This includes, but is not limited to, written permission by the subject or subject's guardian, and verbal confirmation by the subject. For your subject(s) to give informed consent, we also encourage a clear description before taking the photo of how and where the image will be used.

Relevant rights:

By uploading photos to GlobalGiving, you are certifying that you have permission from the photographer to publish the photos for fundraising use on our website. You may not upload photographs from news outlets or other online sources without either purchasing the rights to the photo or otherwise obtaining permission from the photographer or copyright owner to use the photo.
Approval procedures for photos uploaded to the GlobalGiving website
GlobalGiving is committed to respecting the opinions and wishes of our partners. Should we have any questions or concerns about a photo that you have posted on GlobalGiving, we will contact you directly. GlobalGiving reserves the right to make final decisions about content on the website and to remove photos or stories that we deem inappropriate.
GlobalGiving reviews each photo submitted on a project page, project report, or project appeal before it goes live on our website. If a photo is rejected, our team will contact you, and encourage you to share a photo that showcases your work, but is more appropriate for our website audience. Our team uses the following criteria when reviewing photos for the site:
Is the main photo too small, uploaded incorrectly, or a logo?:

If so, the photo will not display correctly on our website and is rejected.
Does the photo show blood, wounds, weapons, severe illness, emaciated bodies, or nudity?:

If so, we reject it. GlobalGiving's policy is to ensure dignity for every single people featured on our site, and to ensure vulnerable communities are protected. Please see our Community Photo Standards for more information.
Does the photo show people or animals in a distressing situation?:

If so, per the discretion of GlobalGiving staff, we reject it. We want to ensure all photos on our site give each individual respect and dignity.
Are full names of the people being helped listed in photo captions?:

If so, we reject it. We must ensure the privacy and safety of individuals is respected, and we do not allow full names to appear in reports, project summaries, or photo captions.
Is the photo low quality or not in alignment with the GlobalGiving community's preference for positive photos?:

We will accept these photos, but encourage organizations to find high-quality photos that showcase their impact in a positive light. Please see our fundraising photo tips above for more information.
---
Retaining Donors
It is critical for your organization to attract new donors, but then what? How do you keep your donors engaged in the work you are doing? GlobalGiving has a number of different ways to keep your existing donors excited and active in supporting your amazing work.
Thank You Notes
Donors often stop giving because they feel their donations are not being recognized or appreciated. While GlobalGiving sends every donor an automatic thank you email and receipt after each donation, nothing is better than a personal email from you and your organization. Donors want their donations to be acknowledged, appreciated, and used well, so try to send a thank you email to each donor within a week of the donation being made.
Here are some tips on how to make your thank you notes great:
Follow up right away:

The sooner you send a thank you note, the better! This way the donation is fresh on the donor's mind.

Explain the impact of the donation:

Be specific! Use your project donation options as a guide or tell a story about someone who will benefit from the contribution.

Do your research:

Find out if the donor has given to your project before. If so, make sure to thank them for their continued support. If not, thank them for their first donation to your project.

Ask questions:

Begin building a relationship with your donor. Find out more about them through questions like why they gave to your project and what inspired them.

Offer ways for the donor to stay involved:

Encourage them to sign up for your organization's newsletter, volunteer, or become a recurring donor. Be personal.

Be personal:

Help the donor feel connected to you. Provide your contact information and thank them for their support.

Get creative:

Make sure that your organization stands out among the others that your donor is supporting. Create a YouTube video or upload thank you letters or drawings.

Do not use as an appeal:

Your donor just gave! Use this opportunity to start building a long-term relationship.
The easiest way to keep on top of thanking your donors is to create saved templates. To do so, go into your thank you manager, click "Add" below the email, and click "Add a New Template." The next time you go in to thank your donors, you can just choose which template you would like and hit send!
You can access your thank you note templates from the Donation Manager by clicking on "Unsent" under the "Thank You" column on the far right column. Use the "preview" button to view the thank you email before it is sent.
For more information about how to add thank you templates and photos, check out our Help Center!
Tribute Cards
Tribute cards are a way for your donors to make a donation as a gift or in honor of someone. Your donors can buy tribute cards for birthdays, weddings, and holidays to support your projects. GlobalGiving makes it possible for your donors to make a donation to your project as a gift or in honor of someone special. This is a great way to promote giving to your organization for holidays, birthdays, and special occasions! Tribute cards are available by email or print-at-home, and you can choose between several different designs.
Fundraiser Pages
GlobalGiving makes it easy for you to turn your organization's supporters into active advocates. Supporters can create fundraisers to set their own fundraising goals and reach out to their own networks on your behalf!
GlobalGiving fundraisers are great for any occasion — a celebration, tribute, athletic event, disaster relief — or simply to generate support for projects like yours. The fundraiser will choose what project they would like to support for their special occasion. They can then reach out to family and friends with the link, driving donations to your project. Encourage your networks and advocates to begin their fundraisers here!
Recurring Donation Option
GlobalGiving makes it easy for supporters to make monthly recurring donations to your project. By signing up for a recurring donation, GlobalGiving deducts the donation amount from the donor's preferred payment method every month. Not only are recurring donations hassle free for your donors, but they provide your organization with a consistent, reliable, and long-term source of income.
Tips for acquiring new recurring donors:
Target outreach to your existing donors:

Focus your outreach on individuals who have repeatedly supported your organization with their time or a donation.

Make it easy:

Link directly to the recurring donation option on your project page by adding "?show=recurring" to the end of your project URL. Find the complete link under the Share tab on your project.

Connect donations to your work on the ground:

Give donors concrete examples of how their donations will be used on a monthly basis. You can create different recurring donation options than those of the one-time donation options on your project page.

Emphasize the value:

Tell your donors that recurring donations are a predictable stream of income for your organization and make it easier to plan financially for the year. Consider explaining why $15/month is more valuable than a $240 one-time donation.

Thank your donors:

Recognize your recurring donors in a special way by featuring them on your organization's website or social media or sending them unique updates. Get creative! What can you do to recognize recurring donors?
GlobalGiving's Widgets
Promote your project on your organization's website or blog using GlobalGiving's widget. A widget is a tool that enables you to perform a function, which in this case is to share your GlobalGiving page on your social media accounts and website! Just copy and paste the code provided on your project page under the Share tab into your website coding. One click takes donors directly to your project page so they can donate immediately.
Text-To-Give
GlobalGiving makes it possible for you to accept text-to-give donations for each of your projects from US donors! Every project on GlobalGiving has its own specific mobile giving keyword to accept $10 donations. Read more about this great fundraising tool on our blog!
---