Get Fundraising!
Fundraising Basics
Now that you know how to use your GlobalGiving dashboard, it's time to get fundraising! Over the years, we've found that organizations are most successful when they take the time to set goals, create benchmarks, and make a plan for fundraising success. Use the GlobalGiving Partner Calendar to plan out your year with all of the contests, campaigns, and other opportunities we're offering! Be sure to check out the Planning Your Fundraising Year with GlobalGiving's Partner Campaigns infographic and our Learn Library to find great resources about beginning your crowdfunding journey!
Search Ranking
In order to attract new donors, make sure that your project is easily searchable when they visit GlobalGiving.org. GlobalGiving's search ranking algorithm is based on GG Rewards status and points, the frequency of reporting, number of donors, and overall donation volume. This ranking is used to determine the order in which projects appear under each theme and country on the site, as well as the projects that are featured on the homepage. You can find your project's ranking on your dashboard.
Tips to improve your search ranking:
Increase your GG Rewards status:

Superstars rank the highest on our website! Head to your GG Rewards dashboard to find ways to earn more points.

Post frequent project reports:

GlobalGiving requires that projects post project reports at least every three months. But, by posting reports more frequently, your organization can improve its visibility on the site. (Note: We don't recommend sending more than one report a month in order to avoid donor fatigue.)

Be an active fundraiser:

By attracting more dollars and more donors to your project, you will improve your project's ranking.
---
Photo Guidelines
GlobalGiving Photo Approval Policies
The policies and procedures that help GlobalGiving enforce the community photo standards
GlobalGiving is committed to upholding the Community Photo Standards developed by our nonprofit partners; therefore, we enforce the following policies regarding photos used on GlobalGiving.org. These policies are in place to protect your organization and those you serve.
It is your organization's responsibility to ensure that you have the expressed permission from the photograph subject(s), photographer, and/or owner to use the photo. When you upload images to GlobalGiving, you are certifying that you have obtained appropriate consent from the people photographed, and your organization has all of the relevant rights to any photos or stories that you upload to our website. Once a photo is uploaded to the GlobalGiving website, GlobalGiving shares the copyright with you, according to the terms and conditions agreed upon by all GlobalGiving partners during the application process process.
What does this mean?
Appropriate consent:

All subjects of photos and videos uploaded to the GlobalGiving site have given explicit permission to have their image taken and shared for your fundraising purposes. This includes, but is not limited to, written permission by the subject or subject's guardian, and verbal confirmation by the subject. For your subject(s) to give informed consent, we also encourage a clear description before taking the photo of how and where the image will be used.

Relevant rights:

By uploading photos to GlobalGiving, you are certifying that you have permission from the photographer to publish the photos for fundraising use on our website. You may not upload photographs from news outlets or other online sources without either purchasing the rights to the photo or otherwise obtaining permission from the photographer or copyright owner to use the photo.
Approval procedures for photos uploaded to the GlobalGiving website
GlobalGiving is committed to respecting the opinions and wishes of our partners. Should we have any questions or concerns about a photo that you have posted on GlobalGiving, we will contact you directly. GlobalGiving reserves the right to make final decisions about content on the website and to remove photos or stories that we deem inappropriate or inconsistent with the Community Photo Standards.
GlobalGiving reviews each photo submitted on a project page, project report, or project appeal before it goes live on our website. If a photo is rejected, our team will contact you and encourage you to share a photo that showcases your work, but is more appropriate for our website audience. Our team uses the following criteria when reviewing photos for the site:
Is the main photo too small, uploaded incorrectly, or a logo?:

If so, the photo will not display correctly on our website and is rejected.
Does the photo show blood, wounds, weapons, severe illness, emaciated bodies, nudity, or death?:

If so, we reject it. GlobalGiving's policy is to ensure dignity for every single person featured on our site, and to ensure vulnerable communities are protected. Please see our Community Photo Standards for more information.
Does the photo show people or animals in a distressing situation?:

If so, per the discretion of GlobalGiving staff, we reject it. We want to ensure all photos on our site give each individual respect and dignity.
Are full names of the people being helped listed in photo captions?:

If so, we reject it. We must ensure the privacy and safety of individuals is respected, and we do not allow full names to appear in reports, project summaries, or photo captions.
Is the photo low quality or not in alignment with the GlobalGiving community's preference for positive photos?:

We will accept these photos, but encourage organizations to find high-quality photos that showcase their impact in a positive light. Please see our fundraising photo tips above for more information.
---
GlobalGiving's Community Standards for Ethical Photo Usage
Community standards developed by a working group of GlobalGiving's nonprofit partners
For decades, many nonprofits have used photos in their fundraising efforts that elicit pity from donors. These photos typically depict people in extreme poverty, horrific situations, or in very poor health. While these "pity images" may successfully generate cash in the short-term, they perpetuate the misconception that a community cannot solve its own problems. Using pity to manipulate donors preserves the false dynamic of 'us' giving to 'them.' It does lasting damage to the people it aims to help, and strips them of their dignity. While they may need external resources to achieve their goals, all people have the power to improve their own communities. Depictions that imply otherwise undermine genuine international aid efforts to drive systemic, long-term change.
At GlobalGiving, we have an obligation and an opportunity to shift how donors perceive people in difficult circumstances—away from pity, and towards empathy—through the language and photos we use. Yes, communities around the world face difficult challenges, and our intention is not to mask their struggle. However, our team cares deeply about portraying these communities sensitively and accurately. We want to give our audiences a realistic glimpse into people's lives while also protecting their dignity and showing them as fully human.
Our hope is that by seeing respectful photographic representations, our donors will give from a place of common humanity rather than guilt. How we portray people is just as important to us as the money we raise to help them.
These Community Photo Standards, which we developed in collaboration with our nonprofit community, aim to provide guidance to anyone in the GlobalGiving community who is choosing or producing imagery for their organizations. Through making conscious and responsible photo choices, together we can create a more accurate and healthy public perception of aid work: one that connects people in communities around the world, and deepens our understanding of each other.
The core standards are:
Treat all people with dignity and respect
Prioritize privacy, safety, and consent
Ensure people documenting reinforce the mission
Avoid harmful stereotypes
Download the Community Photo Standards for details. This tool can be a helpful conversation starter and reference for your organization.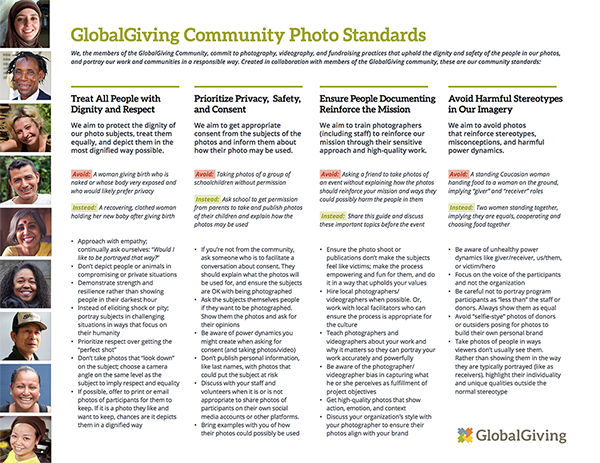 Resources: Nonprofit Photography Ethics
GlobalGiving resources:
External resources:
---
Retaining Donors
It is critical for your organization to attract new donors, but then what? How do you keep your donors engaged in the work you are doing? GlobalGiving has a number of different ways to keep your existing donors excited and active in supporting your amazing work.
Thank You Notes
GlobalGiving automatically sends every donor a receipt they donate, but nothing is better than a personal email from you and your team. Donors want their donations to be acknowledged, appreciated, and used well, so try to send a thank you email to each donor within a week of the donation being made.
The easiest way to keep on top of thanking your donors is to write templates and set up automation. By setting up automation rules, you ensure every single donor is thanked on a timeline you decide. Your donations are divided into one of three segments: more than $100, less than $100, or recurring. You can tie each of your thank you note templates to a segment, project, and automation rule.
While the majority of your donors can be thanked using automation, you may still want to thank some donors with a custom note. These donations will show in Highlighted Donations (instead of a segment within Other Donations) so you can write a new note.
This video explainer will help you get started.
Here are some tips on how to make your thank you notes great:
Follow up right away:

The sooner you send a thank you note, the better! This way the donation is fresh on the donor's mind. When using automation, you can set your automated notes to send between one and seven days after the donation.

Explain the impact of the donation:

Be specific! Use your project donation options as a guide or tell a story about someone who will benefit from the contribution.

Do your research:

Use the information available in the Thank You Notes Manager to personalize custom notes. Did this donor leave feedback? Have they given before?

Offer ways for the donor to stay involved:

Encourage them to sign up for your organization's newsletter, volunteer, or follow your pages on social media.

Be personal:

Help the donor feel connected to you. Provide your contact information and thank them for their support.

Get creative:

Make sure that your organization stands out among the others that your donor is supporting. Create a YouTube video or upload thank you letters or drawings.

Do not use it as an appeal:

Your donor just gave! Use this opportunity to start building a long-term relationship.
Tribute Cards
Tribute cards are a way for your donors to make a donation as a gift or in honor of someone. Your donors can buy tribute cards for birthdays, weddings, and holidays to support your projects. GlobalGiving makes it possible for your donors to make a donation to your project as a gift or in honor of someone special. This is a great way to promote giving to your organization for holidays, birthdays, and special occasions! Tribute cards are available by email or print-at-home, and you can choose between several different designs.
Peer-to-Peer Fundraisers
GlobalGiving makes it easy for you to turn your organization's supporters into active advocates. Supporters can create fundraisers to set their own fundraising goals and reach out to their own networks on your behalf!
GlobalGiving fundraisers are great for any occasion — a celebration, tribute, athletic event, disaster relief — or simply to generate support for projects like yours. The fundraiser will choose what project they would like to support for their special occasion. They can then reach out to family and friends with the link, driving donations to your project. Encourage your networks and advocates to begin their fundraisers here!
Recurring Donation Option
GlobalGiving makes it easy for supporters to make monthly recurring donations to your project. By signing up for a recurring donation, GlobalGiving deducts the donation amount from the donor's preferred payment method every month. Not only are recurring donations hassle free for your donors, but they provide your organization with a consistent, reliable, and long-term source of income.
Tips for acquiring new recurring donors:
Target outreach to your existing donors:

Focus your outreach on individuals who have repeatedly supported your organization with their time or a donation.

Make it easy:

Link directly to the recurring donation option on your project page by adding "?show=recurring" to the end of your project URL. Find the complete link under the Share tab on your project.

Connect donations to your work on the ground:

Give donors concrete examples of how their donations will be used on a monthly basis. You can create different recurring donation options than those of the one-time donation options on your project page.

Emphasize the value:

Tell your donors that recurring donations are a predictable stream of income for your organization and make it easier to plan financially for the year. Consider explaining why $15/month is more valuable than a $240 one-time donation.

Thank your donors:

Recognize your recurring donors in a special way by featuring them on your organization's website or social media or sending them unique updates. Get creative! What can you do to recognize recurring donors?
GlobalGiving's Widgets
Promote your project on your organization's website or blog using GlobalGiving's widget. A widget is a tool that enables you to perform a function, which in this case is to share your GlobalGiving page on your nonprofit's website! Just copy and paste the code provided on your project page under the Share tab into your website's code. One click takes donors directly to your project page so they can donate immediately.
---
Disbursement Basics
GlobalGiving disburses funds at the end of the month after donations are received. For example, if a donation is made in January, funds will be disbursed at the end of February. Our disbursement team aims to get funds out the door by the 25th of the month, although it can take longer depending on your organization's disbursement method. For international organizations, we only disburse after you have raised $250 or more to reduce the overall cost of wire fees and because of the limitations placed on us by FXecute.
GlobalGiving waits until the month after donations are received to reconcile donations to ensure financial security and make sure there are no reverse charges. This ensures that the money you receive the following month has been vetted and is ready to go toward your organization's work!
Disbursement Methods
GlobalGiving offers four ways for you to receive funds, depending on your location and preference:
ACH:

This is a direct bank transfer from GlobalGiving's account to the American accounts of our US registered partners. This is our preferred method of disbursement for US partners and can take one to three business days for funds to reach your account.

Checks:

Checks tend to arrive between one and five days after being sent. Once they leave our hands, your check is at the mercy of the US postal system. We suggest organizations with this method switch to ACH, if possible.

FXecute:

This option makes it possible for GlobalGiving to disburse funds in local currencies, saving our partners money on wire transfer fees and currency conversions. It can take up to two weeks to receive your disbursement via FXecute, particularly if you are receiving an FXecute disbursement for the first time. Once the disbursement leaves our office there's nothing that we can do to speed up the time it arrives in your account. If your funds are not received within 15 days of disbursement, GlobalGiving will work with you to investigate.

Wire:

This disbursement method is for organizations based outside the US with US dollar bank accounts. This method incurs bank transfer fees and higher currency conversion rates than FXecute. It can take up to two weeks to receive your disbursement by international wire. Once the disbursement leaves our office there's nothing that we can do to speed up the time it arrives in your account. If your funds are not received within 15 days of disbursement, contact us and GlobalGiving will work with you to investigate.
Disbursements are accompanied by a Disbursement Report which provides a complete list of all donations made during the disbursement period, including the donor name (unless anonymous), date of donation, and donation amount. This report also includes GlobalGiving-driven funds and your Effective Fee rate!
The report breaks down the donation amount in the following way:
Gross $:

How much money was donated to your project by the donor.

GGF Fee $:

The fee applied to this donation—GlobalGiving's fee varies by donation from zero to 15%.

Net $:

The total amount disbursed to your organization after the fee and the donor add-on have been applied.
Disbursement reports are sent a few days after disbursements leave our office. To download your disbursement report:
Login to your GlobalGiving account
Click My Dashboard in the right corner
Click the Disbursement tab on the left side of your Dashboard
Click the disbursement you wish to view
On the next page, click the orange "download report" button
---
Our Fee
You do not have to pay any fees to join GlobalGiving. In fact, GlobalGiving has no setup, monthly, or annual fees! We do this because we believe in the power of great ideas that can come from anyone, anywhere, anytime. Therefore, no matter how big or small your organization is, you will have the same opportunity as everyone else to raise funds on our platform.
Instead, there is a fee on each donation. If your organization is registered in the US or the UK, GlobalGiving will retain a 5% nonprofit support fee (+ 3% third party processing fee). If your organization is registered outside the US or the UK, GlobalGiving will retain a 7% nonprofit support fee (+ 3% third party processing fee).
You can read more about our fee structure and get all your questions answered in our Help section!
---
Corporate Partnerships
We have worked with more than 200 companies to offer employee giving, cause marketing, grant management, and more. Here are just a few of the ways that we work with corporate partners:
Employee Giving:

Employees that work for companies like Nike, Dell EMC, Gap, Inc., and others give to GlobalGiving projects both through GlobalGiving.org and other platforms. Many of these donations are matched by the company! For example, Eli Lilly employees around the world support projects focused on health, education, environment, hunger, and disaster relief and are matched by the company.

Gift Card Programs:

Companies like Facebook and Discovery purchase gift cards to give as gifts to their clients, customers, and employees. The gift card recipient can designate the donation amount to any project on GlobalGiving! In 2015, TripAdvisor gave holiday gift cards which supported more than 1,200 projects on GlobalGiving. A great example of this is Dell EMC's employee recognition program. Each month, new hires and employees celebrating a service anniversary are sent a $25 GlobalGiving e-gift card that can be redeemed in support of global projects aligned with Dell EMC's Giving Back strategy supporting causes such as education, food, water, and disaster relief.

Grants Management:

GlobalGiving manages grantmaking programs for many companies. Corporate partners like Ford and Cummins often seek recommendations from GlobalGiving for these grants. In 2020, Ford's grantmaking program with GlobalGiving raised more than $4.5 million and supported organizations in nearly 40 countries.

Cause Marketing:

Through targeted marketing campaigns, companies like Animal Planet and Microsoft's YouthSpark support and promote one or more GlobalGiving projects. For example, GlobalGiving managed the Girl Effect Fund in partnership with Nike Foundation until 2016. During this time, more than $2 million and 10,000 donors supported projects working with girls on GlobalGiving.

Vetting and Reporting:

Many companies utilize GlobalGiving's expertise and systems to provide due diligence and facilitate reporting. For example, GlobalGiving conducts due diligence in partnership with employee-giving portal provider Benevity. Our API makes it possible to include vetted nonprofit organizations into companies' digital and employee-giving programs.
How can your organization benefit from corporate partnerships?
---
APIs
The GlobalGiving API allows some of our corporate partners, including Benevity, to integrate project information, organization data, and donation options in their website by giving direct access to the information in our database. You can learn more about our API platform here. For a more technical look into the program, you can go here:
https://www.globalgiving.org/api.
If you have a public project posted on our site, then your project is already eligible to be pulled into the systems! To make the most of this partnership, we encourage you to make sure your project title is succinct and clear and your photo is engaging and positive in order to attract the most donors to your page. If you do receive donations from this platform, you will see "GlobalGiving API" in the traffic source of your donation manager.
Code of Fundraising
By following the rules and recommendations on GlobalGiving, your project will comply with fundraising best practices around the world. That being said, we are required to note that all projects should adhere to the Code of Fundraising published by the Fundraising Regulator. The prompts inside of the Dashboard system will make sure that you enter all of the necessary information to support your compliance with these and other regulations. If you have any questions, please contact us.