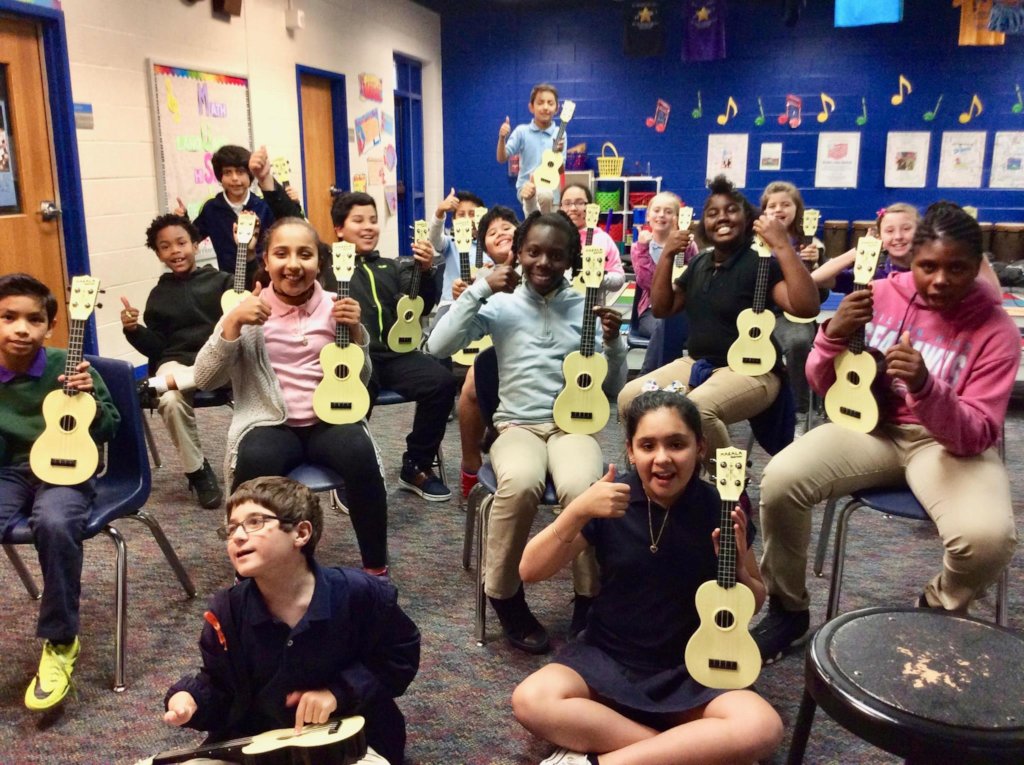 Dear Friend,
During the past year, your contribution to our very first Uke Can Do It fundraising campaign made a wonderful difference in the lives of students in 2 high poverty schools and in many home and hospital settings where our teaching artists have been working with medically fragile students.
At one elementary, a high-poverty school in San Diego, 48 students were left in a rough situation early last year when one of their two 1st grade teachers became very ill suddenly and tragically lost her life. She was young, vital and "one of those special teachers" who was taken very quickly, without warning. Within three weeks of being hospitalized, this teacher had earned her wings, and the children were left without their beloved Mrs. J.
Mrs. J. had trained with Guitars in the Classroom after school, and she had promised both first grades that she would teach them to play ukulele after winter break. The kids were so excited. But this was not to be. With her passing, it looked like her promise would go unfulfilled.
That is where your gifts came in to save the day first. Not only were we able to supply instruments to these children in both classrooms, but we also paid for our teaching artist "Mr. JJ.." to come to the school every week to lead music classes for both first grades!
Doing things The GITC Way meant he trained the other first grade teacher, Ms. Rodriguez, and also the new long term sub who stepped in for our angel. Each teacher learned to became a ukulele player and a songleader for learning so the students could make music everyday at school. Without you, there would have been nothing but tears and disappointment. With your gifts, 48 children had a chance to bond, to create something beautiful, to gain musical skills for a lifetime, and to get through what would have been an entirely traumatic year with songs in their hearts.
With the funds left over, we were also able to gift ukuleles to students whose medical conditions had isolated them from attending regular schools. Our teaching artists came to work with their Home Hospital teachers and their parents to bring music into their lives and with your charity, they were able to bestow upon the families not just 1 but 2 ukuleles so the parents and children could continue to play together long after our teaching artist residencies ended.
We want to thank you deeply for your kindness, and to encourage you to make music a part of your own life as often as possible. If you would like to keep helping our organization, please stay with us here on GlobalGiving.org and also read up about our work online at the website and on facebook. We welcome you to become a long term participant in and supporter of this movement to make music a natural part of learning for every child!
From the bottom of my heart, on behalf of our small but might staff and our compassionate faculty and board, THANK YOU!
Links: