Tsunami Survivor Devotes His Life To Helping Others Overcome Disaster
He survived one of the deadliest tsunamis in history. What he did next—in Nepal, Haiti, and around the world—will inspire you.
---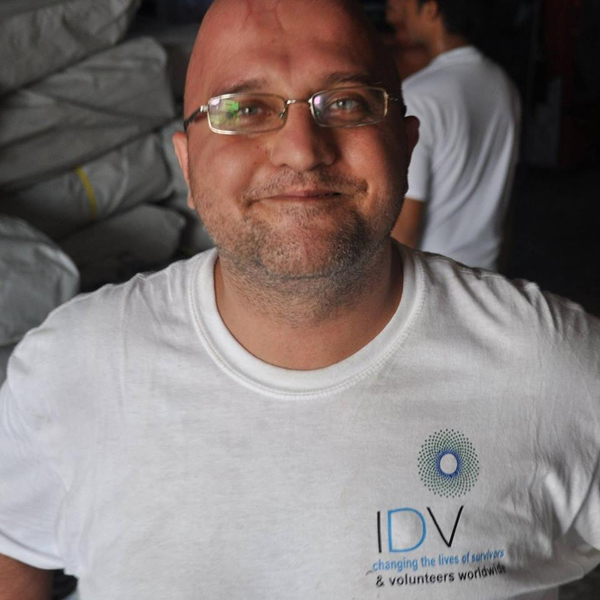 In 2004, a deadly earthquake erupted in the Indian Ocean, sending a massive wave known as the Boxing Day Tsunami hurling toward Thailand—and Andy Chagger and his girlfriend, Nova. The tsunami killed more than 230,000 people, including Nova. The gigantic wave left Andy injured and trapped on a building for four hours. He likely would have lost his life, too, if not for the kindness of three men who helped him get to safety.
These days, Andy finds himself in a similar role.
The tsunami survivor returned to England and founded International Disaster Volunteers (IDV) in 2008. His UK-based nonprofit partners with locally-led initiatives to help communities prepare for disasters and recover when they strike.
THE CHALLENGE
From Manila to Kathmandu, communities struggle to recover
Andy is IDV's sole employee, but in just a few years, he's managed to inspire more than 300 international volunteers who self-fund and travel to disaster-prone areas to build residents' survival skills and capacity. But Andy doesn't consider himself a leader. He reserves that title for the local people who are always at the center of IDV preparation and recovery efforts. Before they ask donors for help, Andy and IDV volunteers typically spend a lot of time with them on the ground.
"I've directly seen the needs on the ground and know exactly what a fantastic impact our work would have," Andy told GlobalGiving.
In 2010, IDV volunteers supported orphans who survived a deadly earthquake in Haiti. Volunteers paired up with an existing orphanage and supported the construction of a more suitable home for displaced children. The volunteers helped with planning, construction, child care, and the development of new orphanage policies and procedures. The home is thriving 5 years on.
In Manila, the capital of the Philippines, Andy and his team of volunteers help local communities get ready for inevitable flooding that wrecks havoc every year when typhoon season hits. IDV volunteers and donors have supplied lifesaving boats and training to locals so they are ready to react at a moment's notice and save a life in the event of a disaster. Andy is still working in the region to help residents like Pina, who lives near a riverbank with her husband and four children. An evacuation center is under construction nearby and could save Pina and her family—but it's not yet built and may not be done in time for the next typhoon season.
When devastating earthquakes struck Nepal in 2015, taking the lives of some 9,000 people and reducing 500,000 homes, 36,000 schools, and many historic landmarks to rubble, IDV was there.
"The earthquakes featured heavily in the media and donations began to flood in. Our charity, even though it's small in size was able to raise a staggering $85,000 in the four months following the disasters," Andy told GlobalGiving. "The funds raised in these early days were vital as they allowed us to respond quickly and meet the immediate needs on the ground. This meant we were able to deliver food assistance, clean water, and urgent shelter to thousands of people. We also helped thousands of children return to education by providing transitional classrooms and school supplies."
THE SOLUTION
Advocates who don't give up
Meeting immediate needs is vital, but it's only half the story of disaster recovery, especially in Nepal and other vulnerable communities, according to Andy. One year since the Nepal earthquakes, recovery efforts are ongoing. IDV must rely on donors who are willing to help survivors recover, no matter how long it takes.
"Support for long-term rebuilding is going to be needed for years to come. This is often the case following major disasters, but is doubly true in the case of Nepal. The country was incredibly poor even before the earthquakes, then it suffered the annual monsoon season and a political crisis. As a result, long-term reconstruction has barely even started, even a year after the first earthquake struck," Andy told GlobalGiving.
As the attention of the media moved on, Andy noticed dwindling public support and donations.
"It's not that people don't care anymore, they often just forget or fail to understand that rebuilding is a long-term process, which is why anniversaries are so important. They represent a milestone, and the focus of the media and the public returns, even if only for a day. This presents a chance for charities to highlight their achievements so far and to remind the world how much remains to be done," Andy said.
One of the many schools Andy works with is the Shree Bal Shiksha School in the district of Sindhupalchok, which was one of the areas worst affected by the earthquakes. More than 600 children attend the school.
"Since the disaster, they've all been learning in either temporary classrooms or, unfortunately, in some of the damaged buildings. To ensure the safety of the children, and so they can get the best education possible, it's vital that they move back into permanent classrooms as fast as they can, and this is what we are working on," Andy told GlobalGiving.
THE RESULT
More resilient communities
To date, Andy has raised more than $25,000 for school reconstruction projects in Nepal.
"Because we're active on GlobalGiving, we're able to segment our overall messaging based on our donors' locations—basically we are doing everything we can do to get these schools back in business," he said.
Andy's advocacy for schools in Nepal represents just the tip of IDV's impact—the nonprofit has successfully funded 308 disaster recovery projects through the GlobalGiving community; and continues to fundraise for 11 more. Andy's determination and ambition to help fellow disaster survivors is nothing short of awe-inspiring.
With GlobalGiving's help, Andy is about to start a 6-month strategic mentoring program with a senior manager from a global business. He hopes the mentorship will give him time and space to reflect on IDV's phenomenal growth and embark on the next stage of its journey. Andy's goals include supporting more communities through skilled volunteering and developing stronger infrastructure for IDV. With tireless advocates like him on our side, even the biggest natural disasters suddenly seem a little more surmountable.
Featured Photo: Give the Gift of Education in Nepal by International Disaster Volunteers