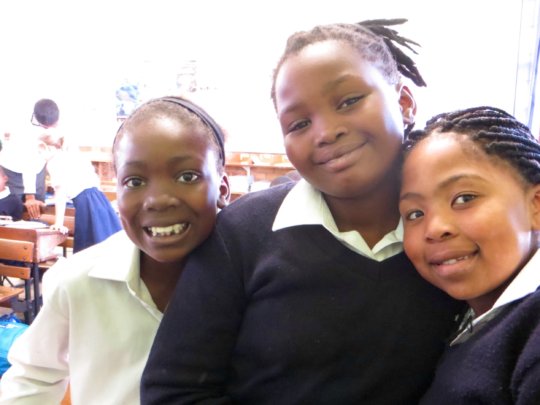 In Tanzania, nearly half (47%) of primary school aged girls are not attending school. Between 2004 and 2010, even though pregnancy among Tanzanian girls aged 15 to 19 years fell by about 12%, still, more than 40% of young women begin having children by age 18, and the country has one of the highest adolescent pregnancy rates in the world. (UNICEF) Girls in urban areas of Tanzania were eight times more likely to finish secondary education than girls in rural areas.
AID Tanzania continues to provide tuition fees, school uniforms, shoes, books to primary and secondary school girls in the Arusha rural community in Tanzania. Funds raised through the GlobalGiving platform helped us provide additional books and other school supplies for 50 primary school girls.
We're also reaching out to other rural communities outside Arusha, precisely, Moshi. Like Arusha, there are so many girls in Moshi who're in dare need of support to enable them go to school and have quality medical services.
We continue to thank our partners and friends who donated their hard-earned cash towards this project. Please be rest assured that through your generous support, you're positively impacting the lives of young gilrls in Arusha, Tanzania.
Acording to the UN Human Development Index, Sierra Leone continues to be ranked as one of the poorest countries in the world. Within this frame of generalized poverty, women come worse off and have been found to be poorer than men. This is due to gender disparities existing with respect to access to and control of a range of assets including direct productive assets such as land and micro credit, human capital assets including education and health, etc.
In light of the above, AID continues to provide support to poor and less-privileged women in the country by offering them much needed skills to enable them create jobs for themselves thereby becoming self-reliant.
From the funds raised through the GlobalGiving platform, the organization provided skills training programs for 20 young women in the Wellington rural community. The oganization continued its awareness raising programs in relation to women's empowerment, discrimination and abuse.
We say a big than you to our partners and friends who donated their hardearned cash towards this project through the GlobalGiving platform. Together, we're changing the lives of poor and disadvantaged women in Sierra Leone.
Young people in Sierra Leone, especially between the ages of 15 and 35 are among the poorest of the poor. Many of them are illiterate, school dropouts, unemployed and living in deplorable conditions in and around the capital city, Freetown.
To help curb these challenges, AID Sierra Leone has been providing regular entrepreneurship training programs to help some of these youths become self-reliant and also contribute to the socio-economic development of their communities and the nation as a whole.
For the period under review, we've been able to use funds raised through the GlobalGiving platform in addition to existing resources to provide skills training for 15 youths within the Western Area community in Freetown.
We're grateful to our partners and friends who donated their hard-earned cash towards this project through the GlobalGiving platform. We say a big THANK YOU!. Your precious donations is helping youths in Sierra Leone rise above extreme poverty and also be able to secure much needed entrepreneurship skills.
WARNING: Javascript is currently disabled or is not available in your browser. GlobalGiving makes extensive use of Javascript and will not function properly with Javascript disabled.
Please enable Javascript
and refresh this page.