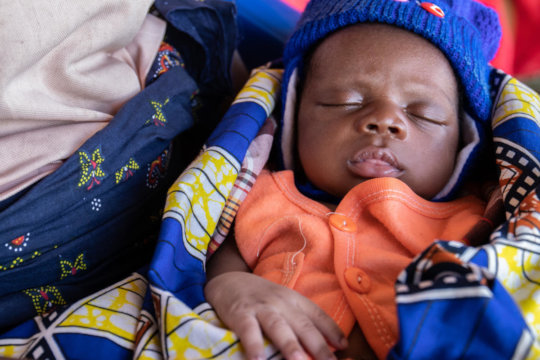 Cyclone Idai tore through central Mozambique on Friday 15 March 2019. The cyclone left a trail of destroyed homes, schools, hospitals and infrastructure. Torrential rain lashed the region and flood waters engulfed entire communities. According to the Government of Mozambique, 1.85 million people have been impacted, including 900,000 children.
Save the Children was one of the first to respond to Cyclone Idai and has provided emergency assistance in the four affected provinces of Manica, Sofala, Tete and Zambezia. We have distributed food and relief items such as tents, tarpaulins, mosquito nets and jerry cans; established Child Friendly Spaces and Temporary Learning Centres to ensure that children have a safe place to play, learn and receive psychosocial support; and provided families with seeds and tools so they can replant their crops.
Cassandra, 17, gave birth to baby Francisco less than two months after Cyclone Idai hit. Cassandra and her husband's house could not withstand the wind and rain and collapsed. They do not have the money to rebuild their house, so they are living under a shelter made of grass.
They live in a very remote area without access to basic services. It took Cassandra eight hours to walk to the nearest hospital where she gave birth. Save the Children's Emergency Health Unit visits Cassandra's community each week with a mobile clinic, delivering life-saving healthcare for children and families impacted by Cyclone Idai. Our mobile teams of nurses, doctors, nutritionists and midwives are providing antenatal and postnatal care, vaccinations and treatment for diseases such as malaria and diarrhea. The teams are also identifying malnourished children and providing them with life-saving therapeutic food and referring them on for further care.
Cassandra went to the clinic because she had been unwell since Francisco's birth and she also wanted to ensure her baby was healthy. Save the Children's midwife gave Francisco a full check up and prescribed medication for an infection.
Save the Children's doctor tested Cassandra for malaria. Luckily, her test came back negative, however, the doctor prescribed her with some supplements to build back her strength after the birth.
Thanks to the support of donors like you, we are able to continue providing services to impacted children and families like Cassandra's. Thank you so much for your support!