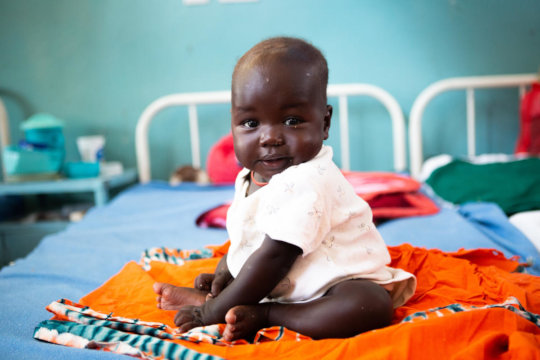 KENYA: FIGHTING FOR BREATH
Abrahim's story

Just seven months into his life, Abrahim was fighting for breath. "I noticed that his coughing was unusual," says his mom, Mercy. "When he cried he produced a very low sound." Mercy knew something was seriously wrong. Her fears were confirmed at their local health centre where doctors referred the family to Lodwar County and Referral Hospital.
But the family didn't have the money to pay for the 50km journey. It's any parent's worst nightmare. Watching your child get sick but not being able to afford the care they need. Mercy spent a month pulling together the funds to pay for public transport. On arrival at the hospital, Abrahim was diagnosed with pneumonia – responsible for more deaths of under-fives than any other disease. The paediatric ward at Lodwar Hospital sees a high volume of cases of children suffering with pneumonia. In the surrounding rural areas 6 to 7 out of every 10 children contracts severe pneumonia at some stage. The hospital treats the condition with both intravenous and oral antibiotics. Children who are lucky enough to get to the paediatric ward (they often have long distances to travel to get to the hospital and their families may not have the means or the funds to do so) usually respond well to the antibiotics within a couple of days.
Abrahim was one of the lucky ones – he won his battle, thanks in part to the equipment and the training of the staff at the hospital, supported by Save the Children. With early and correct diagnosis and timely treatment with the appropriate antibiotic, it is possible for young children such as Abrahim to recover well from pneumonia, I'm relieved that he is well now," says Mercy.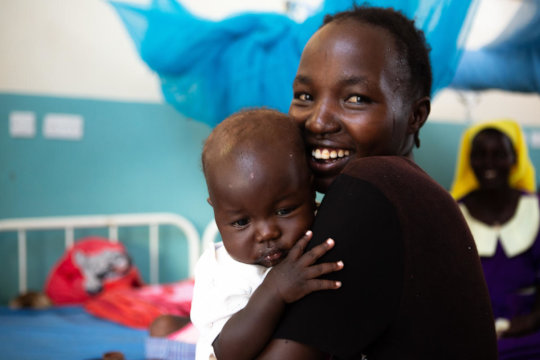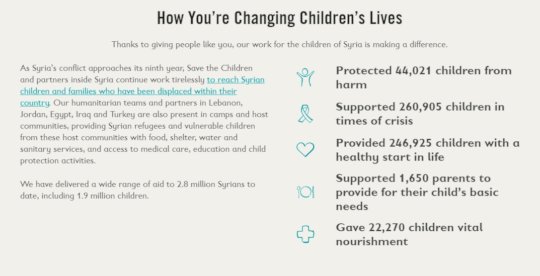 Emergency Alert:
Families and children in North East Syria are fleeing for their lives. Military operations in the area threaten the safety and livelihood of nearly 90,000 already-displaced citizens who rely exclusively on humanitarian aid.
Save the Children's teams in Syria are working across three displacement camps, preparing to scale up to meet the increased needs of vulnerable children. Urgent support is needed to help this impending humanitarian disaster.
The conflict in Syria has devastated the lives of a generation of young people. Many of Syria's children have missed years of their education, with 2.1 million children in Syria currently out of school. After more than eight years of war, it's more important than ever that we show the children of Syria they are not forgotten. For the 6.2 million people currently internally displaced in Syria and the 5.6 million Syrian refugees with no place to call home, we must continue fighting for a future we all share.
On Friday, March 15, Cyclone Idai made landfall in central Mozambique. Winds of up to 110 mph swept across the countryside, destroying homes, schools, hospitals and roads. The weeks before the storm had seen heavy rain, and with Idai dumping torrents of water, rivers burst their banks. Whole communities were submerged under filthy, fast-moving floodwater. Many families had to climb onto the roofs of their homes or into trees to escape.
Crops were destroyed. Livestock were lost. Families were left with nothing. No food, no shelter. Everything they owned was gone. It's a day no one will ever forget – especially children who had never seen anything like it before.
But the rampage wasn't over when Idai finally released its grip on Mozambique. In neighboring Malawi and Zimbabwe, the torrential rains continued over already saturated provinces. Rivers there also overflowed, creating similar flooding. Families who had the fewest means to deal with a disaster were even more vulnerable.
Thanks to you, Save the Children teams in all three countries were on the ground within hours. With your support, we were there to help families find food, shelter and safety. And in the following weeks and months, we've supported people as they began rebuilding their lives.
Please see the attached PDF for details on our response, including providing food, clean water, restoring access to learning, and protecting children in the aftermath.
Attachments:
WARNING: Javascript is currently disabled or is not available in your browser. GlobalGiving makes extensive use of Javascript and will not function properly with Javascript disabled.
Please enable Javascript
and refresh this page.