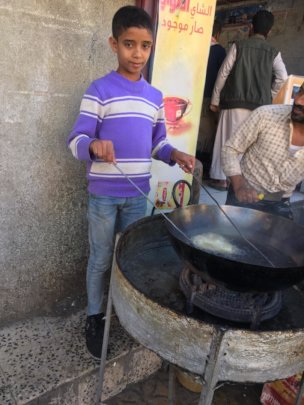 Yemen as the rest of world countries, facing outbreaks hit of COVID-19 and expensing even more difficulties than it was already experiencing before (due to the war and conflict). We are happy to share with you how the funds are earmarked for this project.
With your support on empowering women program, we have been able to household headed by mothers with small grants enable them buying needed food for their children instead of letting the children work to support bringing the food to family
Providing basket foods for 100 household headed by women in beginning of winter helped saving lives of needy, poor women and their children . As well as we are planning to provide around 1000 more in the coming phase of the project. This lifesaving food support comes in most rural and vulnerable areas in the world ever. People in Yemen considering the food assistance the most precious gift they could receive especially during the winter. With your assistance and support we saved lives of poor 100 women and their children.
As we face the pandemic head-on, we are grateful that you have joined us in this emergency response. Food support is in great demand and we would not have been able to meet all these needs without your generous support.
We are working very hard and it is encouraging to share that our mutual efforts are making a huge difference. We can reach families in remote areas and marginalized groups, such as refugees and people with disabilities.
In the picture you can see (Asem) one of the children who was working since very early morning to provide food for his mother and family who are living in a very rural village) With our lifesaving food assistance we succeed to make Asem to return back to school.
On behalf of the hundreds of needy children that we have been able to support, providing them with essential food assistance we thank you, your continued support is really recognizable. We would love to hear from you and answer any questions that you may have. Do accept our eternal gratitude and love.
On our Facebook page, you can leave a note.
Or you may visit our website and email us.
Links: