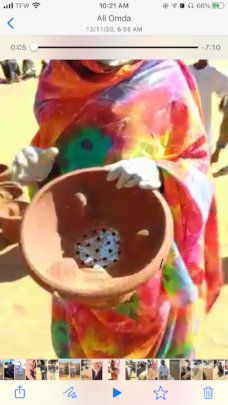 Dear our friends.
Greetings,
Update: Safe Stoves for Darfur Refugee Mothers
The Darfur Women Network, DWN has implemented the Safe Stoves Project for the benefit of the survivors of genocide in Darfur, who crossed the border in order to live away from violence in refugees' camps in Chad. As a result, over 400,000 people have been killed and 2.5 million were displaced. The government and its allies killed and raped civilians, burned villages and destroyed all the available resources of livelihood.
The population of this camp is 30000 people, the majority of Darfur refugees in Chad are women and children. In addition to challenges to mental and psychological wellbeing, these families are suffering from poor physical conditions resulting from the lack of access to basic social services, such as health, education, water and sanitation. Continued conflict in the region subject these vulnerable communities to violence and a lack of protection, which consequently creates tremendous challenges to their livelihood and wellbeing.
Your generous donation and your commitment has enable Darfur Women Network, DWN, to address the challenge faced Darfur refugees in the camp. In addition to challenges of lack of income, food, healthcare, education, water, and protection; there is challenge of The usually use traditional wood-burning cooking stoves to cook for their families. This stove consumes a huge amount of firewood. Firewood scarcity due to deforestation leaves women and girls vulnerable to walk long distance into dangerous forest where high dangerous conflict territory which put them at risk for rape and risk for hostile attacks. Also, walking long distances to collect firewood has become a burden on the women and weakening their physical ability. In addition to safety issues, smoke inhalation and fire hazards are a constant concern.
On December 11, we distributed over 200 safe stoves to 200 refugee families. Also, the economic empowerment group has earned income for making safe stoves to protect women and grils from rape, hostile attacks, and other negative impact of using traditional stoves.
https://drive.google.com/file/d/1K4EKqlwGTU1p6rffFX-AtFK-E2cc-mlB/view
The impact of your donation are the following:
The DWN has distributed 1200 safe stoves.
The efficient safe stove reduces the number of trips and distance that women trek to collect firewood from the forest by 75%.
Decreasing the serious risks of traditional stoves include smoke inhalation, burns to children and accidental home fires. Open flames encourage respiratory issues and open fire hazards that can quickly ignite a shelter.
Increase and restore the preservation of the ecological system in and around the camps.
Create economic empowerment opportunities for women to earn income for themselves and their families. There is little to no way for women to earn an income which will allow them to purchase food or basic living necessities within the camps.
The Safe Stoves Program merges income earning opportunities with filling a vital need that benefits families in the camps.
This project has helped some refugee women to transfer themselves from dependency to self- sufficiency.
The women practice decision-making, entrepreneurship skills, and teamwork which helped them to become social change agents by changing the perception of community about women.
The refugees camp up with new type of safe stove which is expensive compared with the first one, because it has a metal. The moderated one can be used as heater during the winter in addition to be used to cook the food.
Thank you,