Dear Friends and Supporters.
As reported on previously we faced some challenges with the final stages of the construction works at the Kalika school in Nawalparasi, which included the construction of the main building and the toilet block. After many discussions, meetings and negotiations with the Maoist group Biplav, that demanded donations and forced our workers to halt construction, we managed to come to some resolutions, whereby we were able to continue our works. Due to the delays incurred we did have to make some changes in the local work force and also had to call upon the assistance of the local school committee to help us solving the matter.

Despite all this we are pleases to inform you all that the project is now near completion and the construction works have been completed. We now are preparing to get the furniture into the school after which it can be handed over to the school committee so that the teachers and students can use the building soonest. Although some delays have been incurred, we were still able to deliver a much needed project that will help many students to have better access to much needed education.

Although the earthquake happened a few years back, the aftermath of it and the problems faced in many villages is still clearly visible. There are still many schools in the Sindhupalchowk district that are in need of repair or rebuilding. We aim in the upcoming years to have similar projects in this area and hope you are able to support us, as our work is by far not finished.

On a similar note we are preparing for a comprehensive livelihood project in the same area to support approx. 140 farming families in their agricultural activities so they can increase their family income which enables them to rebuilding their lives. We aim to support them in various aspects of this, such as irrigation support, training, vegetable production, equipment and the like. Also for this we still require additional support and we hope you can spread the word as your help and support for these vital projects would be much appreciated.

Thank you for all your help and support to date and we hope we can continue our work with your support to make a bigger impact. Tell your friends and encourage them too.

Namaste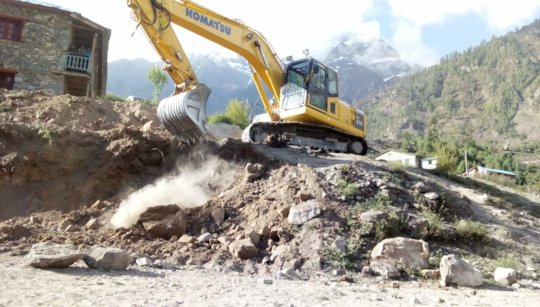 Dear Friends and Supporters
The construction works at Muchu village are still ongoing, despite the heavy rainfalls. As reported previously the ongoing works included the construction of the new the canteen/kitchen and storage facilities to meet the increased demand from children from outlying villages. We are happy to inform you that these components have been fully completed.
In discussion with the local school committee the site for new classrooms has been identified and currently wood and local materials are being collected to start the building works. Other works that hopefully soon can start include the full repair and maintenance of the school hall, which is great need to be upgraded.
This will enable the school management committee to provide better education facilities and services to the many children that are in need of proper education. With our help they will surely succeed.
Your support is as always much needed and gratefully received. We like to thank you for all support you have provided us with to date and we hope you will continue with us. Please tell your friends and encourage them to.
Namaste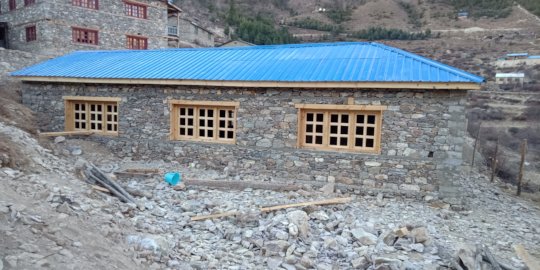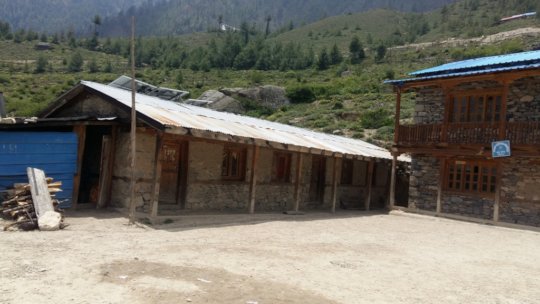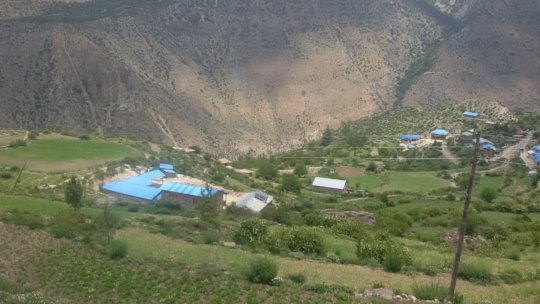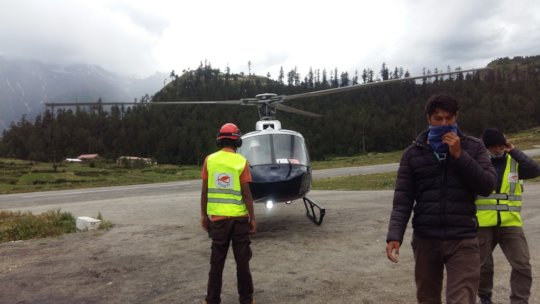 Dear friends and supporters.
Last time we reported on the fact that our 5 year plan with the government had been approved and despite the monsoon rains we have made finally progress to identify the items to equip the new innovative Renewable Energy Service Center. Soon we hope to purchase these machines and hand tools, and hope to transport all up to Simikot from Nepalgunj where it will be handed over to our local partner LIDS to start electrical and mechanical works.
In addition we managed despite the many rains to send a local technician up to Yari village to install a solar fridge, which will be driven by solar panels, for the Yari Birthing Center and Health Post. Yari is a remote village nearly 5-6 days walk from Simikot, so to have electricity available that can be used to provide better healthcare is a much needed asset that will benefit the many villagers.
Obviously there may be a future need for maintenance and repair of such equipment, which shows the need of the Service Center and trained staff to keep providing such valuable services.
This remote area is never likely to be linked up to national grid and thus much will depend on RE sources and its maintenance to support the development of local communities.
We want to thank you for all your support and encouragement and I hope you will continue to help in days to come. Tell your friends about us and encourage them to support these very remote areas that can surely help any need they can get.
Namaste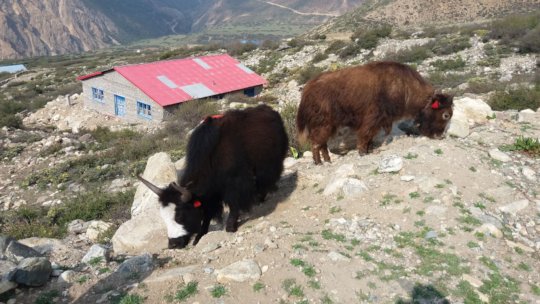 WARNING: Javascript is currently disabled or is not available in your browser. GlobalGiving makes extensive use of Javascript and will not function properly with Javascript disabled.
Please enable Javascript
and refresh this page.