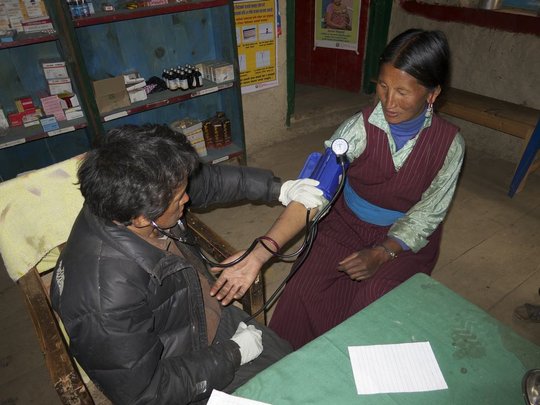 Delivering healthcare in the Hidden Himalayas of northwest Nepal is fraught with problems. There are no roads and one has to walk everywhere. To reach our remotest clinic in the beautiful Limi valley, close to the Tibet border, will take the average westerner 7 days and include a 5000 metre pass.
A volunteer doctor from the University of California, Dr Michael Niedermeier MD, has recently returned from an assignement for the Nepal Trust. It is worth quoting his observations from the western view.
'The clinics in Humla face unique challenges even by Nepali standards. The district is incredibly isolated, with no road access from lowland Nepal, and some of the Nepal Trust sites lie a week's hike from the district headquarters and sole airstrip at Simikot. The physical landscape limits supplies and the local population carves its livelihood out of back-breaking farm labor on steeply terraced hillsides and the portering of goods over high mountain passes. The clinics, in turn, must diagnose and treat the numerous ailments incurred from food insecurity, environmental exposure, sanitation and physical strain, all without the benefit of imaging or laboratory testing, and with limited access to medications and higher levels of care. It's a real challenge to tell a 60-year old man with congestive heart failure and a bout of chest pain that he needs to hike 10 hours across a 900m pass to get an ECG or a chest X-ray. Then again, he probably wouldn't need a stress test.
Cultural differences provide their own challenges. Gynaecologic complaints were commonplace, yet physical exams by male practitioners, local and foreign alike, are simply not done. A patient with a cough might be unwilling to expose his back for auscultation out of embarrassment for poor hygiene; a large laceration would forego irrigation and suturing due to reluctance to remove a poultice of herbs "blessed" by a local monk; knee pain treated with ritual burns to the skin ends up with secondary infection; is the patient's chronic productive cough from TB or simply the result of residing in a smoke-filled room with neither windows nor chimney? Each patient presented a unique diagnostic and therapeutic dilemma.'
Our health education programme for children - Little Doctors - is successfully challenging these social and cultural issues and a new generation is moving forward to a healthier future. Three new LD programmes have been planned for this summer in the villages of Simikot, Yalbang and Torpa/Bargaun.
Plans for the new Birthing Centre in Bargaun village (linked to Torpa) are well advanced and the community have commenced collecting stone and timber. A 'Trek to Build Health' is going to Bargaun in September 2012 to help with construction works. Our T2B started in 1994 and are one the earliest forms of eco-tourism and a very unique way of putting something back. If you are interested in participating go to our website www.nepaltrust .org for more information.
Finally a new batch of medicines is about to be distributed to all clinics. This will be in collaboration with our partner organisation the ISIS Foundation.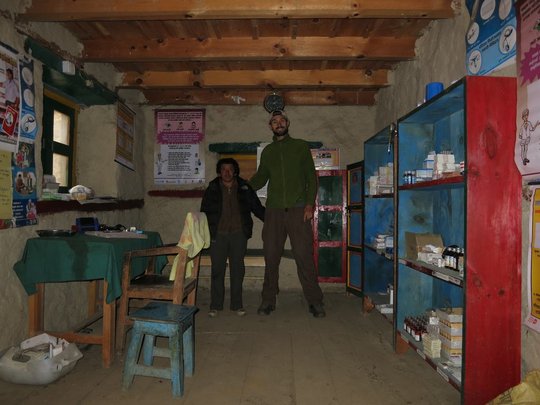 Attachments: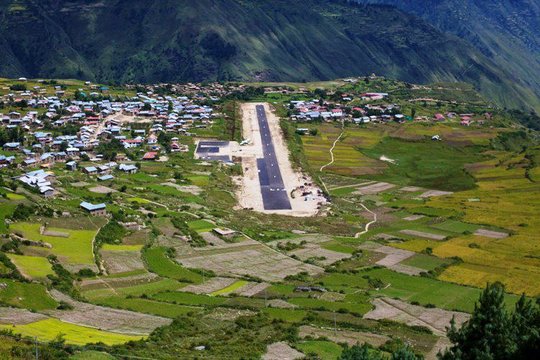 There are only two ways to get to Simikot and the Hidden Himalayas; you can vigorously trek for over 10 days or you can fly there in a small aircraft. The good news is that the small mountain airstrip has been black topped. The flight in is just as scary but the landing is much smoother!
Winter has now passed in this remote part of the world and the Nepal Trust is pushing ahead with new developments to provide a sustainable and accessible primary health care service to the Buddhist and Hindu villagers. The Torpa clinic is now finished and fully functioning. The next stage of this development will be a Birthing Centre in the adjoining village of Bargaon but linked to Torpa. This centre will provide safe and skilled facilities and treatment for pregnant mothers to give birth. Sourcing funds is still a priority but it is hoped to start work on building the centre later this year. A new clinic and birthing centre is planned for 2013 at Muchu village in northern Humla. All clinics are provided with electricity through solar PV panels, clean water and washing facilities.
A 3-4 month supply of fresh medicines was distributed in January to all of our 5 clinics. Patient records for December show that 1205 females and 1240 males were registered for treatment including 158 children under the age of 5 years. Family planning advice and help was given to 365 families.
To avoid duplication of effort in this remote and logistically difficult region the Nepal Trust continues to work towards cooperation with other NGOs. The ISIS Foundation is a not-for-profit organisation working in Nepal and Uganda (http://www.isis.bm/). In Humla ISIS has teamed up with the Nepal Trust to help raise the standards and depth of health care delivered through our clinics at Yalbang and Kermi. We saw the first benefits of this collaboration in November/December 2011 with the organisation, funded by ISIS, of health camps at Kermi and Mahaboudha Secondary School in Yalbang. In total 727 patients attended the clinics to receive treatment. The intention is to set up a more formal and long term collaboration agreement that will see ISIS assisting the NT long term with the running costs of the two clinics
Winter has now descended on the villages of the Hidden Himalayas. Deep snow limits access to remote villages and the high passes are blocked to commercial and tourist travel. Flights in to Simikot are problematical depending on how well the short, dirt runway can be cleared. Nevertheless, our health clinic staff continue to provide a valuable service. Because they come from the villages they serve they have an urgent desire to help their community as best they can.
Our Little Doctors programme for 2011 is now completed and 66 young students from the villages of Kermi, Challa, Yalbang and Simikot have successfully graduated. They will now take the health knowledge and skills they have learned back to their families and friends and, hopefully, spread their knowledge. The LD programme is a unique and valuable way of spreading health education in one of the remotest regions on the planet.
The Nepal Trust is currently in discussion with two other aid organisations about collaboration and sharing resources in the health and education sector. This will avoid overlap and duplication and be more cost effective. Agreements and MoUs are being drawn up and should be in operation in early 2012.
An independent film company from Scotland, Recite Films, has donated time and effort to produce a documentary film about the work of the Trust. The film will be ready for publishing early 2012 and a link will be published in our next report.
The Nepal Trust and the people of the Hidden Himalayas would like to wish all our supporters, volunteers and friends a wonderful festive season and best wishes for 2012. We hope the year ahead will bring good health and fresh opportunities to the deprived communities of Humla.
WARNING: Javascript is currently disabled or is not available in your browser. GlobalGiving makes extensive use of Javascript and will not function properly with Javascript disabled.
Please enable Javascript
and refresh this page.