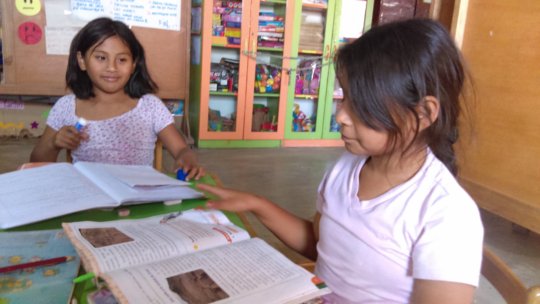 Dear donors,
We have very good news! We have been able to continue to attend up to 30 children for school support.
The first school trimester just ended in Peru and our children got very good grades. It is very rewarding to see the achievements of each boy and girl and their mothers are also very grateful.
Sonaly told us that: "This year I will take first place in school! Last year took second place and this year had promised my mom out the first place".
Luís told us: "I feel so happy to come to the Ludoteca to do my homework. I would be home alone all day otherwise. My mum works all day, and my dad too. Here the promoters teach me with love and kindness ".
We had a debate with mothers about "Gender-based violence against women: the emergence of a public issue in Latin America". It was organized by researchers of the PUCP (one of the bets universities in Peru). It was very interesting. The participants could listen to guest speakers and give their opinion about this issue.
Promoters continuereceiving counseling from a psychologist to provide a quality service to children attending our center. It is very useful for them, both for their professional and personal life.
We are happy to continue to changing lives thanks to your support!
Best regards,
Eveli Leyva