Winter came on June 21st and brought the cold and the drizzles. We had to suspend the trips with the girls to the parks and the beach. Luckily, we have very cozy spaces in our venue, because La Casa de Panchita is located in a very nice old house.
Now La Casa de Panchita carries out alternative activities, in addition to empowerment workshops, which continue as usual. We have shown animated films, such as "Coco", that the girls loved (many of them never went to the movies). Obviously, there was no shortage of popcorn.
Several adult workers are participating in guitar workshops, offered by one of our volunteers, which give a touch of joy to the gray winter Sundays of Lima.
We all strive so that our special space protects us, shelters us, gives us joys on Sundays and helps us forget the problems of the week. Much work, abuse and loneliness, due to the absence of the family and the distance from our place of origin.
How do we do it? Partly thanks to your continued support; partly thanks to workers like Ophelia, who for years has received those who come to our venue, or like Blanca Y, who prepares delicious lunches; partly thanks to an amazing team of volunteers. We add all these parts, however small they may be, and our warm space is created: La Casa de Panchita.
Thank you!
Sincerely,
Blanca Figueroa
Many of the adult women we serve started working in domestic service when they were young girls. Thanks to our weekly radio program, "We are not invisible" (Sundays from 8am to 9am) they can share their experiences and we want to share with you two of them:
"I'm from Lima. I am now 40 years old. When I was 15, I started working in a house. For a while it was bearable, but after spending a lot of time locked up in that house, I became very anxious. It was a very difficult situation. For a minor, a 15-year-old, having to face the employer's advances, not having a schedule, working with chemical products... it was very difficult. Minors should not work. "
"I'm from Cusco, I came to work to Lima when I was 12 years old. The first month they treated me well, but the situation soon became terrible: I cried day and night, they beat me and I could not defend myself. It makes me very sad remembering, very painful. I have three children. I work to pay for their education, because I want them to be professionals, not to suffer like me. I never told my mother what happened to me. She thinks everything was fine... I never told her, nor my sisters and brothers".
This is why La Casa de Panchita is such an important space to protect girls and women who work in domestic service and offer them a safe space, where they have the opportunity to talk about their problems. Games, nutritious lunches, walks, reflections on the risks of domestic work... all this is possible thanks to your support.
Thank you!
Sincerely,
Blanca Figueroa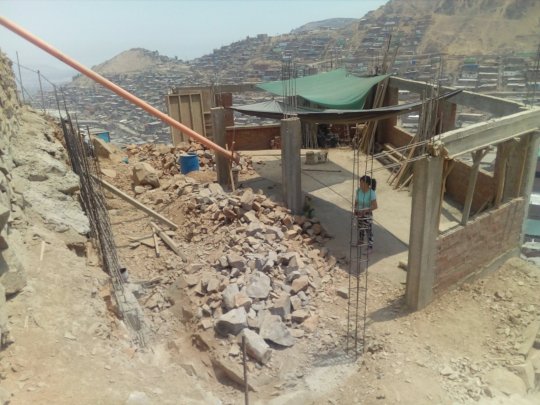 Dear friends,
Jugando Aprendo has a lot of news to tell you!
In January and February, we worked with two groups of volunteers from AIESEC, who carried out many activities with the children, from cooking typical foods from their countries to playing musical instruments, Portuguese and English classes, typical dances and empowerment workshops. At the end of the 6 weeks of their volunteer program, we organized a trip and we had many adventures together!
The construction of the new space for the Ludoteca is going well. At first, we had some setbacks, due to the conditions of the land and the informal construction present in the area. This led to a delay in the works, to ensure the safety of the future venue. These unforeseen events also meant a greater investment, which we faced by organizing a fundraising community lunch, with the support of friends, family and volunteers.
We are all looking forward to the completion of the construction and we hope to start receiving children, teenagers and their families at the new Ludoteca by the end of April. Having a space of our own has always been a dream of our entire team. It has not been easy, but we know it will be a friendly and happy meeting place, where children and adolescents can be heard, develop their skills and where we continue to change lives.
Thank you for supporting our dream of. A big hug to each one of you.
Best regards,
Eveli Leyva
WARNING: Javascript is currently disabled or is not available in your browser. GlobalGiving makes extensive use of Javascript and will not function properly with Javascript disabled.
Please enable Javascript
and refresh this page.