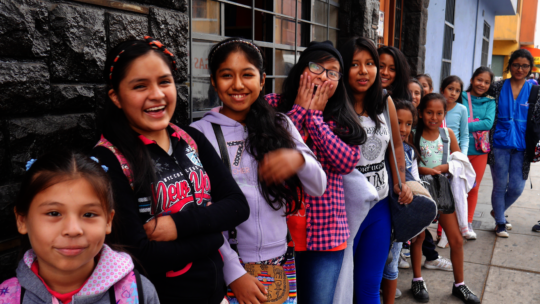 Once again, this year, girls in child domestic labor who come to educational/recreational sessions at La Casa de Panchita will receive a beautiful hardcover book with fairy tales. For most girls, this is probably the first time they receive a storybook that is their own and this definitely fills them with joy. Here are some of their reactions:
"I'm going to ask my dad to read it with me! I like it better when we read together, because I make mistakes…" (Lizbeth, 11).
"If I now have a book...then I can have another and another, as in the closet of my class. I will be able to learn so many things! "(Zoila, 10).
Having beautiful reading material that stimulates their imagination is very important for these girls, who from the age of 8 or 9 spend part of their days cleaning, cooking and even taking care of a babies. These stories give them back some of their right to enjoy their childhood.
Thank you for your support!
Best regards,
Blanca Figueroa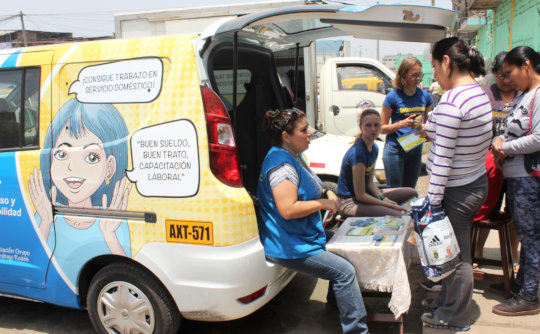 Dear Supporters,
It has been six months since we started our expeditions with our mobile unit, "La Van de Panchita", to low-income districts on the outskirt of Lima. The minivan is a donation from one of our partners, meant to increase the outreach of AGTR to empower women who work in domestic service or wish to access this sector. We can now go to the peripheral areas where most of them live and invite them to take part in free workshops and then find a dignified job through our free employment agency.
Over 80 women have participated in our empowering workshops thanks to the work of the minivan and its team. This way, we hope to increase the number of domestic workers who have access to decent working conditions.
These are some comments from the women we met during our expeditions:
"Thank you for coming this far to invite us! I will go to the place you talked about, La Casa de Panchita" (Yessenia, 36).
"I didn't want to look for a job through an employment agency, because they retain personal documents and a percentage of my salary. But you offer something very different. I am going to visit you" (Florencia, 40).
"I heard about La Casa de Panchita on the radio, but I wasn't sure I believed what they offered. Now that I spoke with you I am convinced" (Jennifer, 44).
Thank you for your support!
Best regards,
Blanca Figueroa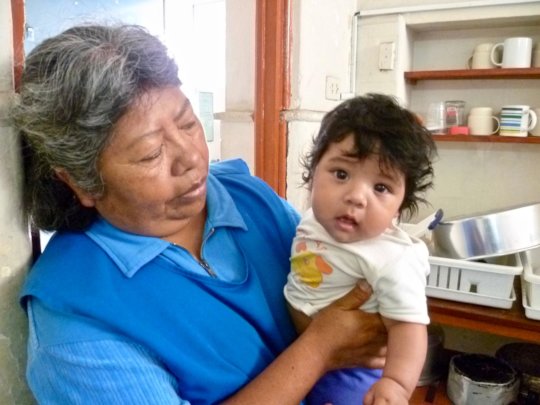 She is Juana, but everyone used to call her Juanita. Juanita is the older sister of 12, she is a mother, grandmother and a good companion. For 19 years, Juanita worked in the same house. At first, she did what is called "all service", until one day her employer became pregnant. Five weeks after giving birth, her employer went back to work and her husband never stopped working very late. Then Juanita started taking care of the baby and had no rest. She went to work at 9 in the morning, but never knew what time she would be off.
A year ago, Juanita's 38-year-old son died. Juanita wanted to continue working, but could not. The sadness would not allow it. She felt bad for all the time she had lost with her own son.
A after her son's passing, Juanita arrived at La Casa de Panchita, where she attended labor rights workshops and learned that she is entitled to a fixed schedule, as well as to social benefits and bonuses. Now she has a written contract and can spend time with her own family. Juanita feels safe and is happy to have known of La Casa de Panchita. She still feels responsible for the people he works for, but she also takes the time to be with her family. Now everyone calls her Juana, no longer Juanita. And she likes it.
Juana is one of the hundreds of women who every year learn what their labor rights are, what social benefits they are entitled to and who improve their living standard, thanks to the training provided by AGTR. You can help women like Juana improve their income, avoid exploitation and spend more time with their children.
We would like to thank you for your support and we wish you and your families a merry Christms and a wonderful new year!
Sincerely,
Blanca Figueroa
WARNING: Javascript is currently disabled or is not available in your browser. GlobalGiving makes extensive use of Javascript and will not function properly with Javascript disabled.
Please enable Javascript
and refresh this page.