Last Sunday (July 15th) at AGTR-La Casa de Panchita we celebrated our 29th anniversary! We had lots of fun activities with girls and also with adult domestic workers. They made beautiful dreamcatcher to hang in their rooms, with colorful twine and feathers and after lunch everybody had cake! It was a really nice celebration and we are very happy to have made it this far!
We have accomplished a lot, thanks to your support, during the past 29 years, but we still have a long way to go. We are confident that together we will keep empowering girls in child domestic labor and women facing exploitation.
Today is Bonus Day and GlobalGiving will match all donations to our project at 50% (till 11:59pm EDT to until funds ran out). There are $ 120,000 available in matching funds! Please consider making a donation today and increase the impact of your support. Thank you!
Sincerely,
Blanca Figueroa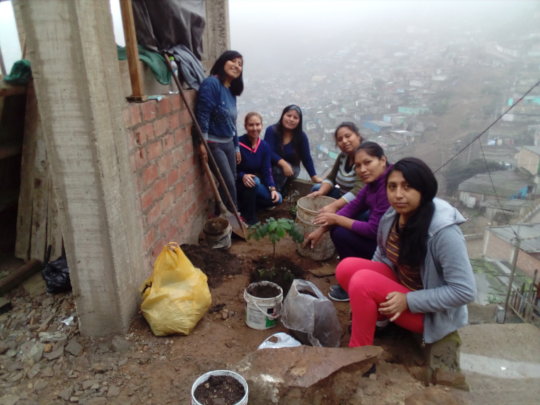 Winter began in Nueva Rinconada (Lima), with a lot of haze and low temperatures up here. Once again, the local community of "Capilla", is providing us with a space to carry out our activities. School support is being offered on Wednesdays and Thursdays, especially for math and communication homework. Most moms do not understand these tasks, so they are grateful we are able to continue to provide this service, as it is very helpful for their children.
Our team has been working hard to help finish the construction of the new venue, clearing the area from rocks and undergrowth and planting trees and flowers. We are looking forward to starting the activities in the new venue and we are confident we are really colse!
We are always grateful for your support and to be able to keep changing the lives of children in domestic service in Peru. Thank you!
Best regards,
Eveli
Winter came on June 21st and brought the cold and the drizzles. We had to suspend the trips with the girls to the parks and the beach. Luckily, we have very cozy spaces in our venue, because La Casa de Panchita is located in a very nice old house.
Now La Casa de Panchita carries out alternative activities, in addition to empowerment workshops, which continue as usual. We have shown animated films, such as "Coco", that the girls loved (many of them never went to the movies). Obviously, there was no shortage of popcorn.
Several adult workers are participating in guitar workshops, offered by one of our volunteers, which give a touch of joy to the gray winter Sundays of Lima.
We all strive so that our special space protects us, shelters us, gives us joys on Sundays and helps us forget the problems of the week. Much work, abuse and loneliness, due to the absence of the family and the distance from our place of origin.
How do we do it? Partly thanks to your continued support; partly thanks to workers like Ophelia, who for years has received those who come to our venue, or like Blanca Y, who prepares delicious lunches; partly thanks to an amazing team of volunteers. We add all these parts, however small they may be, and our warm space is created: La Casa de Panchita.
Thank you!
Sincerely,
Blanca Figueroa
WARNING: Javascript is currently disabled or is not available in your browser. GlobalGiving makes extensive use of Javascript and will not function properly with Javascript disabled.
Please enable Javascript
and refresh this page.