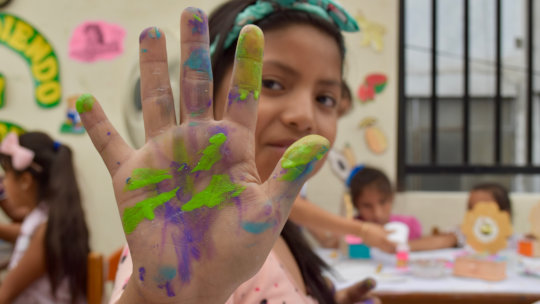 "When I was 9, I came to Lima from a remote community, very up high in the Andes, looking for better living conditions. I started working in a house. I felt invisible and felt that everything around me turned dark. I lived a nightmare in the houses where I worked: I experienced harassment and abuse. I don't even want to remember... I was just a girl, I was afraid, I didn't know what to do and I wanted to scream all the time... but I held on.
I didn't know who to tell what was happening to me, or if they would believe me. I also felt guilty, I had that feeling entangled in me and I felt trapped. I thought about going to talk to a policeman. But the policeman would have told me to leave the house… and where could he go? I was a girl, Andean, Quechua-speaker. I would have ended up living on the street.
And this is still happening in this country! Girls who work in a house as helpers are harassed, abused... those girls are invisible!"
This is the story of María (we changed her name and her photo to protect her privacy) and many other girls and women who start working as child domestic laborers. For them, it is very important that La Casa de Panchita, stays open, as it is a safe place where they can share their experience, learn about the rights of domestic workers and gain the strength to fight for them.
Thanks to you, La Casa de Panchita continues to provide services to girls and women who need them! Thank you!
Sincerely,
Blanca Figueroa
Last Sunday (July 15th) at AGTR-La Casa de Panchita we celebrated our 29th anniversary! We had lots of fun activities with girls and also with adult domestic workers. They made beautiful dreamcatcher to hang in their rooms, with colorful twine and feathers and after lunch everybody had cake! It was a really nice celebration and we are very happy to have made it this far!
We have accomplished a lot, thanks to your support, during the past 29 years, but we still have a long way to go. We are confident that together we will keep empowering girls in child domestic labor and women facing exploitation.
Today is Bonus Day and GlobalGiving will match all donations to our project at 50% (till 11:59pm EDT to until funds ran out). There are $ 120,000 available in matching funds! Please consider making a donation today and increase the impact of your support. Thank you!
Sincerely,
Blanca Figueroa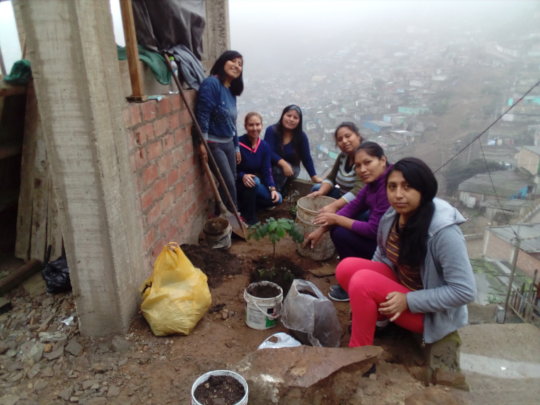 Winter began in Nueva Rinconada (Lima), with a lot of haze and low temperatures up here. Once again, the local community of "Capilla", is providing us with a space to carry out our activities. School support is being offered on Wednesdays and Thursdays, especially for math and communication homework. Most moms do not understand these tasks, so they are grateful we are able to continue to provide this service, as it is very helpful for their children.
Our team has been working hard to help finish the construction of the new venue, clearing the area from rocks and undergrowth and planting trees and flowers. We are looking forward to starting the activities in the new venue and we are confident we are really colse!
We are always grateful for your support and to be able to keep changing the lives of children in domestic service in Peru. Thank you!
Best regards,
Eveli
WARNING: Javascript is currently disabled or is not available in your browser. GlobalGiving makes extensive use of Javascript and will not function properly with Javascript disabled.
Please enable Javascript
and refresh this page.