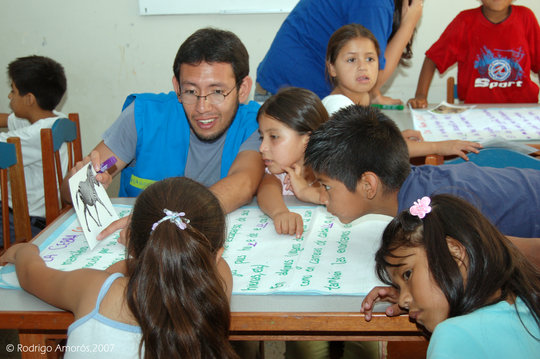 Dear Global Giving Supporters:
The girls are back! After a break for the traditional summer vacation from school (in Peru, January to March), La Casa de Panchita is again humming on Sundays, with girls learning new skills, doing their homework, and playing at the nearby park.
This coming Wednesday June 13, GlobalGiving will double all donations to La Casa de Panchita! More information at the end of this message. Please consider participating in this special event.
Our daylong workshops for girls in domestic work are a unique opportunity for them to socialize with their peers, and to learn about situations of risk at work and how to speak up for themselves. We create a safe space where their voices are heard. We're pleased and proud for all the positive changes we observe in them.
Our goal is to create awareness about child domestic work among the young domestic workers themselves, their families, the Government, and the society as a whole. We still have a long way to go, but every girl who comes to La Casa de Panchita is a new inspiration to us.
We'd like to invite you to join us in the celebration of the WORLD DAY AGAINST CHILD LABOR. More information is on our website http://www.facebook.com/lacasadepanchita
Please help us in this effort. All day Wednesday June 13, starting at 12:01 AM, GlobalGiving will match all donations up to $1,000 per donor. If you donate even a small sum like $10, GlobalGiving will make it $20. Every little bit helps. This is a great opportunity to make your donation grow and support our girls!
Thank you for your continued support of the cause!
With gratitude,
Blanca Figueroa