Dear GlobalGiving Supporters:
Wednesday July 16th is a very special day! It's BONUS DAY and GlobalGiving will match all donations to our project at 50%! This makes this date even more special and important for us: on the same day, we, Asociación Grupo de Trabajo Redes (AGTR), celebrate our 25th anniversary!
Domestic workers, former domestic workers, professionals, students and Peruvian and foreign volunteers, we all pursuit that children in child domestic work (CDW) will be withdrawn from child labor by their families; we develop labor and personal skills of adult domestic workers so that they can get better jobs in which their rights are respected; and likewise we protect domestic workers of all ages from abuse and exploitation advocating for the full respect of their rights.
Some of our greatest joys in these 25 years are:
Young women, former girls working in CDW who used to come to La Casa de Panchita, manage their own organized groups and provide direct services to children currently working in CDW or at risk of CDW within their own communities. Their work is highly appreciated.
Adolescents in CDW and adult domestic workers have learned to face their emotional problems with guidance from a psychologist or an expressive arts therapist.
Every year almost 400 women take part in job training sessions, a requirement to access to the free services offered by our employment agency, LA CASA DE PANCHITA S.A.C.
Thousands of domestic workers have received information and assistance related to their labour rights and duties, recognised by Law 27986 – Law of domestic workers. They have succeeded in improving their working conditions.
Nearly 20,000 people have listened to our weekly radio program "No somos invisibles" (We are not invisible). Our program targets mothers of girls in CDW and aims to motivate them to take their girls out of work or to improve their daughters` working conditions, when withdrawal is not possible.
Parents have recognized that investing in education is more important that putting their children to work especially if they do not have the legal minimum age to be employed.
We wish to invite you to be part of our celebrations, by checking out our new website: http://gruporedes.org/ We also invite you to like our Facebook page (www.facebook.com/lacasadepanchita) and get all the news from the events we are organizing for this 25th anniversary!
Please consider participating in this special event and make the most of your support! Remember, BONUS DAY starts on July 16 at 9am (Eastern Time).
Thank you for your support!
Blanca Figueroa and AGTR's team
AGTR – La Casa de Panchita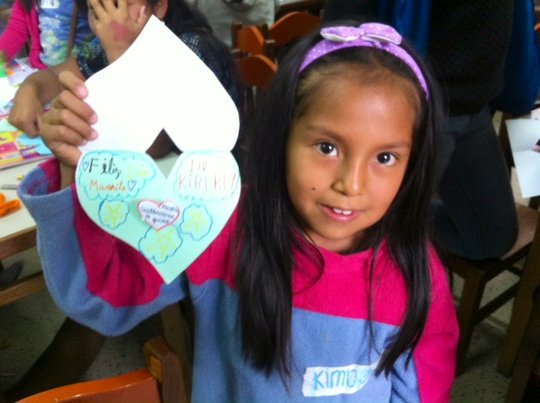 Dear GlobalGiving supporters:
We are back in school season! Classes started in March and we have been doing lots of things with the girls since then. With all the new books purchased recently, the tutoring sessions are more interesting and fun at the ludoteca Jugando Aprendo. Local promotoras have more resources to help the children with their homework and you can see how things are improving within this activity.
Counseling sessions with the psychologist are also working very well. Children and parents have one group session with her per month. In addition they are having individual sessions to address specific issues. Small changes towards adequate parenting behaviors are shown by the families.
This Sunday, the second Sunday in May, we celebrate Monther´s day in Peru. This is an excellent opportunity to strength mother-child relationships. At the ludoteca, our children are making handicraft projects for their mothers.
Thank you for making all these changes possible. We are grateful to count with supporters like you!
Kind regards,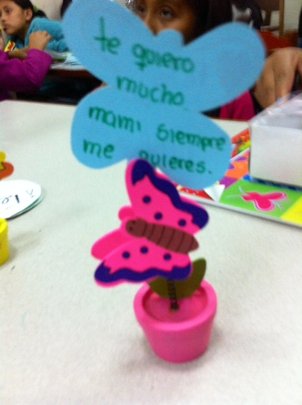 Dear GlobalGiving Supporters:
In Peru every second Sunday of May we celebrate Mother´s Day. It's the most important holiday for Peruvians, more important than Christmas or Independence Day. Possibly this is because a mother is synonymous with LOVE, even more so when there are many households supported only by mothers due to their husbands' absence.
Domestic workers are women who, as live-in employees, can barely see their children once a week. While looking after their employers' children, some have to send their own children back to their home towns and villages to be cared for by relatives. For those who live in disadvantaged situations, a mother´s love is expressed through her work, earning enough to cover the children's basic needs.
At La Casa de Panchita, for Mother's Day, girls serving as child domestic workers are making a drawing, writing a letter, or making a handcrafted gift for their moms.Women working as domestic workers are addressing issues related to their relationship with their moms by participating in art workshops.
We'll be covering the importance and challenges of the relationship between mothers and their girls in child domestic work, through our Peruvian radio program "No somos invisibles" (We are not invisible).
Happy Mother´s Day!
With gratitude,
WARNING: Javascript is currently disabled or is not available in your browser. GlobalGiving makes extensive use of Javascript and will not function properly with Javascript disabled.
Please enable Javascript
and refresh this page.