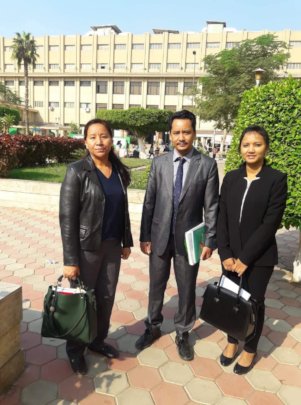 Dear Supporters,
It has been a busy past few months in Nepal with all our doctors, medical and nursing students working very hard. Dr Lalit continues his postgraduate studies in Cairo, Egypt. At the beginning of November he finished the first part of his MSc which involved taking 8 theory exams and 8 oral exams alongside clinical exams. He is still awaiting the results but feels confident that he will pass. He studied extremely hard alongside working very long shifts in the hospital. It's not uncommon for Lalit to do a 24 hour shift. Our newest Trustee has introduced Lalit to a colleague who is based in the same hospital as Lalit and is now supporting him during his training. Lalit has been working in the Professor's department and is extremely grateful to have such an excellent mentor.
We are delighted to announce some great news from Dr Nahakul, who is currently working in his remote village in the west of Nepal:
"I had my job interview for Nick Simmons Institute 2 weeks ago and I got the job successfully! So I rejoined Kalikot District Hospital on 6th November, for a year long posting. I will also be participating in a 10 week Advance Skilled Birth Attendants training course in a tertiary care hospital, after which I will be qualified to perform caesarean sections on my own. I am absolutely delighted. In addition, I will be preparing and applying for post-graduate entrance exams."
We wish him the very best of luck, and congratulations on the new job.
All 6 of our medical students are hard at work with their studies with many of them experiencing some interesting placements over the past few months, such as our second year medical student Santosh, who spent a week in October on placement in a rural community in Makawanpur District, Ramanthali. He found the placement extremely informative and is now an expert on measuring blood pressure and malnutrition. After his return he contracted dengue fever, which is a viral infection spread by mosquitoes and is very prevalent in Nepal. The infection is usually mild and passes after a week without causing any lasting problems. But in rare cases it can be very serious and potentially life threatening. We are pleased to report that Santosh made a full recovery! Here's Santosh's report on his placement in his own words:
"During our week we stayed in the local community's houses. The main aim of this posting is to know about the awareness and prevalence of dengue fever, which is epidemic there now. Also the main important purpose of this posting is to do community diagnosis (Blood pressure measurement, malnutrition check). Our group consisted of 6 members we have to do census of each house, collect all the demographic data, measure blood pressure of age more than 15 yrs and malnutrition measure of children of less than 5 years. We also try to make people more aware of dengue fever. We visited the individual households, looked for water storage, saw the larva of dengue mosquito, we made people aware about how to prevent contracting dengue fever. We measured the blood pressure of many individuals, and we noted that lots of people are in pre-hypertensive, and we told people how to avoid it.
We also measured the malnutrition of children under 5, we found all of the children to be well nourished. We also provided information about immunization and its importance for children. I am now perfect in measuing blood pressure and malnutrition! We lived in the community, our host families helped us to do our work and we got to know about community diagnosis which is very fruitful for us in clinical practice. I found this posting to be very interesting." Santosh


We wish all our doctors and students success in their studies to become doctors and nurses in the remotest parts of Nepal, and we thank you for your continued support.