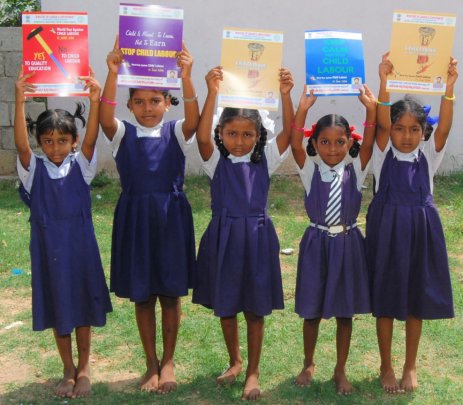 Dear Friends!

Many greetings and kind wishes to you from BASS- India!

we are sending our gratitude to you for your kind continuous help to our children Project in Global Giving for the last four years. With all your support and help we are successfully completed the program for four years.
We are affectively operating the project for the benefit of 150 children in three slums in Guntur.

Academic year 2016-17 has been completed and more than 150 children were benefited through this project, as they access good care and basic primary education with the support of 7 teachers in three schools. All children completed their yearend exams and successfully completed their classes and about 25 children were promoted to high schools.
And from first week of June 2016 new academic year started and again we have admitted more than 50 children and currently total children in the project are about 170 attending every day. We are providing mid day meal to the children also along with primary education.
On 12th June 2016 we have conducted World Day Against Child Labor in 2 slums with teachers and children. We organized rallies in the slums and organized a community meeting and motivated community to send children to the schools and not to send them to the works. This program is very successful.
We are also very to inform you that our community health care program in the slums also going on well. We are organized 3 health awareness and medical relief camps in slums. Two doctors Dr. Madhulatha and Dr. Peddabbai from Chilakaluripet were leading the camps and gave health awareness to the communities and also check their health conditions and provided medicines for the needy patients. this program is also very successful and need more support.
The total grant we have received in this quarter is about US$ 295. We utilized this money to provide learning and study material to the children in the new academic year. We are also purchase of medicines, Driver Salary and fuel maintenance and medical camps in the slums.
We are very much sad to inform you that our project has received a new donation from Global Giving UK under community grant scheme for £10000 ($14491) on 6th May 2016 by mistake but later they transferred this grant to another project through our project on 31st May 2016. But our project is still shows that we have received that grant on our goal, we are worrying for this, please kindly note that we need still more than $25000 for our project as per our goal. Thank you for understanding.
We are very much happy and grateful to Global Giving for providing us great opportunity to work in the slums in Guntur.

Still we need lot of grant required for the continuation of our programs; we are difficult to run schools in this new academic year without your timely help.

Therefore we humbly request you to kindly support this project again to continue effectively to serve poor and needy in the slums of Guntur.

Thank you so much

with gratitude
Attachments: