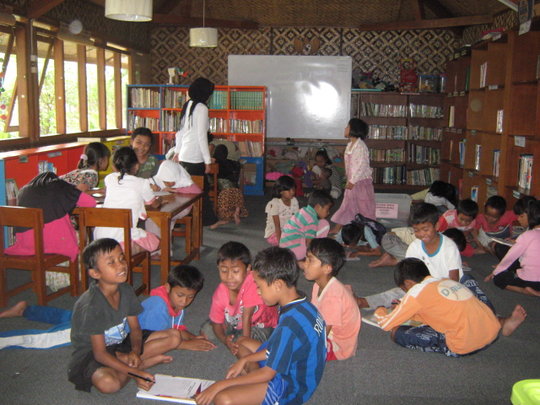 Merry Christmas and Happy New Year 2012 to all our dear friends and supporters who have helped our library!!
First of all, we would like to announce that our new lending system and library membership card works incredibly well! Around 86 children have become new members and they were very interested with the membership card program. At first, there were only 2 members who borrowed books every day, but as of this date, approximately 5 to 10 children borrow books on a daily basis. It's great progress in an area where reading was definitely not a habit, nor was it enjoyed as it is today!
Codification of books also helps us in organizing them; making it easier for us to look for books borrowed and those remaining in the library. More than 3,292 books are in our library and around 800 books are children's fiction and non-fiction books.
In October 2011, YUM worked together with the Jakarta International School and around 20 seventh graders helped to paint several bookshelves in blue and yellow, which increased the appeal of the library. We have also added reading lamps to brighten up our library and a new computer to improve our activities. The new computer is used to store the database as well as for educational computer games, internet, news, knowledgeable articles, etc.
Also, colorful puzzle carpets been purchased and used in a "Kids' Corner", which we organize during monthly health gatherings at 2 nearby villages. The idea is that when the kids are waiting for their turn for the medical examination at these health clinics, they and their parents can read some books and play with educational toys. We hope that this "Kids' Corner" can increase reading habits since early childhood.
These past three months, we have had a theme every month and in October and November, we concentrated on the theme of "Hero". October had the theme called "Sumpah Pemuda" or "Youth Pledge" which is the commemoration day of national revival in Indonesia on October 28th, so the children tried to write about the "Youth Pledge". In November, we also had a theme called "Hero's Day", because the 10thof November is the anniversary heroes in Indonesia. Children participated in story telling and drawing competition about their heroes, so the children learned a great deal about heroes in Indonesia. In December, the theme is "Happy New Year". The children wrote down their expectations of 2012 and made "Happy New Year" cards and hope that next year their lives will be better than this year. December is also the time for final exams in Indonesia and our library was very useful to help them learn. For children who have difficulties in school, we will help them provide additional lessons or take remedial classes. Sometimes, high school kids help the junior school kids do their homework or provide additional lessons, and junior school kids will help the primary school kids.
We are also proud to report that our library has made a MOU with three schools around the library to create a Mobile Library. We will drop around 50 books a month to each school, so the school can lend them to their students. We also train the teachers about good lending systems, how to display the books in interesting ways as well as how to code books in hope that the schools can organize their own library. Our challenge is that two out of the three local schools, who will be part of our Mobile Library program, are currently undergoing annual renovations, which is disrupting their class schedule as well as limiting usable space. So, these two schools have indicated their wish to wait until January to launch the Mobile Library program within their schools, to coincide with the launch of their new facilities. We are waiting on the third school to select a coordinator for the program, hopefully this can be realized as soon as possible.
We hope all of the help from GlobalGiving, donors and YUM friends can improve our library to make it better. Thank you for your trust in YUM to help improve the reading interest of children in the community of Cipanas, West Java. Nothing is better than prayer, financial assistance, and cooperation from the heart to help increase children's reading habits as well as receive quality education. Thank you from the bottom of our hearts, Merry Christmas and Happy New Year 2012!!