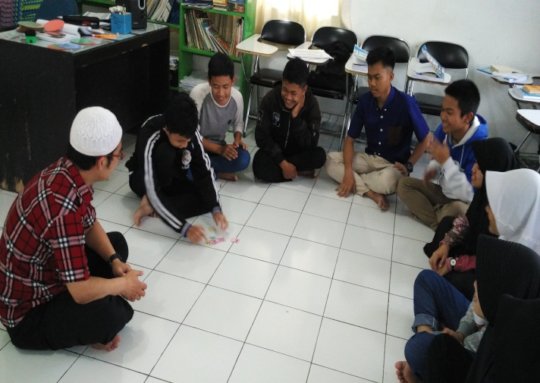 In the English classes of our Vocational Training Centre (VTC), the students not only learn from listening to their teachers, doing exercises and memorizing lessons, but they also learn through fun activities, such as watching movies, playing games and interacting with native speakers. All of these engaging activities encourage the students to speak and build their confidence using English.
Some of the games that are played by the students include "Say Act", "Analyzing Pictures", "Do It in Pairs" and "Who Am I". These games are very simple, yet they motivate the students to be creative and confident. There are many benefits from learning languages through games: more vocabulary practice, using proper grammar, grasp using conversational English expressions and so on. And YUM's teachers have a common saying to their students, "It is okay to pronounce it wrong, it is not a big deal if your grammar is messed up. That is how you learn!"
Below are some of the students' experiences in the VTC English class:
"Learning English through games is really truly fun. I can remember the words and grammar easily rather than just learning it through writing. I enjoyed it so much and sometimes I forget that the time for studying is already up. I have been motivated to learn English more and want to continue to the Intermediate class level in the next term." Wulan, High School student.
"I love being in the VTC English class. It is always fun and full of energy. I hope that more students out there could experience what I have experienced. My favorite English game is "Analyzing Picture". The result of this game is that I feel more confident in doing my English assignment at school. Thank you very much for Mr. Cecep's dedication in teaching us." Egi, High School student.
Thank you GlobalGiving donors, with your generous support, YUM can to continue providing qualified English teachers for the disadvantaged youth in Cipanas, West Java through our Vocational Training Centre.