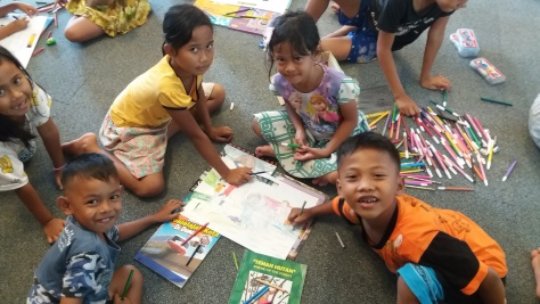 Besides educative activities, the YUM Community Library in Kalimantan also runs light and fun activities like Coloring, Drawing and Playing Outdoors. Almost every day, a group of children asks our Librarian, Miss Rusti, to distribute their drawing books. Each child has been given a drawing book being kept in the library and Miss Rusti prepares materials such as pencils, coloring pens, erasers etc. And sometimes, she prints pictures for the smaller children who prefer coloring rather than drawing. The themes they prefer are about sports, animals and food.
It is not easy for the children to compose and deliver their ideas wisely through paper. Therefore twice a month, we run a writing activity as well. There are many positive impacts from this activity such as releasing stress, learning to be patient, being trained to live orderly, and writing could also be a potential future job for those children.
Playing games can be done inside or outside the library. Indoor games include playing with toys, dolls, bricks, cards or boards. If the weather is not too hot or rainy, we run activities outside the library. Badminton is the game most children love to play, either boys or girls. The other favorite sport and games are football, jump rope, hula hoop, Eagle & Snake, as well as traditional games.
"I come to YUM's Library almost every day. There are so many interesting books that I want to read. Sometimes I work on my school assignment here, because I can use the library books to help me study. My favorite activities are coloring and drinking milk. I wish the library will get more room, so my friend and I will have more room to study and play." Susi, 4th grade.
Thanks to your kind support through GlobalGiving, YUM can provide educative and quality materials and games to support children's activities in Bukit Batu, Central Kalimantan where YUM's Community Library is the one and only place where children can spend time after school without having to worry about their safety.