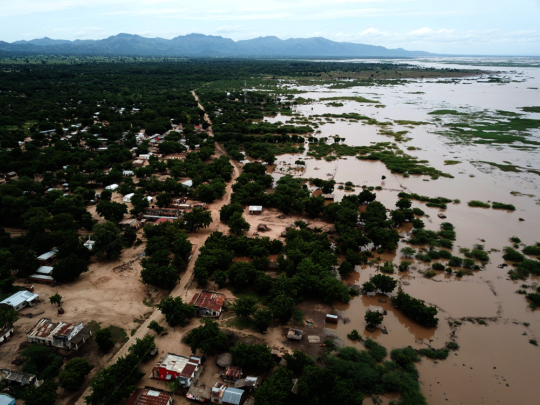 Dear Friend,
As you have probably heard from the news, families in Mozambique, Malawi and Zimbabwe are reeling from the devastation wrought by Cyclone Idai. The storm and flooding caused by the tropical depression that moved into the area in early March have impacted an estimated 850,000 people in Mozambique and Malawi, around half of them children. In the days since the storm hit Mozambique, it's feared that at least 1,000 people have lost their lives here alone. Nearly 1.7 million residents of Mozambique are estimated to live in the path of the cyclone.
Across Mozambique, initial government figures estimate that 600,000 people are affected, among them 260,000 children. Roads and bridges have been washed away; access to Beira has been completely cut off. Homes, schools, and businesses have been destroyed. The search and rescue operation continues to reach the thousands of people stranded in the floodwaters, which those who surveyed the region by air described as inland oceans, running for mile after mile.
For families, Idai only compounds the misery of those whose lives have been overturned by the intense rainfall and flooding that has soaked the region days on end. As the cyclone has moved westward, into Zimbabwe, the number of dead and missing continues to mount. The hardest-hit district of Chimanimani, where at least 82 are dead and 200 injured, remains inaccessible as heavy rains have damaged roads and washed away main access bridges.
In Malawi, nearly 923,000 people, including 460,000 children, in 14 districts have been impacted by the heavy rains and flooding. At least 56 people have died and 577 more injured. It's estimated that over 15,000 families have been displaced.
UNICEF drone footage shows entire villages completely submerged. The floods have destroyed safe water supplies and contaminated existing boreholes. The destruction of latrines in homes, schools and health facilities further jeopardize public health, making families easy prey for dysentery and cholera.
"Children are the most vulnerable in any emergency situation. UNICEF is providing support across the region as the full impact of Cyclone Idai is realized. With our prepositioned supplies for the most at-risk communities, our teams are acting quickly to deliver lifesaving food, clean water, medicines and support to children and families," said James Elder, UNICEF Eastern and Southern Africa.
The full extent of the cyclone's impact in Mozambique, Malawi and Zimbabwe isn't clear. What is certain, though, is that thanks to your online donation, UNICEF can be there to provide whatever children will need in the coming days.
Please consider donating to support UNICEF Humanitarian Emergency programming on the GlobalGiving website.
Thank you,
Emma