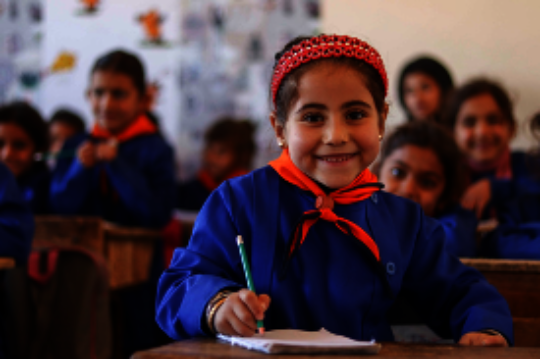 Dear Friend,
In March 2020, the Syrian Crisis entered its tenth year, as 11.7 million people reportedly remain in need of humanitarian assistance, including 5 million children.
Throughout the country, 2.1 million children aged 5 to 17 years are out of school and 1.3 million children are at risk of dropping out or not learning.
In 2019, the widespread destruction of vital infrastructure such as hospitals, schools, water stations and bakeries hampered the provision of urgent humanitarian assistance and the return of displaced people, with direct and indirect impacts on education. Between April and October 2019, at least 45 schools were damaged by airstrikes and shelling in northern Hama and southern Idleb governorates, resulting in 400,000 children not able to sit for final exams in Idleb. With the start of the school year in September 2019, the impact of the hostilities on education became more alarming. Half of the schools in Idleb governorate were damaged or destroyed during the fighting or used as shelter for internally displaced persons (IDPs). Areas with an influx of IDPs experienced a shortage of learning space, equipment and teachers, as some 150,000 children were estimated to be among the 400,000 displaced.
To address the ongoing challenges facing out-of-school children in Syria, the Educate a Child program, a partnership between Educate a Child, UNICEF and UNICEF USA, continues to deliver educational services and materials, psychosocial support, recreational activities and improved learning environments to children throughout Syria with limited or no access to school.
During the first two years of the program, UNICEF and partners have reached 310,286 out-of-school children in Syria, providing children without access to education with a pathway to learning and opening up a lifetime of possibilities. During the second half of 2019, UNICEF and partners accomplished the following results:
29,375 out-of-school children (14,137 girls and 15,238 boys) received self-learning materials;
33,207 out-of-school children (16,033 girls and 17,174 boys) benefitted from stationery and school-in-a-box distribution;
19,197 out-of-school children benefitted from rehabilitation of 216 learning spaces
33,428 out-of-school children (16,084 girls and 17,344 boys)participated in recreational activities to provide psychosocial support; and
909 education facilitators (400 female, 509 male) were recruited and trained to conduct self-learning program classes.
In 2020, despite limited local capacity, ongoing conflict and a deeply complex operating environment, UNICEF is building on strong partnerships with national and international NGOs, the national government and a range of other partners to deliver education services and materials to out-of-school children. In the final year of the program, UNICEF and partners plan to reach additional out-of-school children with learning materials, classes and support services and deepen work with government and other stakeholders to elevate the national discussion on reaching out-of-school children and increase access to education. Your continued support is necessary in enabling UNICEF to continue to support out-of-school children in Syria.
In Partnership,
Whitney Simon