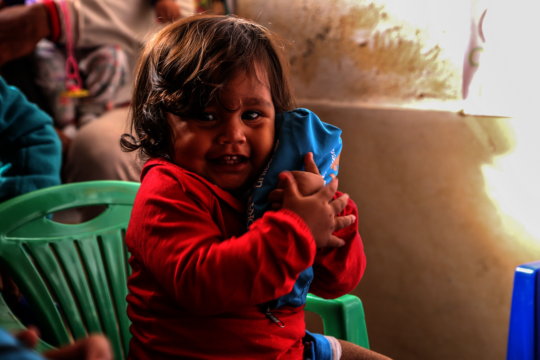 Dear Friend,
Thank you for your support of UNICEF's work for child migrants around the world. Countries in Latin America and the Caribbean are hosting at least 3.5 million Venezuelan migrants and refugees out of the three million Venezuelans migrating worldwide. UNICEF estimates that over 1.1 million children in Brazil, Colombia, Ecuador, Guyana, Panama, Peru and Trinidad and Tobago need assistance. Those in need include Venezuelan migrants and refugees, host communities and non-Venezuelans returnees. The high and unpredictable migration flows are stretching the capacities of host countries and increasing demands on already limited services and structures at the host community level.
With your generosity, those affected have access to registration, protection, inclusive education, health and nutrition services, and adequate temporary or permanent housing. In Colombia, UNICEF and partners advocated to support the national government within the initiative to prevent statelessness. By the end of the year, it is expected that the nationality of approximately 28,000 children will be recognized.
In Peru, UNICEF finalized the installation of 31 ecologic points in all Binational Border Service Centers (CEBAFs). In Ecuador, more than 2,000 people received legal assistance and more than 6,100 people benefited from the temporary spaces provided by UNICEF. During August, more than 3,200 children and adolescents in Brazil received education and psychosocial support through the 21 integrated spaces located in Boa Vista and Pacaraima. This humanitarian intervention has been reinforced with the creation of two new integrated spaces in Manaus. In Panama, with the support of UNICEF, the office of the National Secretariat for Children, Adolescents and Families installed a Migrant Child Protection Working Group that aims to improve State coordination and response for the protection of migrant children.
Due to your support, UNICEF will continue implementing life-saving and urgent activities while advocating for and supporting host governments to ensure the provision of key interventions that support children both in the short and long term. Donations like yours will also help UNICEF play a key role in facilitating and aligning approaches across the region. We appreciate your continued support of children and their families who have been forced from their homes around the world. We will continue to provide updates regarding the impact your support is making.
Sincerely,
Whitney Simon