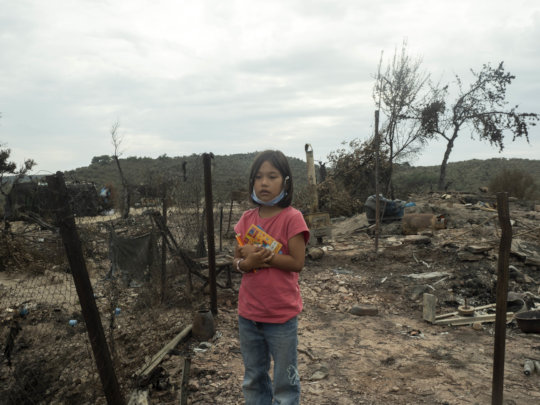 Dear Friend,
Moria Centre, the largest refugee camp in Greece, caught fire on September 9, displacing the entire population of the camp. Its residents are primarily Syrian and Afghani families who have fled violence in their home countries, hoping to find safety in Greece. A month after the fire broke out, nearly 9,500 refugees, migrants and asylum-seekers within the tent site living in temporary structures and with extremely limited access to services remain. Water, sanitation and hygiene continue to be extremely problematic due to the transitory nature of the site and WASH facilities are far below the standards and number needed to support the population.
UNICEF's priority going forward is to secure the immediate safety and protection of the 4,200 refugee and migrant children, including 400 unaccompanied children, who have been displaced by the fire.
As a result of your generosity, UNICEF was able to transform its existing Child and Family Support Hub into an emergency shelter for the most vulnerable including unaccompanied children, pregnant women, single mothers, and others with critical needs. Additionally, UNICEF and partners on the ground are providing structured activities for women and children inside the site. These include:
Child Friendly Space activities
Mother and Baby Corner
Non-formal Education
Structured psychosocial support
Finally, UNICEF is providing WASH and dignity kits, educational and recreational materials, sanitary products, and baby formula to the most vulnerable children and families in Lesvos.
In the weeks and months to come, UNICEF will continue to work with partners to provide the critical support children and families effected by these fires need. These efforts will include the creation of emergency shelter, the provision of supplies, the continuation of education, distribution of water and support for sanitation and hygiene efforts. These efforts will all be coordinated in consideration of the COVID-19 context.
Your support has enabled UNICEF and its partners to provide urgently needed assistance to the directly affected children, including separated and unaccompanied minors, within the context of COVID-19 pandemic. Thank you for continuing to stand with UNICEF and with child migrants when it is needed most.
In Partnership,
Whitney Simon
Links: