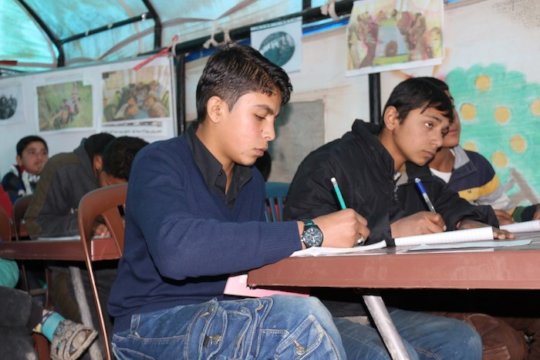 Dear Friend,
The Syria crisis, now in its ninth year, has had a disastrous impact on the lives of children, youth and their families across the region. Since 2011, the crisis has affected over 11.8 million Syrians. Due to your support, UNICEF has been able to work alongside partners to ensure that Syrian children are able to continue learning, despite the face that 1/3 of Syrian schools have been damaged or destroyed.
Four years ago, Ahmad was enjoying the summer break and preparing to enter sixth grade when violence escalated in his hometown of Mari'a in rural Deir-ez-Zor, Syria. Ahmad and his family had to flee the fighting. Ahmad, his parents and six siblings moved four times in the next three years, from one village to another, as the Syrian civil war raged around them. Last year, they finally settled in Areesheh camp in Al-Hasakeh Governate. "It was the most challenging time of my life," Ahmad recalls. "Imagine going from one place to another, barely staying a few months."
But Ahmad chose not to give up. His family fled with very few belongings. He grabbed some books from his father's library and a small blackboard. I didn't know how long I would be out of school. But I wanted to make sure that I did not forget what I had already learned.
Soon after Ahmad and his family moved into the tented camp of Areesheh in the Hassakeh Governate, UNICEF set up several tents to serve as an educational center for out-of-school children. At the center, children between the ages of 6 and 15 study English, Arabic, math and sciences, including physics and chemistry, using a Self-Learning Program (SLP), with the help of volunteers. Thanks to your support and to the Self-Learning Program from Educate A Child and UNICEF USA, their futures look brighter. "I always keep in mind that if I don't study now, I will regret it in the future," says Ahmad, wise beyond his years. Only a year into his studies at the center, Ahmad and 21 other students sat for placement exams and obtained their Grade 6 certificate.
Ahmad is just one of more than 139,000 students who have benefited from this program, and we so appreciate your support of ensuring their access to continued learning opportunities.
Ahmad dreams of becoming an engineer and is confident of what the future holds for him, with renewed hope to continue his education.
"What keeps me going, despite the displacement and violence I have witnessed, is that I know I will succeed. I'm not afraid of the future because I'm preparing myself for it, with my education."
Due to your support, UNICEF and partners continue to work across Syria and in neighboring countries to help provide children with essential health, education, protection and nutrition services and to help build families' resilience.
In Partnership,
Whitney Simon