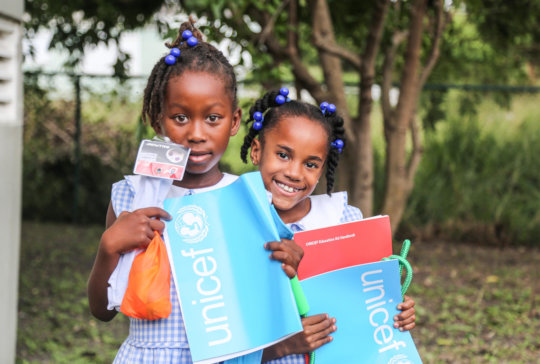 Dear Friend,
Children and families in Anguilla, Barbuda, British Virgin Islands, Dominica and Turks and Caicos Islands, are still struggling to get their lives back to normal following the devastating hurricanes of September 2017.
Nearly all children in the affected countries have been able to resume their education. That's the good news. But in many cases, especially in British Virgin Islands and Dominica, schools need to be rebuilt, and children are stuck trying to learning in temporary shelters.
Across the islands, 18,000 primary and secondary students have been able to return to classrooms, and 78% of children are attending pre-schools, primary and secondary schools equipped with teaching and recreational materials.
Going forward, UNICEF's response is focused on expanding access for children under five to pre-schools/day care centers with trained Early Childhood Development practitioners. As of now, only 45 percent of this vulnerable population is currently covered.
UNICEF will continue to support the affected countries in adapting and implementing the Caribbean Safe School Programme components, including safe learning facilities, school disaster management and disaster risk reduction and resilience education. Advocacy will continue to ensure the prioritization of all the education services (ECD, primary and secondary) as part of national emergency plans.
Thank you for your continued support as UNICEF helps children in the affected areas of the Eastern Caribbean post Hurricane Irma and Maria.
Thank you!
Emma