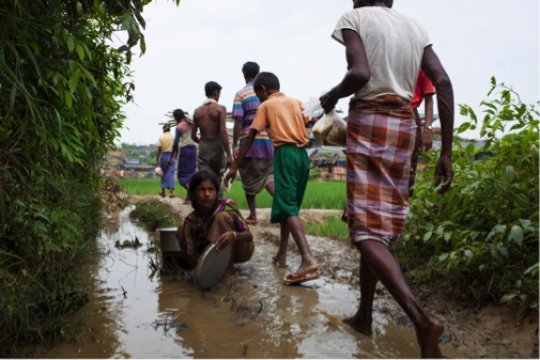 Dear Friend,
We know as a UNICEF Emergency Response supporter you are concerned about the current Rohingya Refugee Crisis in Bangladesh. We would like to take a moment to update you on the crisis and how UNICEF is responding. In addtion, we will continue to post updates so you can are aware of how the crisis is changing, the on-going responses, and impact on children's lives. If you are able, please consider making an extra donation to help support our on-going emergency responding during this time.
Rohingya Refugee Crisis
A total of 1.2 million Rohingya people have been affected by the crisis in Myanmar, which includes over 650,000 Rohingya refugees arriving in Bangladesh since August 25. The sheer number of refugees has overwhelmed pre-existing refugee camps, with new arrivals seeking shelter anywhere they can find space.
A total of 720,000 children – both from new arrivals in Bangladesh, existing Rohingyas and those in vulnerable host communities – are in need of urgent humanitarian assistance, which includes critical life-saving interventions.
While most Rohingya refugees arrive on foot, mostly walking through the jungle and mountains for several days, thousands are braving long and risky voyages across the rough sea of the Bay of Bengal. They wait on the Myanmar border to take fishing boats to Teknaf in Bangladesh. The refugees arrive in Bangladesh in poor condition, exhausted, hungry and desperate for shelter.
Many refugees crossing over to Bangladesh are children, mothers and the elderly. Some children were sent ahead of their parents who are still in Myanmar. Other times, they are with relatives because their parents are nowhere to be found.
There are acute shortages of everything, most critically, shelter, food and clean water. Conditions on the ground place children at high risk of water-borne diseases. Children and adolescents, especially girls, are vulnerable to trafficking as different child trafficking groups are active in the region.
The needs continue to grow as the influx of Rohingya refugees increase. With its universal mandate to ensure the fundamental survival, protection and well-being of children, UNICEF is supporting the most vulnerable children and their families in the midst of this crisis. UNICEF anticipates the greatest needs being in WASH (water, sanitation and hygiene), child protection, nutrition, education and health. Below is an overview of UNICEF's response for the most vulnerable Rohingya refugee children and their families.
UNICEF was supporting the Rohingya refugees before the crisis in August, will continue to do so during, and after the emergency. Your support helps us continue this life-saving work.
Thank you!