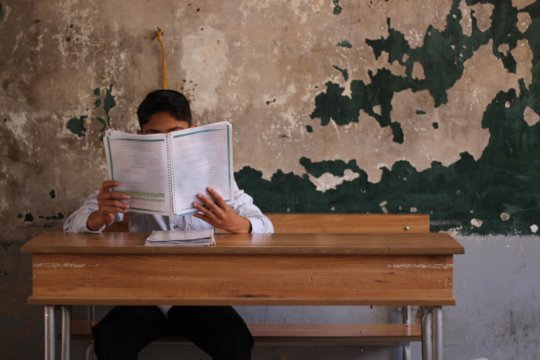 Dear Friend,
UNICEF's Humanitarian Emergency Response includes a program reaching children still in Syria and providing them with the quality education they have been missing out on, so they can continue to pursue stable and sustainable livelihoods.
As the protracted conflict in Syria in its eighth year, the crisis has had a devastating effect on the country and its people. No child has been spared the horror of war. By the end of 2017, more than 700,000 children were living in hard-to-reach areas, where humanitarian access remains a challenge, and more than 124,000 children were living in besieged areas, which have been cut off from humanitarian assistance.
Nearly 5.8 million school-age children and youth in and out of school are in need of education assistance. The lack of protective inclusive learning environments, coupled with a shortage of appropriate water, sanitation and hygiene facilities, seriously hinders regular schooling. Over 7,000 schools in Syria – one in three – have been destroyed, damaged or are being used as shelters for displaced families or for military purposes.
A pervasive sense of fear and psychological distress has emerged among children, parents, teachers and community members, who are reluctant to send their children to school even when schools are operational. Attacks on schools continue to result in death, injury and loss of education infrastructure and investments. These attacks, and the violence that children and school personnel face traveling to and from school, create a climate of fear that decreases the likelihood that children will go to, and stay in, school.
Thus, a quality alternative education model is critical to reaching out-of-school children in Syria and to retaining those children who are in school. It is against this backdrop that UNICEF developed the Self-Learning Program in Syria. The SLP enables children with limited or no access to school to continue their learning at home, in non-governmental organization centers or in community learning centers. The program helps children both catch up with lost learning and prepare for placement tests and national exams, ultimately offering a pathway for reintegration into formal education systems and opening up a lifetime of possibilities.
The Self-Learning Program adopts a community-based approach for out-of-school children in both government-controlled and non-government-controlled areas in Syria. By working directly with NGOs and communities, ownership and accountability are shared between relevant authorities and their communities, improving the prospect for education of out-of-school children in very disadvantaged locations.
The Self-Learning Program reaches children between 6 and 19 years old, covering subject matter from Grades 1 to 9. The key to the Self-Learning Program is the Self-Learning Materials. Fifty different Self-Learning Material, including topics such as Arabic, English, mathematics and science. All of them are available, giving children a wide range of knowledge that will propel them towards brighter futures.
Together with partners, UNICEF is engaged in ongoing work to implement the Self-Learning Programin a way that is mindful of the deeply complex operational environment in Syria. With large populations of displaced persons, widespread violence, multiple armed groups and civilian authorities vying for control, a fractured and overstretched education system and widespread poverty, Syrian families find it extremely challenging to prioritize education when they have difficulty meeting even their basic daily needs
Thank you for your continued support of UNICEF's Humanitarian Emergency program. Your support is extremely valuable to impacting the lives of children still in Syria.